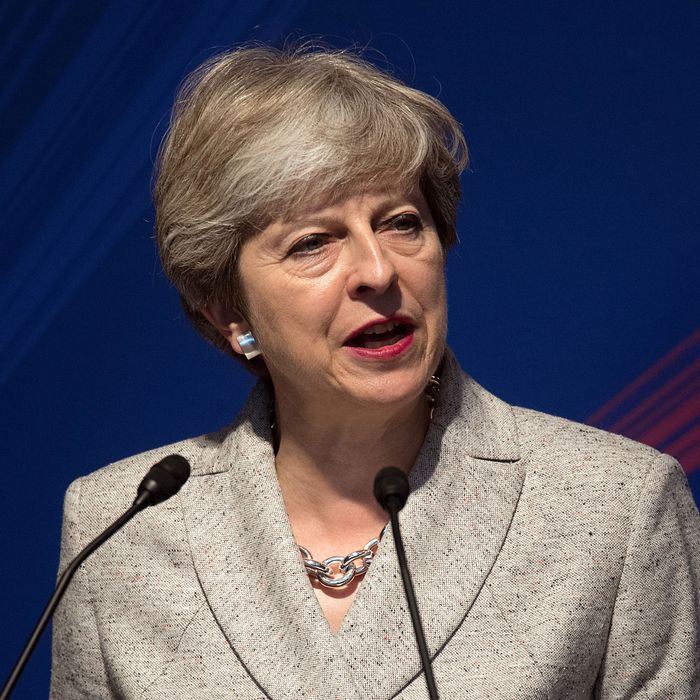 Theresa May.
Photo: Carl Court/Getty Images
President Trump repeated a familiar, disturbing pattern on Friday by weighing in on the particulars of a terrorist attack before all the facts were known, then exploiting the violence to push his nativist agenda.
On Friday morning, someone detonated an improvised explosive device on a rush-hour train in southwest London. Nobody was killed, but 29 people have been treated at hospitals, mostly for burns.
Pictures and video show a burning bag with wires protruding from it on the floor of the London Underground car. Police are still trying to ascertain who set off the explosion, and whether it took place prematurely (Parsons Green, the area of London where the attack took place, has no obvious landmarks that would make it an attractive target for terrorism).
But all the uncertainty didn't stop the world's most influential internet troll from spouting off. He tweeted that the attacker was a "loser terrorist," and announced that the perpetrator (or perpetrators) had been "in the sights of Scotland Yard," the London police force.
He then connected the violence to his unimplemented proposal to ban travelers from seven predominantly Muslim countries.
Whether the swipe at English police work was based on information Trump received from intelligence briefings or, more likely, on nothing at all is unclear. But either way, allies in the U.K. did not find it constructive.
Prime Minister Theresa May censured Trump, saying, "I never think it's helpful for anybody to speculate on what is an ongoing investigation."
The Metropolitan Police (a.k.a. Scotland Yard) called Trump's speculation "unhelpful."
Other figures, like May's former chief of staff, went farther:
Trump and May spoke later in the day, and the White House said he conveyed his sympathies over the attack.
ISIS claimed responsibility for the Parsons Green attack on Friday afternoon.
This is not the first time Trump has tangled with British authorities over terrorism. In June, he sharply rebuked London mayor Sadiq Khan, who he has often criticized, for making the perfectly reasonable statement that Londoners should not be concerned about an increased police presence on the streets, after a vicious attack on the city. Before details on that attack were clear, Trump tweeted an unconfirmed Drudge Report article about possible casualty numbers. He also used the violence to push for his travel ban.
Khan then said that a proposed state visit for Trump should be canceled. Trump, who is intensely unpopular in the U.K., told May he did not want to visit until he would find a receptive public.
Trump's eagerness to weigh in on incidents involving Islamic extremists, of course, stands in stark contrast to his reticence when it comes to white-on-minority violence.