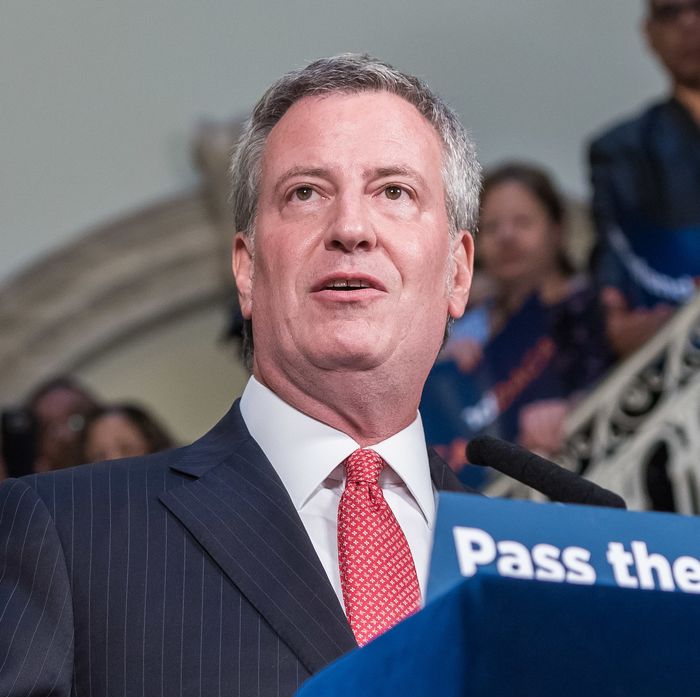 There's much less interest when you're an incumbent who's not facing Anthony Weiner.
Photo: Pacific Press/LightRocket via Getty Images
In the last year, there was talk of a potential Democratic primary challenge for New York mayor Bill de Blasio, or maybe even a race complicated by an indictment for the mayor on campaign-finance-related charges. Instead, de Blasio sailed to victory on Tuesday night following an uneventful primary race, taking 75 percent of the vote.
Sal Albanese, a former city councilman making his third run for mayor, took 15 percent of the vote. Tech entrepreneur Michael Tolkin got less than 5 percent, police reform activist Robert Gangi took 3 percent, and Brooklyn community board leader Richard Bashner won 2 percent.
Turnout in the race, which has drawn relatively little attention, was very low, though it didn't set any records. According to Politico, only 312,062 people voted in the mayoral primary, or about 14 percent of the city's registered Democrats. That's the third-lowest turnout for a Democratic mayoral primary in the city since the mid-'60s.
De Blasio is heavily favored to win the November 7 general election, where he'll face off with Republican Nicole Malliotakis, a Staten Island assemblywoman, and independent former police detective Bo Dietl.
Charlie King, a Democratic political consultant, told the New York Times that de Blasio is at risk of running a race that's too uneventful.
"There is a danger that turnout can be low in November, and that's what he has to be concerned about," King said. "He's got a good two months to begin to unclutter the minds of New Yorkers and adequately send a message of why he deserves another four years."