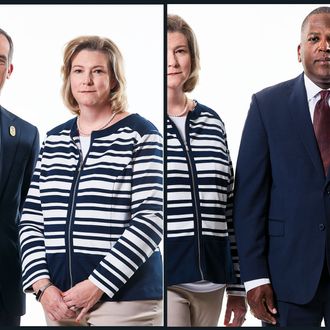 From left:
Eric Garcetti (D), Los Angeles; Nan Whaley (D), Dayton, Ohio; and Steve Benjamin (D), Columbia, South Carolina.
Photo: Edmund D. Fountain
Our national political environment might be paralyzed by partisanship, culture-war posturing, and erratic leadership, but our cities tend to be resilient, even when they're flash points for national disasters, both natural and man-made. At least that's the perspective of many mayors. One Saturday morning in early August, nine who were in New Orleans for the U.S. Conference of Mayors gave a couple hours of their time to discuss just why that's the case — and why Washington might benefit from thinking more like them.
When you get together with your fellow mayors at an event like this, how is the mood different from the mood in Washington?
Karen Freeman-Wilson (D), Gary, Indiana: The great thing about meeting with other mayors is that it doesn't matter if you're a Democrat or a Republican or an Independent or a Libertarian, because we understand that at the end of the day, you have to get things done.
Pete Buttigieg (D), South Bend, Indiana: I've literally had situations where I've gotten to know a mayor, I've heard about something they were doing, I've called them for advice, and only then did I notice that they were from the other party. It just didn't come up.
Eric Garcetti (D), Los Angeles: I think that mayors collectively are filling a national space that isn't just the result of November's election. We do kind of own a domain with our citizens where they are asking us not just to step up on local trash pickup but on climate change, immigration, and infrastructure. It's critical at a time when there is a political vacuum, and an accomplishments vacuum, in D.C.
Steve Benjamin (D), Columbia, South Carolina: Our citizens know us. They see us every day in church, in synagogue, in mosque, in the grocery store, at the traffic light. You roll down your window, you get some advice. And those citizens happen to account for 84 percent of the people who live in this country, 87 percent of the jobs, 91 percent of America's GDP. The mayors around this table alone are from cities whose collective GDP exceeds that of the entire country of Russia.
A lot of you represent cities in states where the opposite party is in charge. Any advice for our friends in Washington on how to develop bipartisan working relationships?
Kasim Reed (D), Atlanta: Start by identifying the 5 to 20 percent of issues that you agree on. The governor of my state is a Republican named Nathan Deal. We have had an exceptional relationship, and it's because we sat in a room one day and figured out we agreed on job creation, infrastructure, transportation, the deepening of the Port of Savannah. And we were both elected in an economic ditch, like most of my colleagues. So we had a reason to try to be successful together, because if we hadn't been, we'd have been tossed out.
Nan Whaley (D), Dayton, Ohio: In Dayton, we're in the most conservative part of the state of Ohio. And you know, when I tell people that the Dayton Area Chamber of Commerce supported an income tax for universal pre-K, I mean it's just unheard of. But that helped a lot, to make sure we had a double-digit victory, that the whole community bought in.
Bryan Barnett (R), Rochester Hills, Michigan: The irony is that Washington's gridlock has produced the exact opposite dynamic at the local level. Because we receive less from them in resources, we're forced to collaborate more because we have to get results.
Mike Rawlings (D), Dallas: I have a lieutenant governor who said a couple of weeks ago that the reason America is so bad is these Democratic mayors that are taking our country to hell in a handbasket.
Reed: But he just meant in Dallas.
Garcetti: And Houston, and Austin.
Barnett: The places that pay for everything.
Rawlings: We're the growth engine for the state, yet some state-level politicians want to treat us as the enemy. Getting through primaries seems to be their only objective. Discrimination against cities is exacerbated by the gerrymandering process. I don't believe that the folks in Mabank, Texas, are that much different than those of us in Dallas. But when you have a congressional district drawn with a little piece of Dallas all the way out there to East Texas, and add in primaries where you're encouraged to point at the big cities as bad guys — well, that creates unnecessary friction.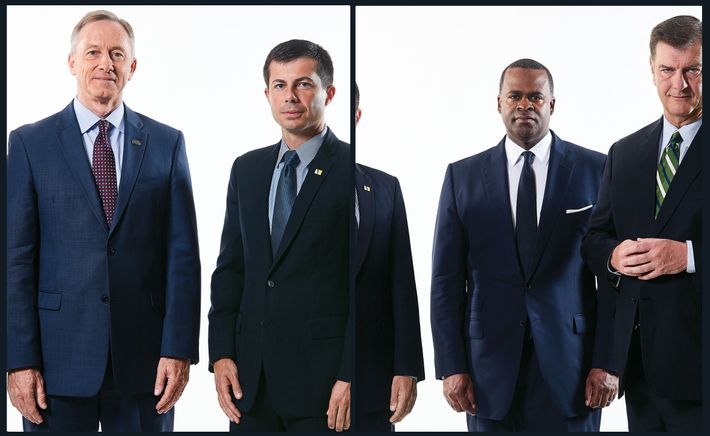 Still, one of the biggest divisions in national politics is a cultural divide and a lack of trust between metropolitan and non-metropolitan America. How do we bridge that particular divide?
Garcetti: We have to reject the divide. I grew up in what's now the second-biggest metropolitan area in the United States. When we had a GM car factory shut down in Van Nuys; when Price Pfister, which used to pay $15 an hour in the 1980s, was taken over by Black & Decker — all those jobs went away. People in Detroit aren't the only ones who have experienced an employer packing up and leaving town. We have to stop allowing the press and party ideologues to create regional divides that do not actually exist. We all have the small town in our big cities.
Barnett: And Mayor Garcetti represents millions of people. My town has a population of 75,000. I also refuse to accept the false choice of a rural-urban divide. My city is a ring community of metro Detroit. But we understand that we are only successful if the city of Detroit is successful.
What also seems to be lacking in Washington right now is new ideas. If you could get a little time with top leaders in Washington and just shake them and say "Pay attention to this," what would "this" be?
Reed: Taking on the pension crisis in American cities. It's a $1 billion problem locally, it's a $2 trillion problem in the states, and I don't think that our federal partners are paying any attention to the massive shift that is occurring as you move away from traditional pensions to a 401(k) environment where people are going to have to manage their savings for the rest of their lives.
Garcetti: Here's an idea that might seem conservative coming out of a Democratic mayor: Imagine if the federal government said we will relax the regulatory process to test transportation innovations. In Silicon Valley, we have people who are redefining how we're going to move in the world. Yet most places where companies test first [are abroad]. We'll be spending $120 billion for 15 new rail lines in L.A., I don't have a single American company to build the cars, so let's talk some economic nationalism for a second.
Barnett: I'll give you a "Democratic" idea. In our city, we've worked with our unions, as well as the unions of neighboring communities, to share employees. It was a one-single-sheet-of-paper agreement, and it's allowed us to minimize overtime and to keep people employed, because now we have a greater base of work for them to choose from.
John Giles (R), Mesa, Arizona: I'll throw in a different perspective: that of a border state. NAFTA, as you know, is under real attack. That is putting a lot of border states like Arizona and California and Texas into a tizzy, because we spend a lot of time doing international-trade development. We're coming up with some great ideas in my community; we're talking about becoming a hub for e-commerce for Mexico by getting pre-clearance from Customs for packages leaving Mesa's airport, and we came up with this without any assistance from the federal government. I wish they would come to our communities and figure out how to do international trade.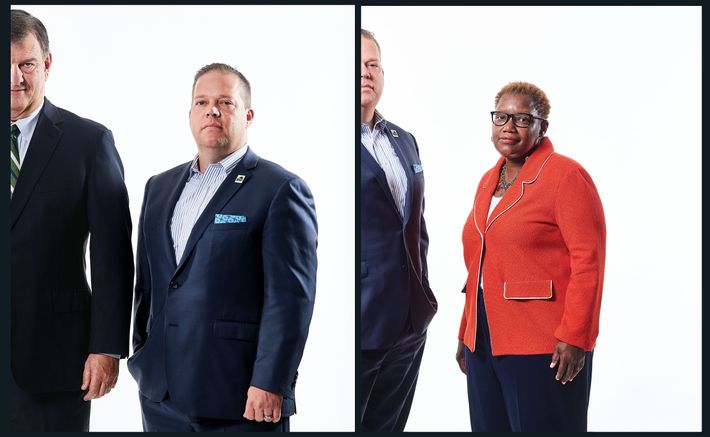 A lot of cities are filing suit against the state and federal government lately, particularly over immigration, but also over other issues where state and federal policy conflict with a city's self-governance. Are cities feeling they need to litigate to do what they need to do?
Rawlings: Our governor signed a bill taking away our right to instruct our police officers not to ask for proof of citizenship. Furthermore, the bill says that if I, an elected official, criticize it, the attorney general of the state of Texas has the right to eject me from office. It's just blatantly unconstitutional. So Houston, Austin, Dallas, San Antonio have gotten together to sue. And I don't want to be suing the state.
Benjamin: Waste of resources.
Rawlings: It is. That's not fun to do that. But we had to do that in Dallas.
Barnett: We spend a lot of time trying to tell the folks in Washington that we refuse to be treated as a special-interest group. We represent the same constituents and yet we find ourselves in lawsuits with what should be our brethren.
After all, you're not the ball-peen-hammer lobby or something.
Buttigieg: You feel like you're being treated that way. I remember when I was about to take office, I started getting an influx of lobbyists saying we want to represent your city in the state capitol, we want to represent your city in Washington. And my kind of naïve question was like, "Isn't that what my representatives and members of Congress are there for?" And it turns out, in many ways, the answer has been no. There is a sense that we're down to one out of three branches of federal government really working properly right now, and that's the judiciary. But we can't expect the courts to solve our problems. People trust their governments in cities.
Reed: Warts and all, our poll number [from "Is Atlanta on the Right Track?"] is 68 percent.
Buttigieg: Why in the world would we want to take cities and have them start looking more like state and federal government? And that's what's really at stake in these battles.
Garcetti: To save America — I mean, the things that we hear out of Washington, to do a trillion dollars of infrastructure [work], to create millions of jobs, to guarantee the safety of Americans in the communities where they live — these things have to be achieved in cities. I think what we offer to Washington right now, which is different than 40 or 50 or even 30 years ago, is now people have come back to cities. In the '60s, if we all went to Washington, we'd be asking Washington to save us. I think it's the flip now. It's that America's cities can come to Washington and save it.
Dayton, Ohio's Mayor on How to Fix the Opiate Epidemic
"We declared an emergency on the opioid crisis in 2014, so we've been dealing with this for a while. We have a lot of ideas that could be helpful. For example, we want Ohio to establish an opioid czar and activate the state-of-emergency operations center. They did that when the swine flu was around and a couple people passed away. I've been telling them they need to treat this like the disaster it is. We also think the state and federal government should do more to be flexible in regard to the Medicaid policies relating to detox and treatment. Medicaid is the basis of how we get treatment for folks. And the federal government, for example, doesn't allow Medicaid dollars to be used in jails, and so it's very difficult for them to get Vivitrol, Suboxone, or methadone, because it's paid for by the local community, which is already strapped."—Nan Whaley (D)
Columbia, South Carolina's Mayor on How to Address Police Abuse
"Three years ago this December, we started the Justice for All Initiative. We decided that we weren't going to wait on the Department of Justice, we weren't going to wait on our state government. All of our officers would have body cameras. Everyone charged with a violent crime, their interviews are videotaped, so this idea of coercing confessions would go out the window. We have a report in which we aggregate all data and share it with the public, so people worried about the use of force and police abuses, they're able to look back last year and see that there were, just as an example, 166,000 contacts with the public, 6,900 arrests, 91 complaints of misconduct; in only three incidents out of those 145,000 was deadly force used, and this is exactly what happened: This is the officer, this is the race of the officer, this is the race of the individual involved, this is how it was independently investigated, this is the narrative of how it was exposed. We've appointed a citizen to our internal affairs review board. We've, of course, completely changed our training to be able to detect things like mental illness or to work with all the unconscious biases that we all have. We also did something that a lot of folks aren't doing. We gave our cops a 7 percent across-the-board pay increase. We pay for them to get their education. Our cops get a residency bonus. So it's an approach that recognizes that these are the men and women who are running toward danger every single day. We've got to be thankful for them. But at the very same time, putting in the levels of accountability. We've got 150,000 people here, 400-something officers. There's no way 450 men and women can police a population that large without the trust of the public." —Steve Benjamin (D)
Los Angeles's Mayor on the Lessons of Hurricane Harvey
"I've been talking to [Houston mayor] Sylvester Turner, and we sent about 80 people from Los Angeles there, we've got mutual aid around the country. I think it just puts into stark relief that when America is faced with challenges, it is our cities that have to step up and face them, and it is an opportunity for us to transcend the divisions that we have and remember who we are. I loved hearing him talk about immigrants in his city who'd be protected and not deported as they are going through this emergency. Maybe it's an opportunity for [Trump]: Maybe we don't need to build a wall but can rebuild Houston and Texas instead. Certainly, this helps remind us why budgets are important. Abstract cuts sound good until you realize they do things like clean up contamination or help prepare for disasters. I think even for members of the House in Texas who said, 'Well, we shouldn't vote for Sandy relief,' it might be a little more personal this time when they realize we're all in the same boat." —Eric Garcetti (D)
Mesa, Arizona's Mayor on How to Be a Republican Mayor of a Border City
"We are in the process of doing a big deal that involves international trade with Mexico, and when the rhetoric coming out of Washington is 'We need to scrap trade deals with Mexico,' that has an impact on my economy. When I've got people in my community afraid to call police officers when they're the victims of crimes, that makes it more difficult for us to create a safe environment for everyone. I think the Republican Party is making a huge mistake by not reaching out more to the Latino community. We ought to be doing everything we can to build bridges with them, and so the pardoning of Sheriff Arpaio complicates that." —John Giles (R)
*This article appears in the September 4, 2017, issue of New York Magazine.