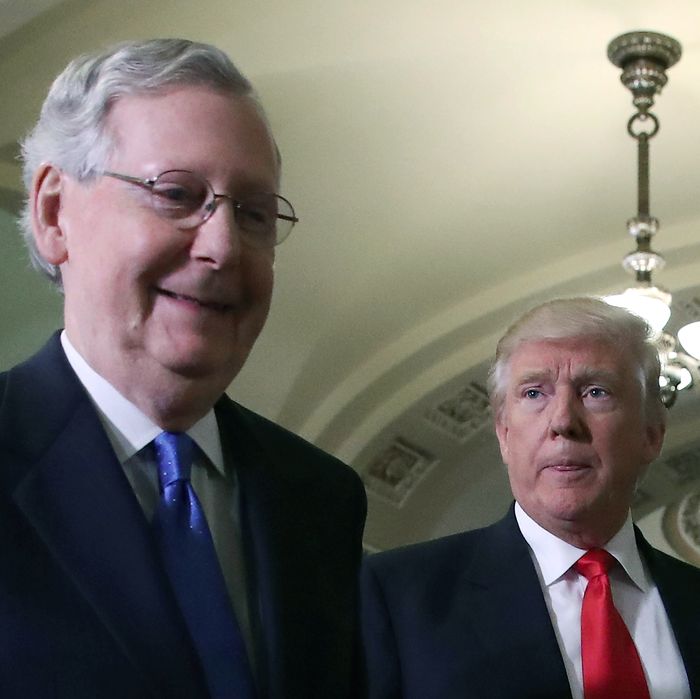 Just wait until McConnell leaks his burn book.
Photo: Mark Wilson/Getty Images
When Congress reconvenes on Tuesday they'll have only 12 days on the legislative calendar before they hit a slew of scary deadlines at the end of September. To make matters worse, President Trump and Senate Majority Leader Mitch McConnell appear to be feuding like angsty teenagers. After the failure of the Republicans' Obamacare repeal effort at the end of July, Trump publicly lashed out at McConnell and "berated him in a phone call that quickly devolved into a profane shouting match," according to the New York Times.
On Monday, The Wall Street Journal offered a grim update on their relationship. While the piece refers to an "uneasy alliance" between Trump and Senate Republicans, it says Trump and McConnell haven't met in weeks. Trump invited McConnell and other Republicans to join him at his New Jersey golf course during his tumultuous vacation last month, "but they were unable to coordinate schedules."
Apparently, even before the failure of the health bill, McConnell decided he didn't understand Trump's frivolous banter and wouldn't respond to it. Per the Journal:
Mr. McConnell, a fastidious, 30-year veteran of the Senate, often prepared note cards with points he wanted to make during phone calls with the president. Mr. Trump was more casual, starting conversations with several minutes of chatter about the day's headlines or what he had seen on TV, the kind of banter he used as a businessman with VIPs, according to people familiar with their discussions.




As it became clear Mr. McConnell couldn't summon enough Republican votes to repeal the Affordable Care Act, the Senate majority leader stopped responding to the president's chitchat, the people familiar said.




"Mitch?" the president said when Mr. McConnell fell silent in one call. "Are you there?"




Mr. McConnell waited a beat, then responded. "Yes, Mr. President. Back to the bill," according to those familiar with the talks.
While insiders frequently describe Trump's behavior as toddlerlike, this might sound like an odd tactic for a "fastidious, 30-year veteran of the Senate." However, it appears this sort of behavior isn't new for McConnell either. Back in December 2015, Politico reported that McConnell and then–minority leader Harry Reid could "hardly stand the sight of each other." They met only once during intense weeks-long negotiations over year-end spending and tax bills, and "though Reid and McConnell have communicated through aides and occasionally with each other on the floor, they've done so with gritted teeth."
In April of this year, Democratic senator Elizabeth Warren reported that McConnell had been giving her the silent treatment since he cut her off on the Senate floor months earlier, inadvertently coining the phrase "Nevertheless, she persisted."
"I've spoken to him, but he has not spoken to me," Warren told the Boston Globe. "I say hello to Mitch every chance I get, and he turns his head."
Weeks later, Warren reported, "I said hello to him first, and he finally said hello back."
The next few weeks are going to be rough.