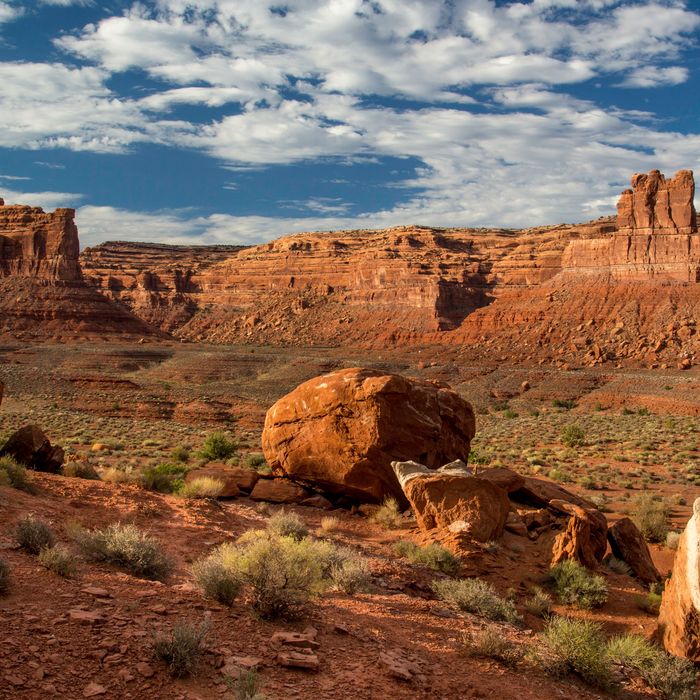 Bears Ears National Monument.
Photo: Bob Wick/Bureal of Land Management
So far, most of President Trump's major achievements, such as they are, have consisted of simply canceling, delaying, or rolling back the accomplishments of his predecessor.
A leaked memo draft shows that Interior Secretary Ryan Zinke will perpetuate that trend when he unveils his recommendations for modifying ten national monuments, some of which were created by President Obama.
If the draft does not undergo revision, Zinke will call for trimming back the size of four monuments, including Utah's vast Bears Ears and Grand Staircase-Escalante — which together make up more than 3.2 million acres — as well as Nevada's Gold Butte and Oregon's Cascade-Siskiyou. (The draft does not specify exactly how much land should be trimmed from the current designations.) He will also recommend that vast swaths of the Pacific Ocean near Hawaii and the Atlantic Ocean near Massachusetts be reopened to commercial fishing.
And, reflecting the Trump administration's reflexive pro-industry bent, he will recommend that the ten sites permit currently restricted activities like hunting, grazing, and "active timber management."
"Too often, it is the local stakeholders who lack the organization, funding and institutional support to compete with well-funded NGOs (non-governmental organizations)," Zinke writes in the memo, pushing back against the resistance he has faced from left-leaning advocacy groups.
The report, which dates from August, is the result of a four-month review of 27 monuments ordered by President Trump. His administration had argued that past presidents had overreached in their application of the Antiquities Act, a 1906 law passed during the presidency of Theodore Roosevelt, which allows presidents to create national monuments from federal lands. President Obama designated the Bears Ears and Gold Butte monuments in December 2016, just weeks before leaving office.
Zinke's recommendations did not fulfill the worst fears of his opponents, who feared that he would eliminate some monuments altogether, or transfer control of them to private interests. But if President Trump follows through on them, he will face intense legal pushback from environmentalists, who will test to what extent the Antiquities Act can be used to reduce the footprint of national monuments, rather than expand it.
The review process had drawn scrutiny for its opaqueness, with environmental advocates complaining that there had been no window into the Interior Department's thinking.
Zinke, a former Montana congressman who arrived to his first day of work on a horse, has worked to present himself as an advocate for the great outdoors in the tradition of Roosevelt, America's most famous environmentally minded politician. But as the New York Times reported in July, his Interior Department has been hard at work rolling back conservation laws.