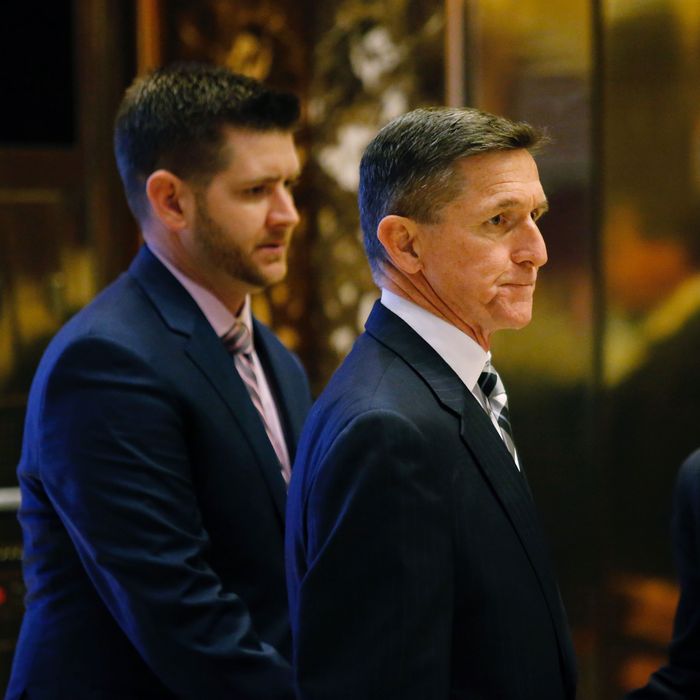 Flynns.
Photo: Eduardo Munoz Alvarez/AFP/Getty Images
Michael Flynn Jr., the amateur Pizzagate investigator and son of the former national security adviser, is the latest person in Donald Trump's orbit to find himself in Special Counsel Robert Mueller's crosshairs, NBC News reports. As a part of his investigation into Russian interference in the 2016 presidential election, Mueller is reportedly investigating Flynn's work for his father's lobbying firm, the Flynn Intel Group.
The younger Flynn worked as his father's chief-of-staff at the company and was heavily involved in its day-to-day operations. In 2015, he accompanied his father on the now infamous trip to Moscow where the elder Flynn gave a speech to RT, the Russian TV network, and had dinner with Vladimir Putin. It comes as little surprise, then, that Flynn the younger has been ensnared by Mueller, who is looking into the elder Flynn for his ties to Russia and his failure to disclose lobbying for the Turkish government.
NBC News suggests that Mueller may be going after Flynn Jr. not because he was mixed up in criminal activity, but because it might get his father to flip on Trump.
Several legal experts with knowledge of the investigation have told NBC News they believe Mueller, following a classic prosecutorial playbook, is seeking to compel key players, including Flynn and Manafort, to tell what they know about any possible Trump campaign collusion with Russia. Mueller has brought onto his team a federal prosecutor known for convincing subjects to turn on associates. Any potential criminal liability for Michael G. Flynn could put added pressure on his father, these legal experts said.
But even without worrying about his son, the pressure is mounting for Flynn. In a letter this week to Mueller, House Democrats accused him of failing to disclose a 2015 trip to Egypt that he took to broker a deal between Saudi Arabia's government and the Russian nuclear power agency. Several months after that trip, Flynn reapplied for security clearance and made no mention of that trip.
"It appears that General Flynn violated federal law by omitting this trip and these foreign contacts from his security clearance renewal application in 2016 and concealing them from security clearance investigators who interviewed him as part of the background check process," House Democrats wrote in a letter to Mueller.
Separately, Flynn has refused another request to appear in front of the Senate Intelligence Committee, CNN reports. This is the second time the former Army general has declined an invitation to speak to the committee. He declined for the first time in May, when he invoked his Fifth Amendment right against self-incrimination.
In these difficult times, Flynn would do well to remember the words of his former boss and good friend in the White House, Donald Trump, who reportedly reached out to him earlier this year to tell him to "stay strong."