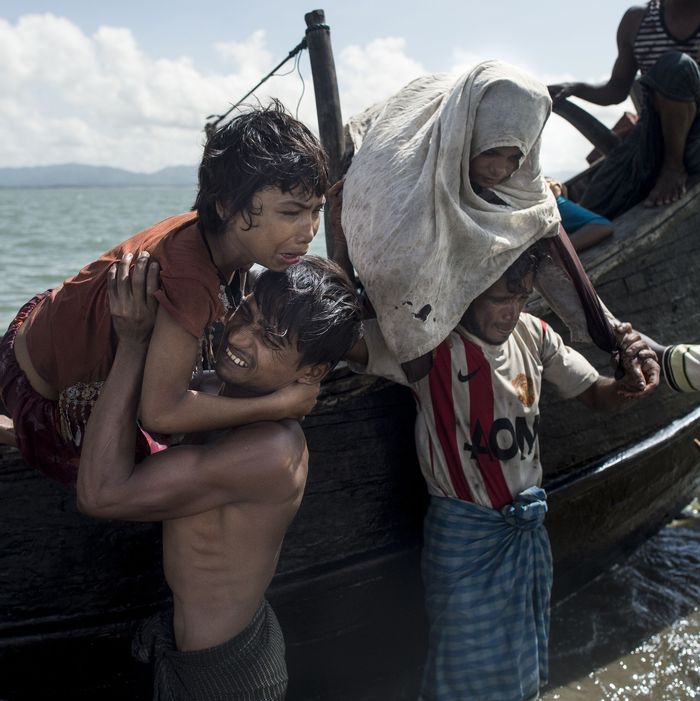 Bangladeshi men help Rohingya Muslim refugees to disembark from a boat on the Bangladeshi shoreline of the Naf river after crossing the border from Myanmar in Teknaf.
Photo: Fred Dufour/Getty
The brutal purge of the Rohingya, an ethnic Muslim population that has been suppressed in Myanmar for decades, has intensified in recent days, with thousands of people continuing to trudge over the border to Bangladesh to escape the horrors in their own country. The total number of refugees leaving Myanmar has now been estimated at over 501,000.
An Associated Press report from Bangladesh highlights the plight of those who have made it out:
[Mohamed Rafiq] collapsed onto a muddy spit of land cradling his wife in his lap — a limp figure so exhausted and so hungry she could no longer walk or even raise her wrists.




The couple had no food, no money, no idea what to do next. Their two traumatized children huddled close beside them, unsure what to make of the country they had arrived in just hours earlier, in the middle of the night.

 

Rafiq said their third child, an 8-month-old boy, had been left behind. Buddhist mobs in Myanmar burned the child to death, he said, after setting their village ablaze while security forces stood idly by.
Others didn't even get that far. On Thursday, dozens died when a boat carrying Rohingya traveling from Myanmar to Bangladesh capsized.
Refugees face new hardships even if they do reach Bangladesh. There, they join hundreds of thousands of others in sprawling, desperately poor camps, where Bangladeshi volunteers and international aid groups are attempting to do what they can to help a traumatized, rapidly swelling population. Where the Rohingya go after that, and whether Bangladesh can or will absorb hundreds of thousands of new people, is unclear. A Bangladeshi official has said that the Rohingya will not be granted refugee status.
The group, whose population is centered in the northern Rakhine state of Myanmar, has not been granted citizenship by the country since 1982, and have been systematically oppressed and brutalized for decades.
The latest crisis exploded just weeks ago, when a Rohingya insurgent group attacked a number of security posts, killing 12 people. Countermeasures taken by the Myanmar government have been so brutally violent that a top United Nations official said they amounted to a "textbook example" of ethnic cleansing.
Whole villages have been burned to the ground, and stories of indiscriminate murder and sexual violence abound. The episodes "really bring back memories of the genocide in Rwanda in terms of the level of hatred and extreme violence shown — especially towards women and children," Peter Bouckaert, emergencies director at Human Rights Watch, told Al Jazeera.
The worsening calamity has cast an increasingly harsh glare on Aung San Suu Kyi, Myanmar's de facto leader, who had been revered as a hero in the international community for years. She was awarded a Nobel Peace Prize for her nonviolent resistance to the military junta that ran the country for decades, and spent more than a decade under house arrest. But she has long treated the plight of the Rohingya with indifference. She was silent for weeks about the latest catastrophe, then partly blamed the Rohingya for the violence committed against them. Several Nobel laureates have expressed their disappointment, and critics have called for her prize to be revoked.