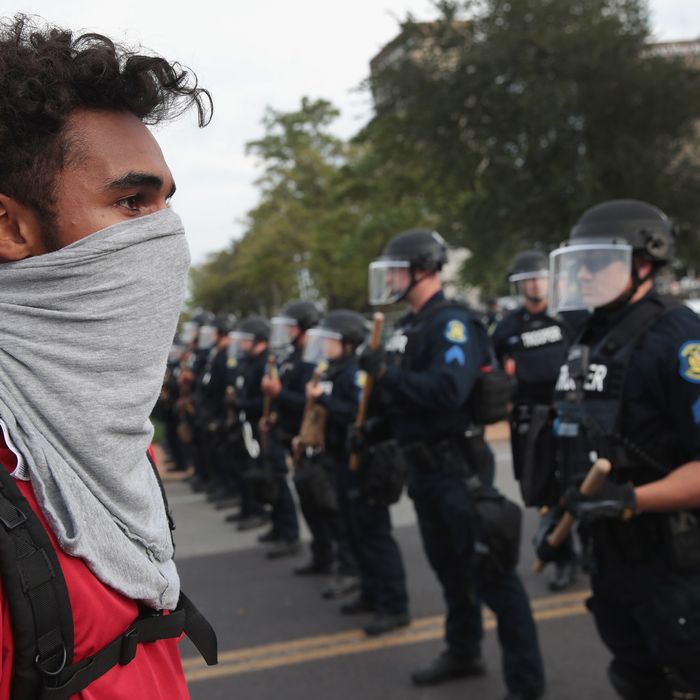 The protest on September 17, 2017, in St. Louis, Missouri.
Photo: Scott Olson/Getty Images
The protests that erupted on Friday when a judge acquitted Jason Stockley, a white police officer, of first-degree murder in the 2011 shooting of Anthony Lamar Smith, a black man, continued for a third day, with more than 80 people arrested on Sunday night.
In what's become a pattern, more than 1,000 peaceful protesters marched through downtown during the day, but overnight the situation became violent, with St. Louis police claiming that "groups of criminals" were "creating chaos."
"For the third day in a row, the days have been calm and the nights have been destructive," Mayor Lyda Krewson said at a press conference early on Monday morning. "This is unacceptable. Destruction cannot be tolerated."
At least 32 people were arrested earlier in the weekend for damaging property and blocking roads. Police said that around 8 p.m. on Sunday, a small group of protesters began breaking the windows of downtown businesses, then after 11:30 p.m. they ignored warnings to disperse. According to the St. Louis Post-Dispatch, police clad in riot gear yelled "Move back!" at the remaining protesters, corralling demonstrators and then making arrests.
Reporters said that a short time later they heard police officers chanting, "Whose streets? Our streets," adopting the line commonly used by protesters.
Police said officers were assaulted with rocks and unknown chemicals, and released a photo of weapons confiscated at the scene.
"I'm proud to tell you the city of St. Louis is safe and the police owned tonight," police chief Lawrence O'Toole said at Monday's press conference.