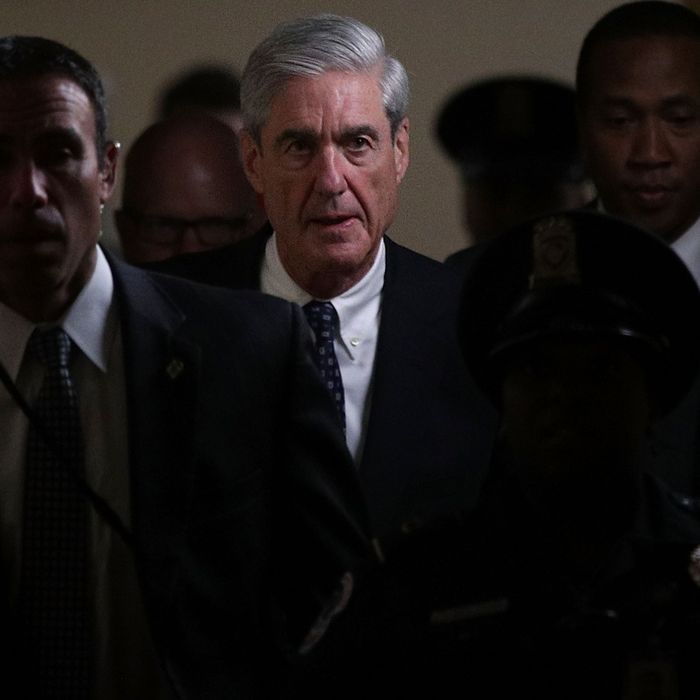 Mueller cometh.
Photo: Alex Wong/Getty Images
The Wall Street Journal reported on Friday that Facebook had turned over much more information to special counsel Robert Mueller about Russian-backed advertisements during the 2016 election than the company had shared with Congress:
The information Facebook shared with Mr. Mueller included copies of the ads and details about the accounts that bought them and the targeting criteria they used, the people familiar with the matter said. Facebook policy dictates that it would only turn over "the stored contents of any account," including messages and location information, in response to a search warrant, some of them said.
CNN confirmed on Saturday that Mueller had indeed obtained the information with the help of a warrant.
Legal experts said that the news could signal a potentially explosive new phase in Mueller's investigation. In a tweetstorm, Yale Law School associate dean Asha Rangappa said that to obtain the warrant, Mueller would have had to believe that a crime was committed — it is illegal for foreign people or entities to make contributions connected to American elections — and that the offense would need to be connected to "specific accounts" on Facebook.
Former federal prosecutor Renato Mariotti also focused on the warrant in a series of tweets, arguing that its presence meant that Mueller was "close to charging specific foreign people with a crime," and that if Trump associates were part of the planning behind it, they could face serious charges as well.
Representatives of Facebook previously told congressional investigators that, during the course of an investigation into the site's role in the 2016 election, it had discovered that a Kremlin-linked firm had bought $100,000 of ads between 2015 and 2017. The company also discovered about 500 likely fraudulent accounts that had been used to disseminate pro-Russian propaganda. It traced the origin of the misinformation to a Russian "troll farm."
Some of the ads were geographically targeted, leading to speculation that the Russian effort may have been lent a helping hand by Americans.
Alex Stamos, Facebook's chief security officer, wrote in a blog post that most of the ads didn't focus on one candidate but "appeared to focus on amplifying divisive social and political messages across the ideological spectrum — touching on topics from LGBT matters to race issues to immigration to gun rights."
Committees in both the House and Senate, like Mueller, are investigating Russia's role in the election and possible collusion with the Trump campaign. But lawmakers had been frustrated with how little Facebook shared with them beyond the basics, the Journal reported. The Senate Intelligence Committee is likely to ask Facebook representatives to testify publicly in the coming weeks, but even if it subpoenas Facebook, it is not likely to gain access to the information Mueller now has at his fingertips.