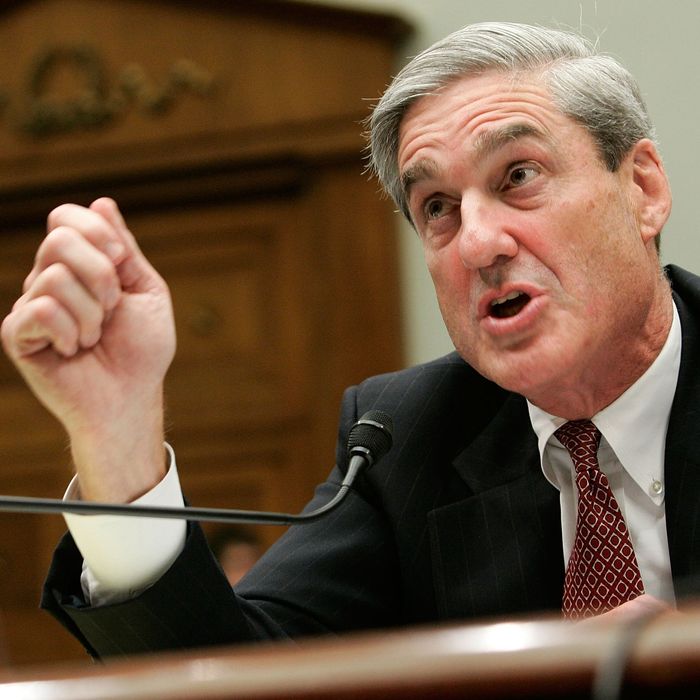 Mueller.
Photo: Alex Wong/Getty
Special counsel Robert Mueller has said he will interview six of President Trump's aides as part of his ongoing probe into Russian interference in the 2016 presidential election.
Among them are prominent current or former members of Trump's West Wing staff, including former White House Chief of Staff Reince Priebus, former Press Secretary Sean Spicer, and White House Communications Director Hope Hicks.
Also on the list are White House counsel Don McGahn, associate counsel James Burnham, and spokesperson Josh Raffel, who was hired by Jared Kushner.
The Washington Post reports that, according to sources familiar with Mueller's thinking, the advisors were "witnesses to several episodes relevant to the investigation of Russia's meddling in the 2016 election."
It's no surprise that Mueller would want to speak with members of Trump's inner circle, though the ex-FBI director has seemed, in the months since he was appointed, to direct more of his energy to slightly more peripheral figures in Trump's orbit, like onetime campaign manager Paul Manafort and disgraced national security advisor Michael Flynn. Recent subpoenas indicate that Mueller is digging into Manafort's complex political dealings in Ukraine and Flynn's in Turkey. He has also put increasing pressure on Manafort to co-operate with his investigation and has shrewdly taken away Trump's power to pardon him.
But Mueller is known for his doggedness, and he seems to be approaching the investigation from multiple angles while working gradually toward the man at the center.
More and more, Mueller has homed in on President Trump's ill-fated decision to fire FBI director James Comey, and whether the president obstructed justice by pressuring Comey to go easy on the Russia investigation. He obtained a letter President Trump wrote outlining his reasons for dismissing Comey, which make it clear that Comey's refusal to publicly exonerate Trump was the driving force behind his dismissal. The letter contradicted the official account that Trump dismissed Comey because of his handling of the Hillary Clinton email investigation.
Another point of interest is the White House's unwillingness to take action against Michael Flynn after it was revealed that he lied about meetings with Russia's U.S. ambassador. Flynn was finally let go 18 days after the disclosure.
CNN reported on Thursday that Mueller is also investigating the drafting of a misleading statement written aboard Air Force One, which offered a false version of the now-infamous June 2016 meeting at Trump Tower between Trump campaign officials and Russian operatives. On Thursday, Donald Trump Jr. testified for hours before the Senate Judiciary Committee about his role in that meeting.
Whatever the outcome of the Mueller probe, it's been a bonanza for Washington area attorneys. On Friday, Hope Hicks became the latest White House staffer to lawyer up.