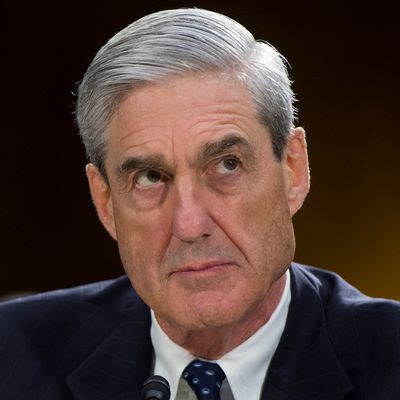 Thanks to previous federal investigations, the president doesn't have many legal options.
Photo: Tom Williams/CQ-Roll Call
Just days before the Monica Lewinsky scandal broke, a federal court in Washington quietly expanded the powers of Kenneth Starr, the independent counsel investigating the long-running Whitewater controversy. Thanks to that court order, the prosecutor could now look into whether Lewinsky and others "violated federal law" in connection with an unrelated civil lawsuit by Paula Jones against President Bill Clinton. And that meant Starr even had the authority to subpoena White House lawyers who may know about potential crimes implicating the president and his office.
That bit of ancient '90s history is suddenly relevant. Robert Mueller, the special counsel investigating potential criminal activity arising from Russia's interference in the presidential election, may rely on legal precedent from that era and beyond to get the White House to cooperate with the probe. The New York Times reported Wednesday that Mueller has requested a detailed list of documents related to 13 areas of interest to his inquiry. They include some of Trump's more troubling moments while in office, such as the firing of James Comey in May. Or the time Trump told Russian officials visiting the Oval Office that getting rid of the FBI director, whom he had relieved a day earlier, took "great pressure" off the administration. Or the circumstances surrounding the firing of Michael Flynn, who remained in his post as Trump's first national security adviser, despite warnings from Sally Yates, then the acting attorney general, that he may be compromised by the Russians.
Ty Cobb, the attorney leading the White House response to Mueller, has already indicated that he wants to play nice with the special counsel and turn over as many documents as possible. But of all places, he seems to be facing resistance from within: Donald McGahn, the White House counsel, was described by Cobb — within earshot of a reporter — as someone who is "very conservative" with the production of documents, some of which he appears to keep "locked in a safe," according to a Times report earlier this week.
Lord knows what secrets McGahn's safe holds, but he should have reason to worry. He was reportedly responsible for killing an angry letter to Comey that expressed Trump's true feelings about the ousted FBI director's handling of the Russia investigation. Mueller already has that letter. McGahn was also knee-deep in how the White House heeded, or ignored, Yates's alarm about Flynn. McGahn knows a lot.
Firsthand knowledge of some of Trump's thornier legal landmines, or potential crimes, raises profound ethical questions for McGahn, who has a professional responsibility to the office of the presidency as an institution, above and beyond any loyalty he may owe to Trump. But he also has a duty to himself and his future, and it's in his best interest to be as forthcoming as his other duties as a lawyer will allow him to be. If he hasn't interviewed him already, Mueller will expect him to be truthful. "Beware 1001," a white-collar defense attorney who knows about these things told me recently, referencing the federal statute prosecutors love to wield about during the fact-gathering process.
As McGahn sorts through these difficult questions, might the White House want to claim executive or attorney-client privilege in trying to withhold information that could otherwise be useful to Mueller?
Tough luck. On the executive-privilege front, the Supreme Court made clear, in ordering the Nixon White House to turn over the Watergate tapes in 1974, that there's no such thing as an "absolute" right on the part of the president to keep from the judicial process communications that he thinks are best kept secret and confidential. "The very integrity of the judicial system and public confidence in the system depend on full disclosure of all the facts, within the framework of the rules of evidence," wrote Chief Justice Warren Burger, a Nixon appointee, in the landmark ruling, which precipitated the president's resignation a little over two weeks later. "To ensure that justice is done, it is imperative to the function of courts that compulsory process be available for the production of evidence needed either by the prosecution or by the defense." Looks like the contents of McGahn's safe, if such a safe exists, aren't so safe from Mueller.
It's no different with legal advice — at least when it's given by government lawyers in their official capacity. There, too, the privilege gives way to the public interest in the enforcement of criminal laws and courts' constitutional prerogatives. Some 20 years ago, the U.S. Court of Appeals for the D.C. Circuit dealt a blow to the Clinton administration, which was in the throes of the Whitewater-Lewinsky scandals and had been fighting tooth and nail to keep from testifying Bruce Lindsey, a deputy White House counsel who was also a fierce Clinton loyalist. No dice, said the court. "When an executive branch attorney is called before a federal grand jury to give evidence about alleged crimes within the executive branch, reason and experience, duty, and tradition dictate that the attorney shall provide that evidence," wrote the three-judge panel in that case.
Neil Eggleston, who argued the White House position in the Lindsey case and served as White House counsel in the latter years of the Obama administration, told me in an interview that he still believes to this day that the D.C. Circuit — as well as the Eighth Circuit, which ruled against Clinton on a related issue — got it "dead wrong." He said the ruling sent a chill through White House lawyers, who no longer felt compelled to take notes for fear they might be called to face Starr and his grand jury. "It really made people quite on edge," he said.
If that was the case with an administration that's on the same page about things, imagine the pressure inside Trump's White House, which leaks like a sieve, is known for its infighting, and now faces scrutiny over whether its highly reputable lawyers ran afoul of their professional duties in divulging internal matters. And what if Trump somehow thinks these Clinton-era precedents around privilege aren't entirely settled and should be fought in court? As much as Eggleston dislikes the law in this area, he believes that pushing judges in an opposite direction would only further erode the public's trust. "We have enough to worry about our institutions, and if the courts were to do that, the people would inevitably think that the institution is very political," he said. "And I think that would be unfortunate."
Bob Bauer, Eggleston's predecessor as Obama's White House counsel, put it more sensibly: "The most robust protection of the executive often involves doing all that can be done to avoid confrontation with the courts over these issues."