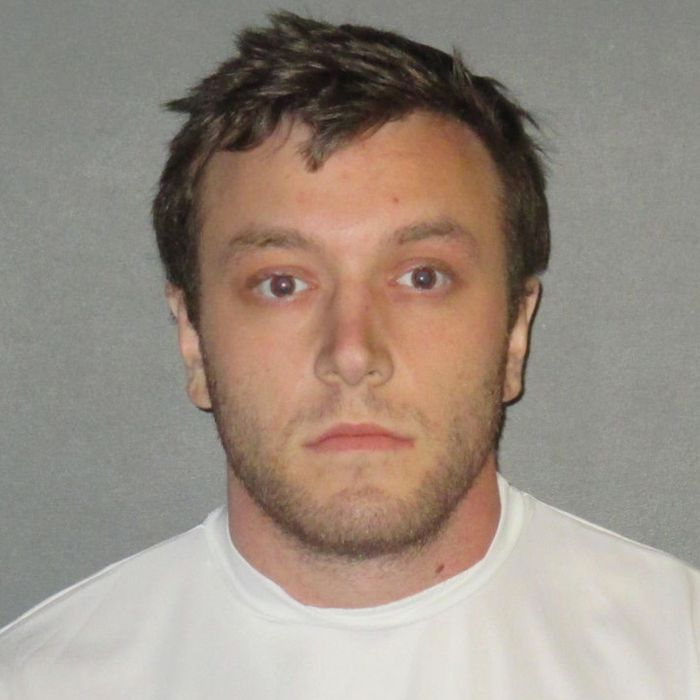 Shell casings linked to the crimes were found in Kenneth Gleason's car.
Photo: Handout/East Baton Rouge Sheriff's Office
Police in Baton Rouge, Louisiana, said on Sunday that there is a "strong possibility" that the murders of two black men in the city last week were racially motivated, according to the Associated Press. A 23-year-old white man, Kenneth Gleason, is considered a person of interest in the fatal shootings, which happened two days and five miles apart. Gleason is currently being held on drug charges, as police say they do not have enough evidence to charge him with the murders yet.
On Tuesday night, a 59-year-old homeless man named Bruce Cofield was shot and killed in Baton Rouge in what originally seemed like a random crime. Then, two days later, 49-year-old Donald Smart was killed in a similar manner while walking to his restaurant job on Thursday night. According to a police bulletin obtained by The Advocate, in both cases, the gunman, wearing dark clothes and possibly a tactical vest, shot the men from a red sedan using a 9-mm handgun, then exited his car to continue shooting them multiple times. A witness reported hearing about 12 shots on Tuesday when Cofield was killed.
The shootings were later linked after ballistics tests, and a manhunt for the killer began. It's not yet clear how Gleason became a suspect, but police said that his car matched the description of the vehicle they were looking for, and shell casings linked to the crimes were found inside.
The second victim, Donald Smart, was married with three children. He was a well-liked veteran employee at Louie's Cafe, the busy 24-hour diner near LSU's campus where he had worked for 20 years. The restaurant's general manager, Fred Simonson, broke down in tears as he remembered Smart during an interview with The Advocate on Saturday. "What Donald means to me as a person and Louie's as an institution is not quantifiable — it's not measurable," Simonson said. "We're not all perfect but, damn it, if this guy wasn't close … I will love that man until the day I die."
The diner, which was a half-mile from where Smart was gunned down, closed on Friday night so staff members could mourn.