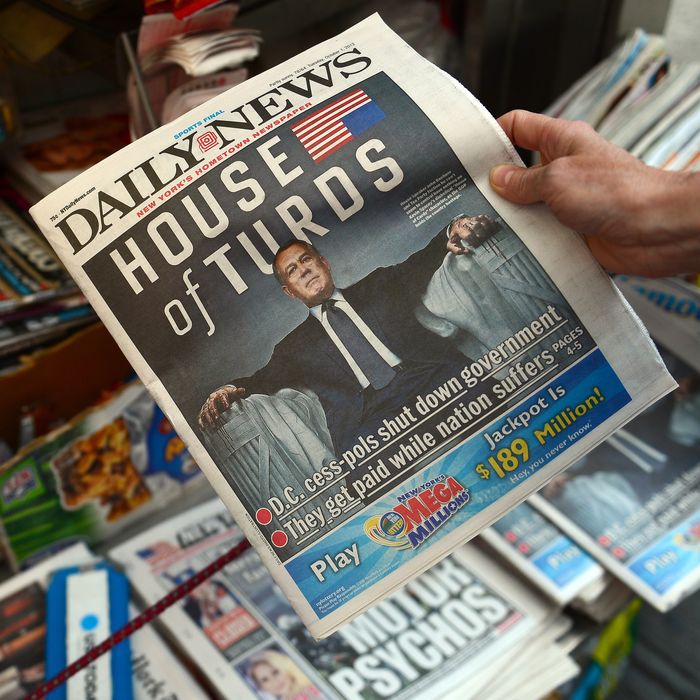 R.I.P., pun-filled cover lines?
Photo: EMMANUEL DUNAND/AFP/Getty Images
Tronc Inc, which owns the Chicago Tribune and the Los Angeles Times, announced on Monday that it has acquired the New York Daily News from real-estate magnate Mort Zuckerman.
The New York Times reports that no money changed hands in the deal. Tronc said it assumed the operational and pension liabilities of the Daily News; financial details were not released, but the paper's liabilities are said to be about $30 million. Tronc will also take full ownership of the paper's printing facility in Jersey City, as well as a 49.9 percent interest in the surrounding 25-acre property, which overlooks Manhattan.
Tronc, which was known as Tribune Publishing before a confusing rebranding last summer, will now have papers in ten U.S. markets, including the three largest. The company hopes that will "endear it to national advertisers," per the Times. Tribune founded the Daily News, but it has been owned by Zuckerman since 1993. The billionaire toyed with selling the paper in 2015, but took it off the market after a few months.
"The New York Daily News is a venerable New York City institution," said Daily News co-publisher Eric Gertler. "We believe that under Tronc's leadership, the New York Daily News will maintain its tradition of excellence in journalism and continue to be a critical voice for millions of print and online readers."
It's unclear if that means the Daily News' iconic pun-filled covers will survive the deal.