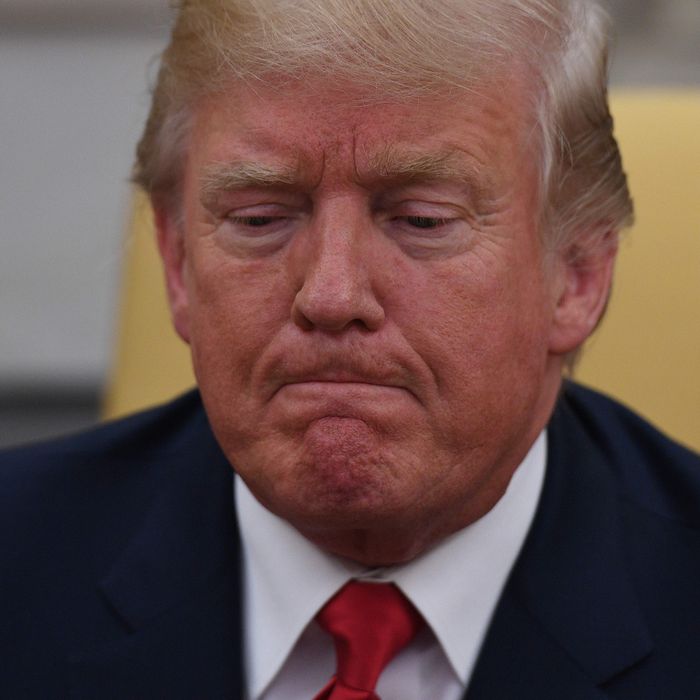 Trump's bullshit has hit the DOJ's fan.
Photo: Jim Watson/AFP/Getty Images
Department of Justice lawyers say that the department has no evidence for President Trump's controversial claim that President Obama ordered wiretaps of Trump Tower during last year's presidential campaign. In a filing made public on Friday, the lawyers wrote that "both the FBI and [National Security Division] confirm that they have no records related to wiretaps as described by" Trump. The filing was made in response to a Freedom of Information Act request made by the group American Oversight.
In a series of early-morning tweets sent on March 4, Trump had claimed, without offering any evidence, that he had "just found out" that Obama had tapped Trump Tower toward the end of last year's presidential race:
Terrible! Just found out that Obama had my "wires tapped" in Trump Tower just before the victory. Nothing found. This is McCarthyism! Is it legal for a sitting President to be "wire tapping" a race for president prior to an election? Turned down by court earlier. A NEW LOW! I'd bet a good lawyer could make a great case out of the fact that President Obama was tapping my phones in October, just prior to Election! How low has President Obama gone to tapp my phones during the very sacred election process. This is Nixon/Watergate. Bad (or sick) guy!
The episode, as well as Trump and the White House's subsequent refusal to provide any evidence to back up the claim, was one of the most-outrageous early events of Trump's presidency. The most likely explanation for Trump's tweets is that someone passed him a Breitbart article writing up accusations against Obama made by conservative radio host Mark Levin, who based his claims on dubious British media reports. In other words, a right-wing game of conspiracy-theory telephone resulted in the president of the United States accusing his predecessor of a politically motivated criminal act via tweetstorm, which in turn kicked off one of the biggest, most-distracting scandals of Trump's early presidency.
Fired FBI director James Comey, who, immediately after the tweets, had reportedly urged the Justice Department to officially rebuke the president, later testified before Congress that he knew of no evidence for Trump's claim. Now, after being forced to, the DOJ has confirmed that it doesn't have any evidence either.