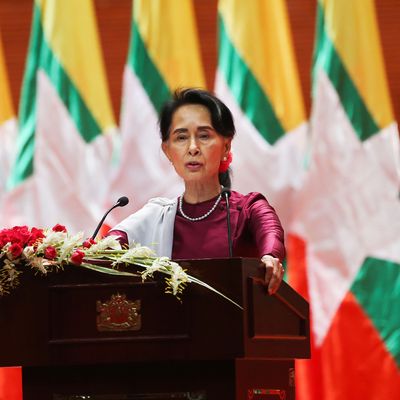 Myanmar's state counselor Aung San Suu Kyi delivers a national address in Naypyidaw on September 19, 2017.
Photo: Ye Aung Thu/AFP/Getty Images
Myanmar's crackdown against the Muslim minority Rohingya continues, with nearly 400,000 Rohingya refugees fleeing from the country's Rakhine State to Bangladesh in recent weeks. Myanmar's de facto leader and Nobel Peace Prize laureate Aung San Suu Kyi has been mostly silent on the crisis, and amid international pushback, she skipped the United Nations General Assembly Meeting meeting this week, promising to address the crisis in a nationally televised speech.
Suu Kyi delivered that speech on Tuesday, but did little to appease critics who say she is ignoring a genocide in her midst. Though she condemned "all human-rights violations and unlawful violence," she did not mention the Rohingya by name, and papered over the atrocities by suggesting the reports of people fleeing were overblown.
"We want to find out why this exodus is happening," she told an audience in the city of Naypyitaw. "We want to talk to those that have fled, as well as those who have stayed. I think it is very little known that the great majority of Muslims in the Rakhine State have not joined the exodus."
The basis for the exodus is well-documented, and stems from a military crackdown that began August 25, after militants associated with the Rohingya clashed with Myanmar security officials, killing 12. The military met the attack with disproportionate force, incinerating villages and driving waves of men, women, and children across the border to Bangladesh, to refugee camps that lack basic necessities.
Suu Kyi failed to acknowledge the targeted campaign against Rohingya villages, going so far as to defend the military that had put her on house arrest for years. "The security forces have been instructed to adhere strictly to the code of conduct in carrying out security operations, to exercise all due restraint and to take full measures to avoid collateral damage and the harming of innocent civilians," she said, also claiming there had been no "clearance operations" for two weeks.
Supporters of Suu Kyi have defended her inaction on the Rohingya, saying she is beholden to the whims of military, even as she tries to usher in a fledgling democracy in Myanmar. Suu Kyi seemed to use this as a defense, as well, calling her government a "young and fragile democracy facing many problems."
The plight of the Rohingya was expected to come up at this week's gathering at the United Nation, with or without Suu Kyi's conspicuous absence. According to Reuters, investigators have already begun collecting testimony to support evidence of human-rights violations, and Human Rights Watch called on the U.N. Security Council to impose sanctions on Myanmar.
"What Suu Kyi told her people and the world is a complete lie. If what she said is not a lie then let the world media in, so that they can see whether we are tortured or we are happy," Abdul Hafiz, a Rohingya refugee in a camp in Bangladesh told the Washington Post, after Suu Kyi's speech. "Let them see the plight of the people there."
"If it's a lie, then you can throw me in the sea and kill me," he said. "We will not mind."