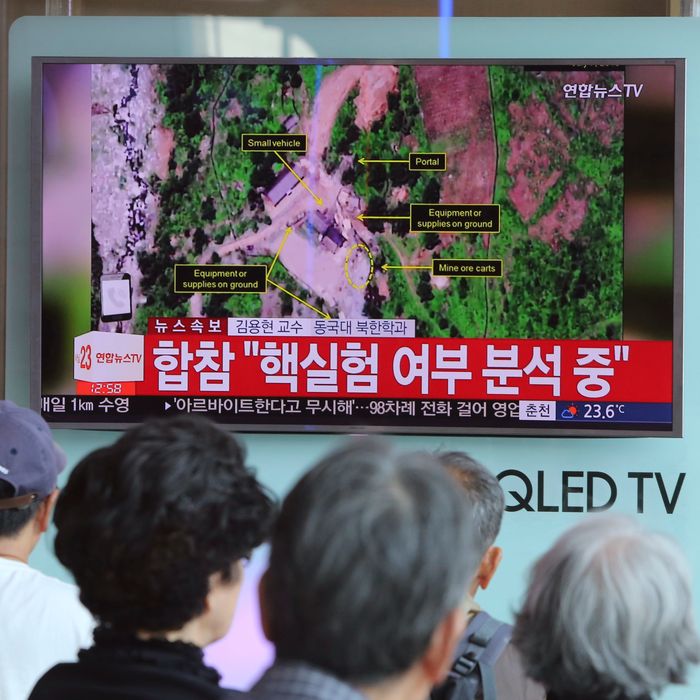 People in Seoul watch a TV news report on the nuclear test on Sunday morning.
Photo: Ahn Young-joon/AP
• After monitors detected a significant manmade earthquake on the Korean Peninsula on Sunday morning, North Korea claimed it had successfully tested a hydrogen bomb it says can be mounted onto an intercontinental ballistic missile. It was North Korea's sixth nuclear test and the most powerful one to date — surpassing, for the first time, the destructive power of the atomic bombs the U.S. dropped on Hiroshima and Nagasaki. Though it's not clear if North Korea is telling the truth about its ability to mount the bomb on an ICBM, the test still represents a significant escalation in the conflict between the country and the U.S. and another act of defiance in response to President Trump's bluster toward the regime.
• President Trump met with his national-security team to discuss the provocation, and afterwards, Defense Secretary James Mattis warned North Korea that the U.S. could and would respond to threats with force.
• In tweets on Sunday, Trump called North Korea "dangerous" and hinted at a U.S. military response; said China's efforts to rein in Pyongyang had been a failure; criticized South Korea for trying to appease Pyongyang; and floated the idea of cutting off U.S. trade with anyone who does business with North Korea (i.e. China).
• World leaders have also condemned the test, and there will be an emergency meeting of the U.N. Security Council on Monday to discuss the ongoing crisis.
• Prior to the test, Trump reportedly directed his administration to withdraw the U.S. from a 2012 free-trade agreement with South Korea, which seems more related to Trump pleasing his nationalist base than defusing the crisis on the Korean Peninsula.
The U.S. and International Response
Before meeting with his national-security team on Sunday afternoon, President Trump responded to North Korea's nuclear test in a series of tweets, calling North Korea dangerous and chastising South Korea for what he said was an attempt to "appease" the country. He included another apparent threat to use force against the regime, less than a week after responding to a North Korean missile test by remarking that talking to the regime "is not the answer." Here is what Trump tweeted on Sunday morning:
[North Korea's] words and actions continue to be very hostile and dangerous to the United States. North Korea is a rogue nation which has become a great threat and embarrassment to China, which is trying to help but with little success. South Korea is finding, as I have told them, that their talk of appeasement with North Korea will not work, they only understand one thing!
Thus far, Trump's threats against North Korea have done little, if anything, to change the regime's behavior, but the bluster continued on Sunday.
Prior to his national-security meeting, Trump attended a church service in Washington, and upon leaving was asked whether he would attack North Korea. "We'll see," the president replied.
After the national-security meeting concluded, Defense Secretary James Mattis announced at a White House press conference that "we have many military options and the president wanted to be briefed on every one of them." Mattis also warned North Korea that "any threat to the United States or its territories including Guam or our allies will be met with a massive military response."
"We are not looking to the total annihilation of a country, namely North Korea, but as I said we have many options to do so," Mattis continued.
Trade Wars
Also on Sunday, Trump announced that the U.S. "is considering, in addition to other options, stopping all trade with any country doing business with North Korea." Such a policy, assuming it's even possible (it's not), would of course target China, North Korea's primary trading partner. Before Trump's trade-policy threat, Treasury Secretary Steven Mnuchin said on Fox News Sunday that he was drafting "a sanctions package to send to the president for his strong consideration that anybody that wants to do trade or business with [North Korea] would be prevented from doing trade or business with us."
But Sunday was not the first time that Trump, who frequently attacked U.S. trade deals and partners during his presidential campaign, has suggested opening a trade war in the region amid the possibility of a real war. He has repeatedly indicated his willingness to go after China on trade as a way to get them to put more pressure on North Korea. That's on top of his desire to start a trade war with China, regardless of what's happening with Pyongyang.
And it's not just China. One day before North Korea's test, it was reported that President Trump had directed his staff to come up with a plan to withdraw the U.S. from its 2012 free-trade agreement with South Korea — a move that would not only alienate America's most important ally in the region, but also make that alliance look weak to outsiders like North Korea and China.
The International Response
World leaders condemned North Korea's new nuclear test on Sunday as well. German chancellor Angela Merkel and French president Emmanuel Macron both said they intended to tighten European sanctions on North Korea in response to the test, and British prime minister Theresa May indicated that the U.N. Security Council should immediately look at new ways to retaliate as well. The council will meet on Monday morning in an emergency session to discuss the test. Russian president Vladimir Putin and Chinese president Xi Jinping reportedly met in China on Sunday, and according to the Chinese state media, the two leaders agreed to "appropriately" deal with the crisis — though, China has infinitely more influence over Pyongyang than Russia does.
Prior to Sunday's nuclear test, North Korea announced that it had developed a hydrogen bomb that could fit into an ICBM warhead and, for the first time, suggested that it was also capable of launching an EMP, or electromagnetic pulse attack — which would entail detonating a nuclear bomb in the atmosphere above a target, as opposed to directly targeting a city. The government released an undated photo, seen below, which purports to show North Korean leader Kim Jong Un inspecting the loading of the hydrogen-bomb device into a warhead at an undisclosed location.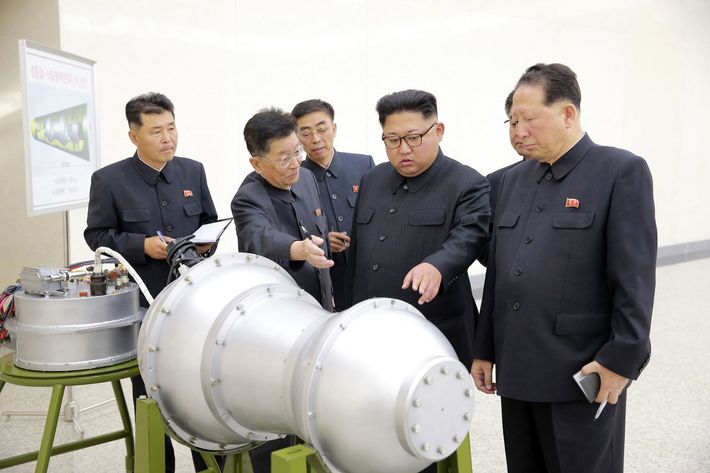 Hours after the announcement, the nuclear test was detected as a 6.3-magnitude tremor in the northwestern region of the country. While some of the claims North Korea has made about its military advancements have turned out to be accurate, the regime in Pyongyang is also notorious for exaggerating its progress. The available scientific evidence indicates that the bomb North Korea tested on Sunday was its most powerful yet, but it's not clear whether it could be fit into an ICBM warhead, or if it was definitely a hydrogen bomb as North Korea has claimed.
Reuters reports the bomb detonated Sunday was measured to be ten times more powerful than the last nuclear test North Korea conducted in 2016, and that experts now believe the regime has either developed a hydrogen bomb or is very close to doing so. In July, North Korea successfully tested a pair of ICBMs that analysts believe were capable of striking the mainland U.S. That marked a significant advancement in the regime's ballistic-missile program, though the regime has not been able to demonstrate that one of its long-range missiles could be fitted with a nuclear warhead, or that any of its warheads could survive reentry into the earth's atmosphere after such a long flight. If North Korea were to develop such a capability, a hydrogen thermonuclear bomb, which is smaller and lighter than other types of nuclear weapons, would be the kind of device they'd need.
This is a developing news story and this post will be updated throughout.