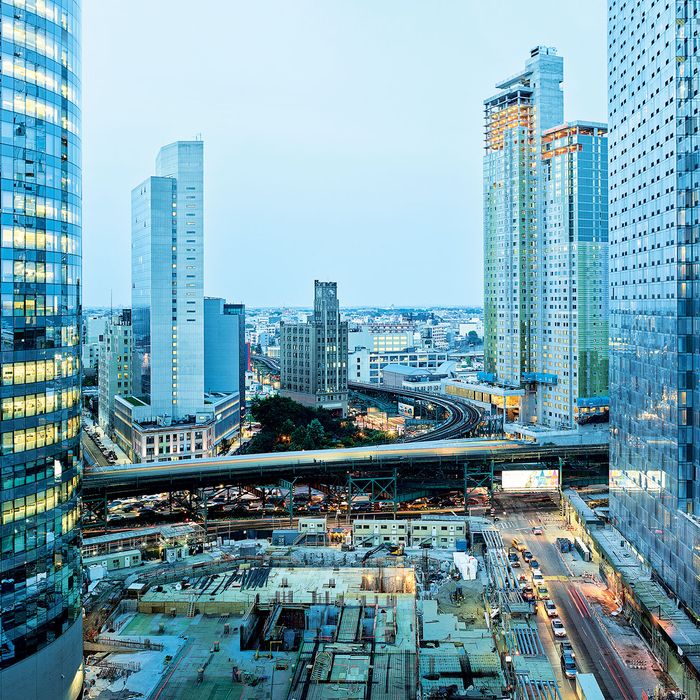 From left:
The New York City Department of Health and Mental Hygiene; Courtyard by Marriott; a rising apartment building at 29-32 Northern Boulevard; and Jackson Park, a forthcoming 1,800-unit apartment complex.
Photo: Jeff Chien-Hsing Liao/New York Magazine/Photograph taken from the Aloft Long Island City Hotel
When I was first going to Long Island City, 20 years ago, people would ask, 'Will you be back tonight?' " says Amanda Burden, who directed city planning under Mayor Bloomberg and is at least partly responsible for the startling changes there. Burden's general policy was to encourage high-density development in places with lots of subway lines (see also: Downtown Brooklyn). Long Island City, with its seven lines, one stop out of Manhattan, became an obvious focal point for a growing city — even if the results aren't exactly what Jane Jacobs had in mind.
Since 2010, more than 12,000 apartments have been built there, with over 9,000 more on the way. That's more than in any other neighborhood in any other city in the country, more than in downtown Los Angeles (the runner-up) or in any area of booming Brooklyn. Queens now has a skyline, and a restless one, with developers competing to announce plans for what will be the borough's tallest building (Court Square City View Tower, which is supposed to rise to 984 feet when complete, is in the lead right now), as well as creating self-contained amenity biospheres so the residents hardly have to leave.
"All these buildings are built with dry cleaners," says Mary Ceruti, the director of the SculptureCenter art space, which inhabits a former trolley-repair shop on Purves Street. Back in 2001, when the gallery moved in, the area was popular with prostitutes ("When you came in, in the morning, it was littered with condoms"). Now, if the center has a party in its courtyard that goes later than 7:30 p.m., Ceruti gets complaints from neighbors with small kids.
Long Island City is really three neighborhoods: There is a sequence of towers lined up along the waterfront like massive docked cruise ships overlooking a state park — an attempt, starting in the '90s, to replicate the success of the Truman Show urbanism of Battery Park City, which Burden also worked on. Behind that is a low-rise neighborhood of (some) homes, restaurants, and lots of small industrial businesses that Vernon Boulevard runs through. Burden capped the height there (Vernon is also where you'll find a satellite location of the Village's Corner Bistro, complete with a duplicate sign, if not a duplicate vibe).
More recently, a second high-rise cluster has erupted a bit inland, the legacy of a stalled idea: In 1990, the green-glass Citibank building was erected over the Court Square subway station, which was supposed to encourage the creation of a back-office district for midtown Manhattan. "Metrotech" — the Downtown Brooklyn office corridor — "worked, but Citibank didn't, and no one can figure out why," says Jon McMillan, director of planning for developer TF Cornerstone, an offshoot of the longtime family development business Rockrose. Rockrose had already made big investments in Long Island City, and when two of its founding brothers split off, TF, the new company, got the waterfront lots, and Rockrose got those down by Court Square, more of which had been rezoned for high-rises in 2000. "We'd tried to market an office next to Citibank for years, and nobody was interested," McMillan says. Then, in 2008, Rockrose started using the new high-rise zoning to build apartments instead of offices. After the recession, the company's bet paid off; the neighborhood's transportation hub drew residents. The success of Rockrose's first apartment building, Linc LIC, convinced banks to lend to other developers doing similar buildings, setting off the current Court Square mania.
However disorienting such new development may feel to New Yorkers used to skylines being only on the Manhattan side of the East River, Long Island City is not a story of mass displacement of residents. "It was an industrial neighborhood with very few residents," says longtime local advocate Nina Rappaport. "Long Island City had a population of like 15,000." Some of the big industrial concerns did move out (Swingline, Eagle Electric), although the smaller and more specialized ones, including the plastics firm Plaxall, have remained (for now), as has Silvercup Studios, which opened in 1983, replacing Silvercup Bakery.
The neighborhood's transition has been a long time coming. In 1976, when Queens officials let curator Alanna Heiss take over an abandoned schoolhouse — "The roof was partially gone," she remembers — to found the contemporary-art space PS1, "it never occurred to me that in a few years people would not be flocking to that place," she says. "We all assumed it would change in five years and our idyllic world would be shattered." Others saw a similar potential: The Noguchi Museum opened in 1985, and artist Mark di Suvero created the Socrates Sculpture Park a year later in an abandoned illegal dump on the waterfront. But while some artists found studios in the area, few decided to live there. La Vie Bohème, or La Vie Bobo, just didn't take, the way it would in Williamsburg.
This is mostly because, a few blocks here and there notwithstanding, Long Island City just isn't very charming, even in a romantic, post-industrial-grit way. "They don't have the bones of the old housing" of Brooklyn, Burden says. "None of the big loft spaces or brownstones where the people from Manhattan wanted to resettle. It was really more of an industrial zone."
It's also — subways aside — isolated from the rest of the city by the infrastructure that first made it a state-of-the-art factory neighborhood a century ago: Sunnyside Yards to the east, the Queensboro Bridge and its approaches to the north, Newtown Creek to the south. Not to mention the Long Island Expressway and the Queens Midtown Tunnel. People don't really just wander through, get inspired by a charming, underutilized space, and decide to open a restaurant.
Which means it's a boomtown without much street life. Many of the new buildings not only have their own dry cleaners but also "have their gyms, have whatever they need inside the building," says Ceruti. "And if you're not home to receive things, these buildings have rooms to get your groceries delivered into a refrigerated room."
"The newness is sort of like the enemy in a way," allows Rockrose's 39-year-old president, Justin Elghanayan, when I meet him at the 51-story, 974-unit Hayden, which opened seven months ago. He is trying to have it both ways: build these megabuildings and attempt to create his own curated version of the street life he likes back in Boerum Hill, where he lives. We're standing on one of Hayden's five roof decks, from which we can survey other new developments. To the northwest, blocking part of the midtown view, is Linc LIC's inexplicably bifurcated 42-story façade — it's glass on the bottom, but stepping back reveals what appears to be an entirely different, brownish building up top. A few blocks north is the still-under-construction, three-towered, 1,800-unit Jackson Park, which has the inexpressive mirrored-glass look of something imported from Dallas; to the south is the twin-towered, 1,150-unit condo replacement for 5Pointz, the old water-meter factory that graffiti artists had turned into a living exhibition of aerosol artwork. The condos will also be called 5Pointz, and its logo looks, yes, like a tag, but the buildings themselves look like they just moved from Tysons Corner. Across the street is Rockrose's handsome new building, the Eagle Lofts, named after the Eagle Electric factory. Rockrose preserved the old warehouse but added the 54-story tower in front of it. Elghanayan points out that the old building's water tower is now a rooftop amenity space.
Like most of the big buildings going up, Hayden is a self-contained young-professional-lifestyle citadel equipped with, as Elghanayan puts it, "knock-your-socks-off amenities," including a pristine indoor basketball court. One of the other roof decks is supposed to be just for yoga, another for coffee. And this one is for? "Hanging out, lounging, looking sexy," he says, gesturing to the wall along the north side, which hinges open to reveal a screen for outdoor movie nights. "Actually, you do all these marketing renderings showing people lounging: Oh, you look so hot. But it actually does look like that when people are here."
Hayden's target market is 20- and 30-somethings who like the quick subway or ferry ride to midtown and can pay $3,200 and up for brand-new, glass-wall, assembly-line one-bedrooms. Of course, with all the new construction, there may be a glut on the way, but so far Rockrose has no problem finding renters. As Haiwen Lu, a 31-year-old PR person who moved in last April, puts it, "I want to feel like I'm living in a hotel. I feel like I'm living in my personal hotel."
Not only is Long Island City one stop from Manhattan; it's also on the 7 line, which goes to Flushing, the Chinese community in Queens, where many of the renters have family, according to Elghanayan. In that sense, the neighborhood is part of the New York immigrant story, enabling the next generation "to have a foot in both worlds, be near their families but also be near Manhattan," he says.
Back on the ground level, Elghanayan is showing me how he's preserved a line of older buildings on both sides of Jackson Avenue to create his own cool neighborhood. He wants his residents "to be able to leave." Besides, "how often do you have all of these spaces you can control?" he asks. "I have these fantasies of what I want to create. And the zoning allowed for us to control the vibe."
To that end, "we rejected a lot of chains. We want to have a bit of a neighborhood feel." They put a grocery store, Foodcellar, which does a pretty good imitation of a Whole Foods, in the bottom of Linc LIC. Elghanayan is subsidizing the rent on a branch of Book Culture from the Upper West Side and has recruited the coffee shop Toby's Estate ("Psycho Killer" is playing when I walk in) and an Italian restaurant called Levante, an outpost of a brick-oven-pizza place in Brooklyn Heights. He's putting in a pharmacy (not a chain!) and maybe a wineshop and a music venue, though he's not sure the numbers work for that. Opening soon is Sapps, a Japanese restaurant modeled after Sapporo East, which "I used to go to all the time when I lived at 10th off First," he recalls.
I ask about retail, and he pauses, then asks me if having a place to shop would help the sense of community. Maybe a vintage shop, like the one he used to buy T-shirts from when he lived in the East Village? Or a hip sneaker place? "I could do a badass clothing store," he admits. "But that, to me, is a PR piece. Would I spend an extra million dollars so I can talk with people like you about how we have one?"
For all of Elghanayan's attempts at social engineering, Long Island City likely won't have much retail until there are more people working there, more businesses. Across the street from Jackson Park is a twin-towered commercial building, which will house WeWork and Macy's offices. And TF Cornerstone is building a mixed-use complex on the northern border of the waterfront development site, with office space and what McMillan calls a "curated incubator and accelerator space you have to apply to get into," modeled on the Brooklyn Navy Yard. There's also hope that the Cornell Tech campus just across the way on Roosevelt Island will bring an influx of new science jobs.
To Burden, all this makes Long Island City something of an experiment. "It's a new creation, and it's going to have its own DNA, and its little strands are just taking form," she says. "Everything will depend on what it feels like at street level when you walk along the sidewalks."
After I leave Elghanayan, who walks toward the G to go home to Boerum Hill, I text a friend of a friend, Kinal Shah, 30, who works in digital marketing and has lived in the neighborhood with her husband for four years. She wants to meet at the just-opened Starbucks, but I suggest Toby's. When she arrives, she looks a bit skeptical, declaring it too hipstery for her taste.
"I actually hate Brooklyn," she says. "I always feel like I don't fit in." I mention that Toby's was put here by the developer of Hayden, which looms over us. "It's an eyesore, frankly," she says. Still, all the new buildings opening, with all their amenities, is holding down her rent, so that works for her. She has a 750-square-foot apartment for $2,500 a month in one of the older, non-doorman buildings, with a terrace. She loves how convenient it is to get to work, and to her sister's on the Upper East Side, and to Central Park. Sometimes she and her husband go to Vernon Avenue, where "there also is a coffee shop and a cliché brunch spot and a Michelin-star Mexican restaurant," Casa Enrique. And, like most of her friends, she does all her clothing shopping online.
I ask her what living in Long Island City says about a person, and she pauses to think. "It actually doesn't say anything about you," she decides. And at that, she looks relieved.
By the Numbers
The boom, quantified.
2007: 7 new buildings, 918 new units
2008: 9 new buildings, 690 new units
2009: 13 new buildings, 544 new units
2010: 6 new buildings, 591 new units
2011: 3 new buildings, 844 new units
2012: 5 new buildings, 622 new units
2013: 7 new buildings, 2,105 new units
2014: 9 new buildings, 1,518 new units
2015: 7 new buildings, 767 new units
2016: 14 new buildings, 1,481 new units
2017: 29 new buildings, 5,656 new units
On tap for 2018–2020: 28 new buildings, 7,332 new units
(Data courtesy of CityRealty)
Median rent in 2010
Studio: $1,975
1-bedroom: $2,600
2-bedroom: $3,554
3-bedroom+: $3,495
Median Rent in 2017
Studio: $2,465
1-bedroom: $2,857
2-bedroom: $2,800*
3-bedroom+: $3,725
*A surplus of new available units led to this drop in rent.
(Data courtesy of StreetEasy)
Average selling price so far in 2017: $1,115,797
(Data courtesy of Corcoran Sunshine)
Amid the Development: Life Before and After All the High-Rises
By Margaret Rhodes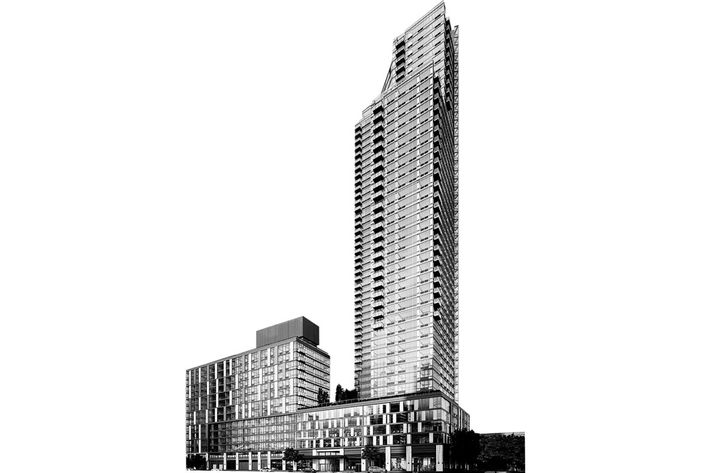 Three locals who got in early …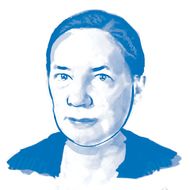 Local since 1987
Terri Gloyd, 62, co-owner of LIC Corner Café
"There used to be nothing here. The grocery store was awful; the deli had a half-dirt floor. I wasn't involved in the neighborhood at all until I had a son. It was lovely here for a kid — there were empty lots and fields. We're very tied to the community now. My husband and I love Anable Basin. It's just picnic tables on the water with the view of the city, huge, in your face. We get beer and sausages from an open grill under a garage door. There's usually sailboats pulled up. It's super-simple, but it's a gem — and you could not notice it."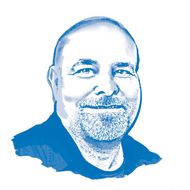 Since 1991
Orestes Gonzalez, 59, photographer
"Most of my favorite local businesses closed, like Pickwick, an old-time variety store where you could buy just about anything. But I've gone to Y & Y Barber Shop for years. Yuno, the owner, is from Uzbekistan. You can get a fancy $36 haircut from the hipster places or get one here for $14. The Court Square Diner has been here in some form or another since the 1940s; I get the chicken souvlaki platter. They're being surrounded by new development, but they bought the lot they're on and they're staying."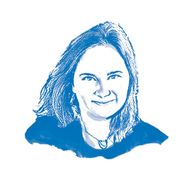 Since 2002
Julie Powell, 44, author
"People always said this would be the next Soho. Maybe not, but the art was always here. There was a gentle ambience to all these warehouses, and artists doing their thing. I've met a lot of them and some oddball hippie characters, all by the dog run at Murray Park near PS1. I've been taking my mastiff mix there twice a day for ten years or so, and we have a cliquish community. Basic services are low — you can't just run out and get a box of Band-Aids. But I'm at Court Square Wine pretty much every day. Our daily wine is cheap boxed wine. It serves the purpose."
… And four tenants in the brand-new Hayden.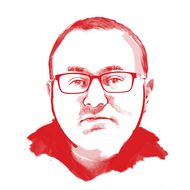 Scott Holbrook, 27, loan officer
"After living in a walk-up on the Upper West Side for the last five years, I wanted a one-stop-shop building. I have the gym, roof decks, a basketball court, and a billiards lounge — why would I ever need to leave? I do, for stuff like Monday-night trivia at Bierocracy, and for LIC Beer Project."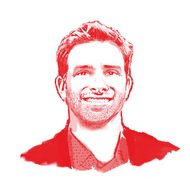 Jason Barash, 30, business intelligence
"My fiancée and I were looking for a doorman building — we're getting married, so we're getting a lot of gifts and didn't want to worry about them getting stolen. Some amenities in the building aren't finished, like a coffee shop on the second floor. It'll be nice to go down there and do some work or have a drink. And then there'll be a lounge and movie theater."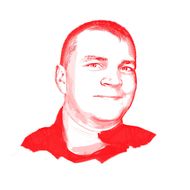 Kamil, 31, systems engineer
"The Hayden had the most amenities. The rooftops and grill areas were a big factor. We'll go shopping in Greenpoint for some kielbasa and have friends over to grill. We have a goldendoodle named Jax, and we go to a lot of the breweries here. They're all dog-friendly."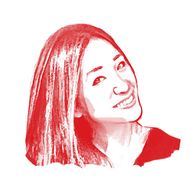 Haiwen Lu, 31, public relations
"I told my broker that I wanted a luxury building in FiDi. He said, 'I have something great in Long Island City.' I said, 'No, thanks, let's go to FiDi.' But after I saw the Hayden, I applied on the spot. I lived in Hell's Kitchen before and often joke to my friends that to upgrade my lifestyle, I downgraded my neighborhood."
– Margaret Rhodes
For Food
New and forthcoming.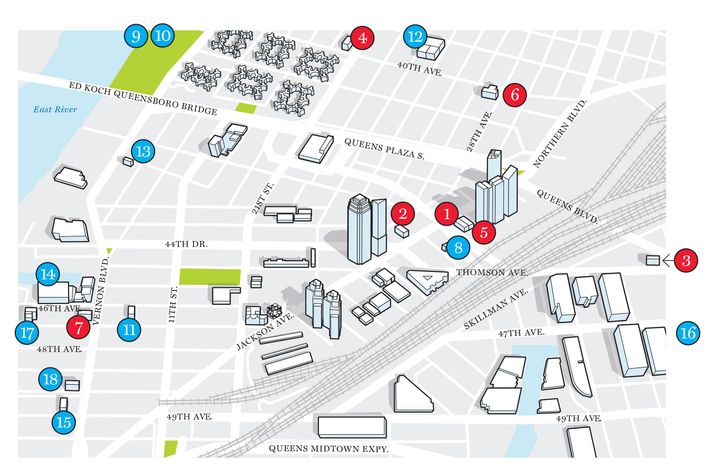 1. Hendu's Sandwich Shop at Dutch Kills
27-24 Jackson Ave.
A former M. Wells line cook named Bill Henderson has been making destination-worthy heroes in the kitchen of this world-class cocktail bar since December. Get the hot roast beef and wash it down with a Southpaw Punch.
2. Levante
26-21 Jackson Ave.
The latest from the Luzzo's BK pizzeria folks is this brand-new 2,000-square-foot indoor space with 30-foot ceilings and a sizable open-air backyard. Should be plenty of room for the dough to rise.
3. Único
31-31 Thomson Ave.
No, please, not another Chipotle-style mix-and-matcher with a focus on globally inspired tacos, enchiladas, wraps, and bowls. Well, yes, but everything — ingredients, technique, counter-style service — exceeds expectations, particularly specials like fish tacos and chicken quesadillas.
Coming soon:
4. Ramen Shack
13-13 40th Ave.
Keizo Shimamoto, the guy who invented the ramen burger, also boils a mean broth. At his lunch counter–slash–commissary kitchen, he'll be dishing out about as many top-notch noodle soups as there are seats (ten), when he reopens on September 30.
5. Sapps
27-26 Jackson Ave.; opens Sept.
Two bartenders, a waiter, and their boss, Shi Lee, of the popular LIC Pan-Asian restaurant Shi, are opening this restaurant, with a chef from the old Japanese comfort-food canteen Sapporo East running the kitchen.
6. Mothership Meat Company
27-20 40th Ave.; opens late Sept.
Josh Bowen (of John Brown Smokehouse fame) cooks brisket in a super-colossal J&R pit and serves it Texas-meat-market style — i.e., plopped onto butcher's paper and priced by the pound.
7. Ravenswood Tavern
46-62 Vernon Blvd.; opens Dec.
"Whenever I go out to dinner, I like to eat pasta and steak," says Mu Ramen chef Joshua Smookler. He likes it so much, in fact, he's making it the focus of his upcoming restaurant in the old Alobar space, along with such old-school crowd-pleasers as shrimp cocktail and prime rib that he'll give a few modern tweaks and adjustments.
– Robin Raisfeld and Rob Patronite
For Fun
Beyond PS1.
Sculpture Museums: A constellation of fine art museums — SculptureCenter, 44-19 Purves St. (8); the Noguchi Museum, 9-01 33rd Rd. (9); and Socrates Sculpture Park, 32-01 Vernon Blvd. (10) — makes LIC something of a destination for seeing 3-D works.
The Gutter Bar LIC (11)
The grungy Greenpoint bowling alley opened a second (shinier) location in May, just off Vernon Boulevard in an old taxi garage. 10-22 46th Ave.
Breweries: Long Island City's beer scene is formidable: Try the Higher Burnin' IPA at LIC Beer Project, 39-28 23rd St. (12), and some experimental brews at Big Alice Brewing Co., 8-08 43rd Rd. (13).
LIC Flea & Food (14)
The local answer to the Brooklyn Flea has everything from antique American-flag décor to crystals to barbecue, all next to an on-site beer garden. The flea wraps on October 29. 5-25 46th Ave.
Chocolate Factory Theater (15)
Avant-garde dance shows: Next month, members of a quartet will turn their bodies into "kinetic and ephemeral sculptures." 5-49 49th Ave.
Indoor Extreme Sports (16)
Choose from a menu of adrenaline-soaked activities: paintball, rock climbing, zip lines, archery, zombie-and-black-ops-themed laser tag, and — soon — VR games. 47-11 Van Dam St.
LIC Community Boathouse (17)
To get locals interested in the estuarine ecology of the harbor, the boathouse runs free kayak paddle trips. 46-01 5th St.
The Standing Room (18)
Gramercy comedy club the Stand expanded to LIC two years ago with this railroad-skinny club that books emerging comedians. 4738 Vernon Blvd.
New Landmarks
From dozens of apartment buildings, here are three to know.
The First: Citylights
Built in 1997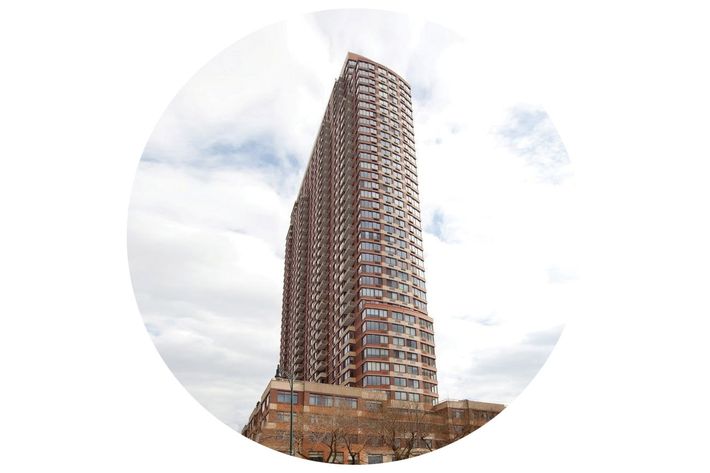 Of the 19 residential towers in Queens West, the 42-story, 522-unit Citylights co-op was the earliest major development project to come to Long Island City. Designed by Pelli Clarke Pelli Architects, it paved the way for waterfront development. In 1999, the New York Times called it "one big high-rise, looking a bit incongruous among the old warehouses and aluminum-sided homes."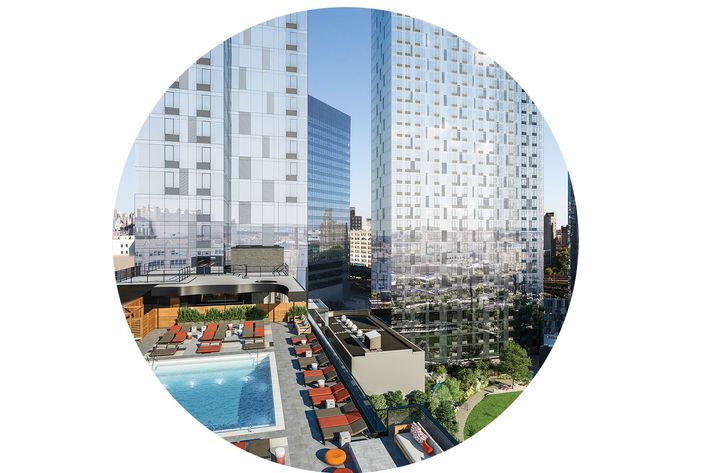 The Biggest: Jackson Park
Opening this fall
This behemoth of a complex developed by Tishman Speyer is part of the rapid development of Queensboro Plaza. It has three towers, 1,800 units, a 1.6-acre private park, and a five-story amenity "clubhouse" topped with an outdoor pool and resort-worthy private cabanas.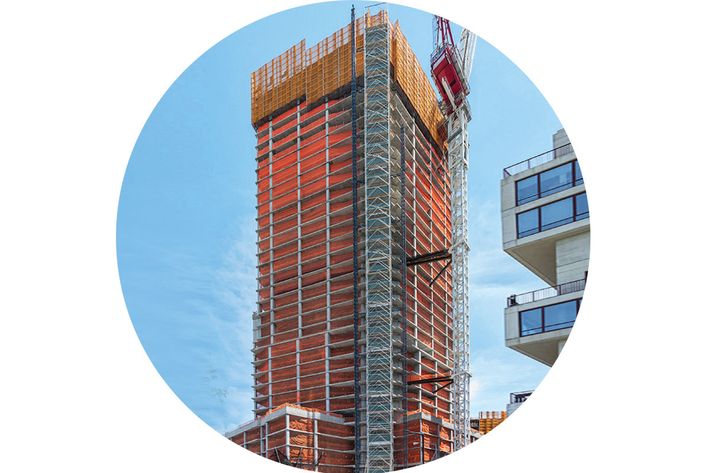 The Most Controversial: 5Pointz
Opening in 2018
After developer Jerry Wolkoff whitewashed and then razed the 5Pointz warehouse–slash–graffiti mecca, he told the Post, "In my new building, I'll have walls for them to express their aerosol art." Renderings of his glass-and-chrome luxury apartment complex — which has a fitness center and indoor pool — show only a couple pieces of graffiti. Nine street artists sued Wolkoff over the demo, and they'll soon get a jury trial.
*This article appears in the September 4, 2017, issue of New York Magazine.