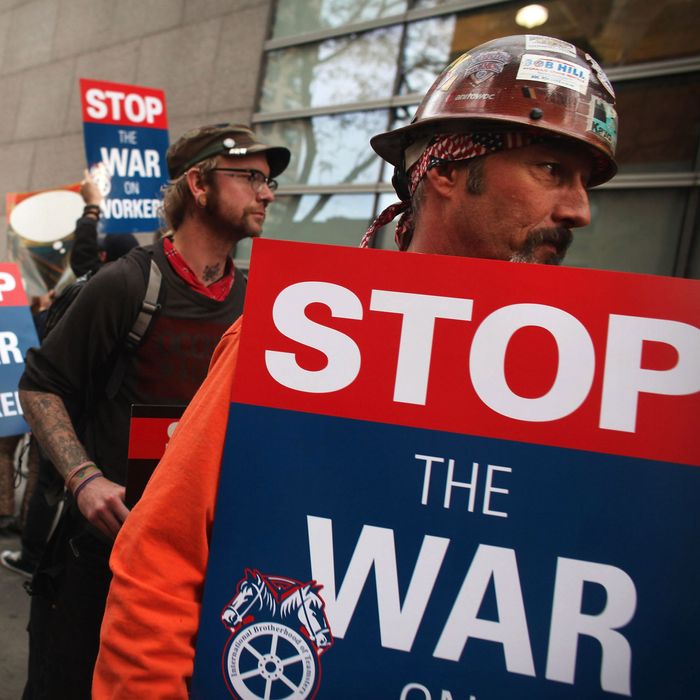 Teamsters.
Photo: Spencer Platt/Getty Images
Teamsters Joint Council 16, the umbrella group for 27 Teamsters locals in and around New York City, has declared itself a "sanctuary union" after the deportation of one of its members. The organization, which represents more than 120,000 workers, says it will resist attempts by federal agents to deport its members, hold "Know Your Rights" trainings, and "protect the rights and safety of all of our membership regardless of immigration status."
"Being a sanctuary union means we will do all that is in our power to keep our immigrant members safe and keep their families together. The Teamsters have fought against racism since our first days as a union, and this is the next step," George Miranda, president of Teamsters Joint Council 16, said in a press release.
The Teamsters resolution follows the deportation of Eber Garcia Vasquez, a 54-year-old who fled Guatemala decades ago in search of political asylum. A member of Teamsters Local 813, he worked for 27 years at a Long Island waste facility. He was taken in by Immigration and Customs Enforcement after reporting for an annual check-in, where he expected to receive permission to stay in the U.S. for another year.
The Daily News reports that after Vasquez's most recent asylum appeal was rejected in 2013, immigration officials had allowed him to remain in the country provided he check in each year. "He's about a year away from getting his green card and we told them that when he checked in," Vasquez's lawyer told the paper.
"The attacks on immigrants in the aftermath of the election demand action from America's labor movement," Miranda wrote in the Daily News after Vasquez's arrest. "We deserve our share of the blame for not doing more to engage our members on issues of racial justice and immigrant rights in recent decades. When we fail to talk to our members about these issues, bigotry festers."
By declaring itself a "sanctuary union," the Teamsters is following the lead of several of other labor groups around the country, including the American Federation of Teachers and California's National Union of Healthcare Workers.
In the days following Trump's inauguration, Teamsters president James Hoffa Jr. praised Trump for "doing things that are not Republican by going against trade deals." That brief love affair appears to be over.