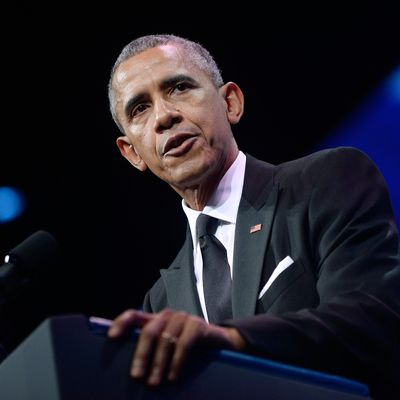 Obama speaks out.
Photo: Olivier Douliery - Pool/Getty Images
President Obama made a rare public statement to address the Trump administration's decision to end the Deferred Action for Childhood Arrivals program, known as DACA.
In a long statement posted on Facebook, Obama wrote that a "shadow has been cast over some of our best and brightest young people."
He conceded that "immigration is complicated" and that "people of goodwill can have legitimate disagreements about how to fix our immigration system so that everybody plays by the rules." But he cast the decision to end DACA in stark moral terms, writing:
"Let's be clear: the action taken today isn't required legally. It's a political decision, and a moral question. Whatever concerns or complaints Americans may have about immigration in general, we shouldn't threaten the future of this group of young people who are here through no fault of their own, who pose no threat, who are not taking away anything from the rest of us."
And:
"To target these young people is wrong – because they have done nothing wrong. It is self-defeating – because they want to start new businesses, staff our labs, serve in our military, and otherwise contribute to the country we love. And it is cruel. What if our kid's science teacher, or our friendly neighbor turns out to be a Dreamer? Where are we supposed to send her? To a country she doesn't know or remember, with a language she may not even speak?"
The Trump administration's decision to pull the plug on the program will put 800,000 people who were brought to the U.S. as children at risk of deportation if Congress doesn't act within the next six months. The Obama administration put DACA into place through an executive order in 2012.
Obama said in his final press availability as president that he would speak out if the Trump administration terminated the program. He has been silent on most other matters since Trump took office, with a few notable exceptions. In June, he posted a statement to his Facebook page defending the Affordable Care Act when the law was in danger of repeal. And in August, after the violence at a white nationalist rally in Virginia, he tweeted a photo of himself and a quote by Nelson Mandela about how bigotry is taught rather than innate.