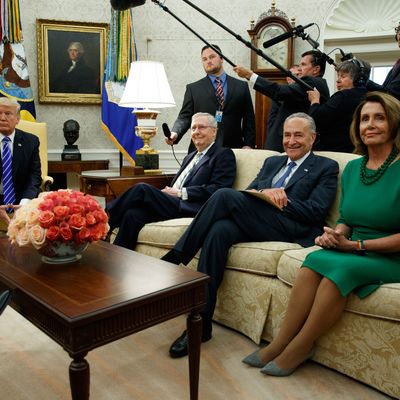 Where the deal went down.
Photo: Evan Vucci/AP
At a San Francisco press conference on Monday to promote a bipartisan DREAM Act, House Minority Leader Nancy Pelosi and fellow Democratic representatives Barbara Lee and Jared Huffman, all of California, were shouted down by pro-DACA protesters who complained that the lawmakers were compromising with President Trump too much.
Pelosi described her and Senate Minority Leader Chuck Schumer's recent dinner with Trump, which was seen as a coup for the Democrats. During that confab, the president appeared to agree to a framework of a deal that would include permanent protection for 700,000 DACA recipients — whose statuses his administration had just left up in the air — in exchange for more robust border security, though notably not a border wall.
But as Pelosi was finishing up her remarks, dozens of protesters began chanting, shouting "We are not your bargaining chips! Let us speak!" and "All of us or none of us!"
Back-and-forths between demonstraters and Pelosi followed, with the protesters reminding her that Obama had deported hundreds of thousands: "Did you think we would forget?"
An upset Pelosi challenged the protesters to stop disrupting the event, asking, "Do you want to hear an answer or do you just want to shout?"
The protesters chose the second option, calling her a "liar," until she left the room.
As the Washington Post reports, the protesters "identified themselves as 'undocumented youth' — presumably beneficiaries of the Deferred Action for Childhood Arrivals program or other Dreamers — but there was no way to clarify their status."
They were demanding that Pelosi take up a "clean" DREAM Act in which the Dreamers receive protection, but without any of the border security Trump seeks — likely a political impossibility.
Monday's episode shows the wariness with which activists regard Democratic cooperation with Trump, even when working with Trump represents the only feasible chance to avoid disaster.
Pelosi, in remarks to reporters afterward, took a pragmatic approach: "Trump has the signature," she said. "And basically our conversation with Trump is, we don't want to hear about anything that you may want to do unless we have shared values around the Dreamers. And that's our threshold."