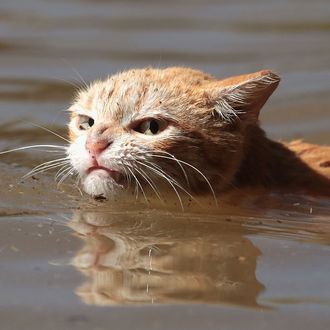 A cat swims through Hurricane Harvey floodwaters.
Photo: Scott Olson/Getty Images
A viral photo of Houston-area nursing-home residents chest-deep in floodwater reached a happy conclusion when it was reported that the entire home was evacuated safely. But one question remained: What about the cat in the photo? Dozens of readers emailed journalist John Ferguson to ask about the nursing home's feline resident, prompting a lesson: "Always ask about the cat." For the record: It was evacuated, and is fine.
In that same spirit, we present to you some of Hurricane Harvey's most daring animal-rescue efforts. Despite Jake Paul's best efforts, Harvey continues to wreak havoc in Texas. Neighborhoods are still underwater and many people have been displaced from their homes, and will likely remain so for some time, until the extensive damage can be repaired. Since Harvey hit land last week, countless creatures have been bravely rescued and brought to safety, many by total strangers just trying to lend a hand.
(For the record, at least one cat has been involved in charitable donations, too: Writer and comedian Rachel Millman raised more than $20,000 by offering photos of her cat Jerry "behaving badly" in exchange for receipts of charitable gifts.)
If you're a pet person, we suggest grabbing a box of Kleenex now before you continue reading — and donating $10 for every tissue you go through to one of the local organizations assisting in Harvey relief listed here.
Here's hoping that all the post-Harvey pet-and-owner reunions are as joyful as this Chicago woman who reunited with her long-lost dog after ten years earlier this week.