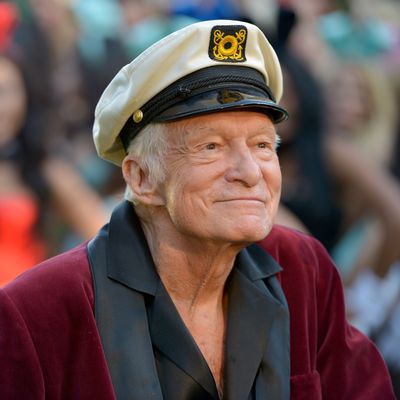 Hugh Hefner at Playboy's 60th-anniversary special event on January 16, 2014, in Los Angeles, California.
Photo: Charley Gallay/Getty Images for Playboy
Hugh Hefner, the Playboy founder and icon of the sexual revolution, died on Wednesday at the age of 91. Playboy Enterprises announced that he "peacefully passed away today from natural causes at his home, The Playboy Mansion, surrounded by loved ones."
Playboy launched in 1953 when Hefner was a 27-year-old new father, married, according to him, to the first woman he ever slept with. The native Chicagoan graduated from the University of Illinois with a degree in psychology, and served in the U.S. Army as a writer for a military magazine. In 1953, shortly after quitting his job as a copywriter at Esquire, he borrowed $8,000 to produce Playboy's inaugural issue.
Playboy's debut featured nude photos of Marilyn Monroe from a 1949 calendar shoot, which Hefner purchased for $200. "If you're a man between the ages of 18 and 80, Playboy is meant for you," Hefner wrote in his first publisher's message. He declared it wasn't a "family magazine" — or anything like the other men's magazines currently on the market in puritanical postwar America.
"Most of today's 'magazines for men' spend all their time out-of-doors — thrashing through thorny thickets or splashing about in fast-flowing streams," he said. "We enjoy mixing up cocktails and an hors d'oeuvre or two, putting a little mood music on the phonograph, and inviting in a female acquaintance for a quiet discussion on Picasso, Nietzsche, jazz, sex."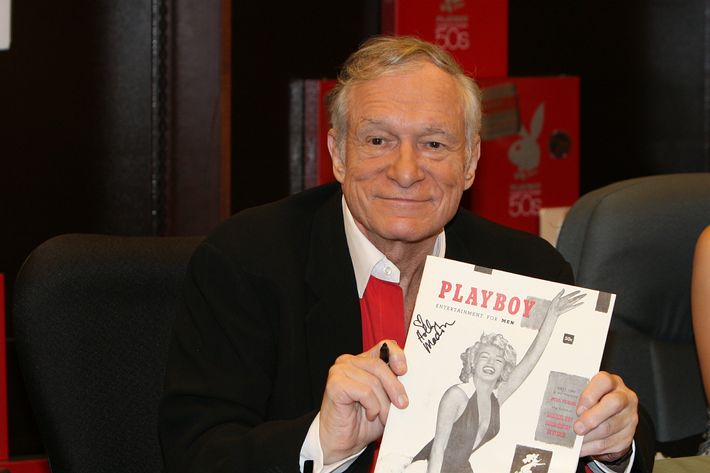 Hefner was so concerned that his magazine wouldn't sell that he left the date off the cover of the first issue, in case there wasn't a second — but Playboy was a hit. After a year, circulation was near 200,000, and within five years it was over 1 million. It peaked with the November 1972 issue, which sold 7.16 million copies. By then Playboy had a slew of raunchier competitors, such as Penthouse and Hustler, and sales gradually declined.
Once pornography became widely accessible via the internet — thanks in part to the cultural shift Playboy kicked off — the magazine and its relatively tame nudes came to be seen as a relic of the past. By 2006, circulation hit 3 million, and in 2015 — the year Playboy stopped publishing nude photos of women — it had dropped to 0.82 million. "You're now one click away from every sex act imaginable for free. And so it's just passé at this juncture," acknowledged Scott Flanders, Playboy's chief executive at the time.
At that point, Hefner had long been branching out into far more lucrative sources of revenue: TV, clubs, and merchandising. Playboy's Penthouse, a variety show hosted by Hefner, ran for two seasons in the early '60s. A similar show, Playboy After Dark, ran from 1969 to 1970. Portraying what was ostensibly a typical party at Hefner's home, the original program helped break down racial barriers on TV by featuring black guests and entertainers mingling with white partygoers, a rarity at the time.
Hefner was a consistent advocate for civil rights, hiring black journalists and discussing racism in the magazine's pages at a time when Jim Crow laws were still being enforced. The Chicago Playboy Club, which Hefner opened in 1960 in an effort to bring the lifestyle portrayed in his magazine to life, broke a racial barrier when it booked the comedian Dick Gregory in 1961. "Never before, until Hefner brought me in, had a black comedian been committed to work white nightclub," Gregory said. All of Hefner's establishments were integrated, and when Playboy clubs in Miami and New Orleans refused to serve black customers, he bought back their franchise licenses.
However, the Playboy Clubs — which grew into a chain of nightclubs and resorts that flourished through the '80s — were not without controversy. As Bruce Handy reported in Vanity Fair's 2011 oral history of the clubs:
The clubs' central attractions were the famous Playboy Bunnies, the glorified waitresses who braved skimpy, pinching, corset-like costumes to serve and titillate patrons of Playboy Clubs throughout the world, and who, in their idealized form, rank among the most iconic of 20th-century American sex objects, eclipsed only by Marilyn Monroe. En masse, they helped shape the fantasies of several generations of adolescent and post-adolescent men, when they weren't clearing tables or trying to remember the proper garnish for a Cuba Libre.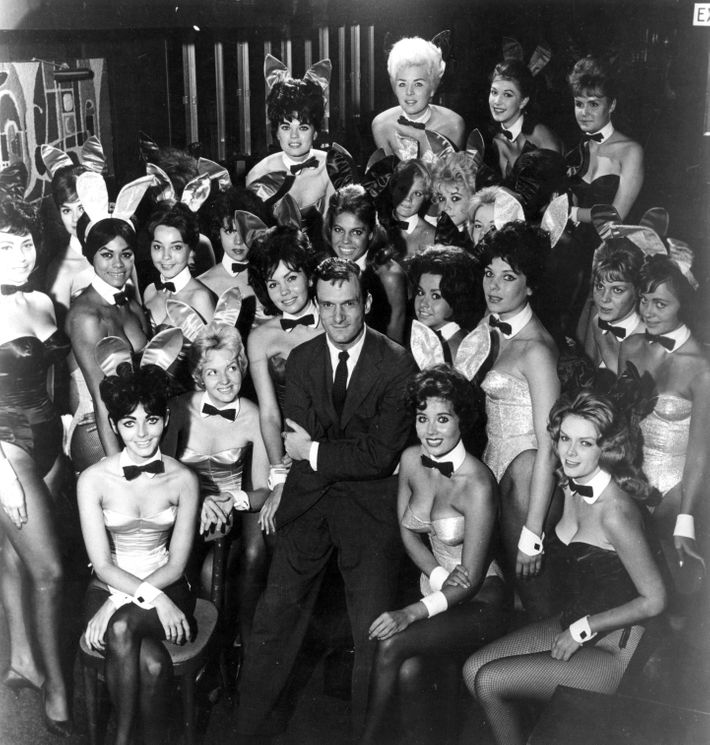 In 1963, feminist leader Gloria Steinem went undercover as a Playboy bunny, and reported on her experience in Show Magazine. Her story debunked the idea that that waitressing in the Playboy clubs was a glamorous occupation — she described how the women were subjected to too-tight costumes, lower-than-advertised pay, and lewd customers — as well as Hefner's male-centered view of the sexual revolution.
She wasn't alone. Feminists Susan Brownmiller and Sally Kempton famously took Hefner to task on a 1970 episode of The Dick Cavett Show. "The role that you have selected for women is degrading to women because you choose to see women as sex objects, not as full human beings," Brownmiller told Hefner, who was temporarily at a loss for words. "The day you're willing to come out here with a cottontail attached to your rear end…"
(While it's a far cry from a bunny tail, Hefner did adopt a costume several years later: his iconic pajamas, silk smoking jacket, and pipe. "It began to occur to me some time in the 1970s that I could get away with this. I could actually do it — I could live in my pajamas," he told the Chicago Tribune in 1995. "No one could tell me that I couldn't. It was a great realization — who wouldn't want to live in their pajamas?")
More fuel was added to the decades-old complaints about Hefner's objectification of women in 2015 when Holly Madison, his former "No. 1 girlfriend," published a tell-all book. Madison claimed that despite what was shown on the reality show The Girls Next Door, which ran from 2005 to 2010, she and Hefner's many other girlfriends were subjected to his arbitrary rules, emotional manipulation, and odd sexual rituals.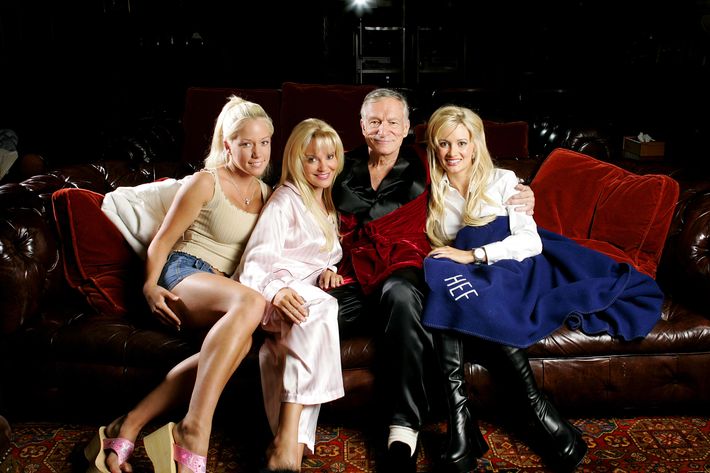 In 2012, Hefner married Crystal Harris, one of the women who replaced Madison on The Girls Next Door. Harris, who is 60 years Hefner's junior, was his third wife. In addition to Harris, Hefner is survived by his daughter, Christie, and his sons, David, Marston, and Cooper.
No announcement has been made about memorial services for Hefner, but he selected his final resting place back in 1992: the crypt next to Marilyn Monroe's in Westwood Memorial Park in Los Angeles.
While the debate over whether Hefner should be viewed as a champion of civil rights, free speech, and sexual liberation or an exploitative purveyor of sleaze will continue for years, his cultural influence is undeniable. As Hefner himself told the Washington Post in 2003: "We will never recapture the importance of Playboy in the '60s and '70s, because we changed the world. We live in a Playboy world now, for good or ill."
This post has been updated throughout.