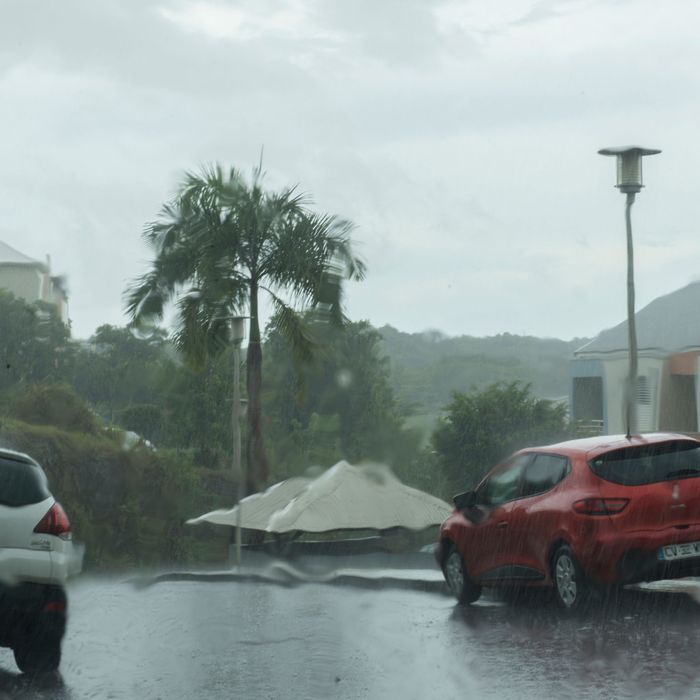 A picture taken on September 5, 2017, shows cars in the rain in Point-a-Pitre in Guadeloupe, as islanders brace themselves for the arrival of Hurricane Irma.
Photo: Helene Valenzuela/AFP/Getty Images
Hurricane Irma is slicing its way through the northern Caribbean, as the islands in its path brace for the "potentially catastrophic" Category 5 storm. Irma, the most powerful Atlantic Ocean hurricane ever, has maintained its record strength and 185 miles per hour winds, the first storm ever to do so for more than 24 hours. The hurricane made landfall for the first time Wednesday morning, pounding Antigua with triple-digit wind gusts and passing directly over Barbuda. It next slammed St. Martin and St. Barthélemy, killing at least two. Now, Irma's core "is battering" the British and U.S. Virgin Islands, according to the National Hurricane Center. The storm's outer bands are already skimming Puerto Rico. The Dominican Republic and Haiti are likely next in Irma's path, followed by Turks and Caicos and the southern Bahamas. The hurricane could hit Cuba and South Florida by week's end.
According to the National Hurricane Center, Irma is moving north-northwest at about 16 miles per hour and will pass just near or north of Puerto Rico by Wednesday evening. The storm promises "life-threatening" storm surges — as high as 20 feet in the southern Bahamas and Turks and Caicos — accompanied by "large and destructive" waves along the islands' coasts. Heavy rainfall is also anticipated, with places such as the U.S. Virgin Islands and Puerto Rico expecting between 10 and 12 inches of rain, with some isolated spots seeing up to 15 inches. Irma has kept its ferocious Category 5 status with 185 mile per hour winds, though the storm may weaken slightly to a still incredibly dangerous Category 4, with winds between 130 and 156 miles per hour.
The first islands in Irma's wake, Antigua and Barbuda, have been "totally demolished" Prime Minister Gaston Browne said late Wednesday. Irma's winds tore apart homes, including ripping away the roof of a police station in Barbuda. Browne called the housing stock "decimated," with up to 90 percent of it destroyed in Barbuda. Antigua lost communication with Barbuda around 12:30 a.m., and, as of Wednesday afternoon, still had not restored contact, making it difficult to assess and communicate the full scale of damage even after Irma had passed.
Irma ravaged the French Caribbean islands of St. Martin and St. Barthélemy, with widespread flooding and mass power outages. At least two people were killed, and the toll is expected to rise. French president Emmanuel Macron called the storm "hard and cruel." He added, "we will have victims to lament, and the material damage on the two islands is considerable."
French interior minister Gérard Collomb said St. Martin's four "most durable" buildings had been wrecked. A government building was also partially destroyed. Images on social media show floods sweeping through streets, full of debris.
Irma is now lashing the British and U.S. Virgin Islands, with potential storm surges of up to 11 feet are expected. U.S. Virgin Islands governor Kenneth Mapp put a curfew into effect for Wednesday until 6 p.m. "Hurricane Irma is not coming through with any smiles. It is a very very serious event," Mapp said Tuesday. "We expect damages to the territory. We expect disruptions of infrastructure."
President Donald Trump has declared a preemptive state of emergency in the U.S. Virgin Islands, Puerto Rico, and Florida. Trump said on Twitter that he was watching Irma "closely," saying: "My team, which has done, and is doing, such a good job in Texas, is already in Florida."
Earlier Wednesday, the president called Irma's imminent approach "not good."
Irma is bearing down on Puerto Rico now, with devastating winds and rain. Here's the scene in Culebra, one of Puerto Rico's small islands:
Irma's eyewall will pass about 30 miles to the north of San Juan between 6 p.m. and 8 p.m. Wednesday. Even though spared a direct hit, the destruction could be profound, especially since Puerto Rico's debt crisis has put pressure on its infrastructure, and the island would likely lack sufficient funds for recovery. Power could be knocked out for months, officials said.
Puerto Rico's government Ricardo Rosselló called Irma a storm "without precedent." Nearly 3,000 people (and about 200 pets) have evacuated to shelters.
Preparations are also underway across Florida as Irma marches across the Caribbean. Forecast models remain uncertain as to where exactly Irma will touch down, but South Florida will get walloped. "That's why we say look at the cone. The center could be anywhere in that cone," National Hurricane Center spokesman Dennis Feltgen told the Miami Herald. "South Florida and Central Florida will be impacted. We're confident with that right now. What we're not confident with is exactly where that center is going to go. But remember a hurricane is not a dot on the map. They're large storms that cover a large area."
Evacuations began Wednesday in the Florida Keys, and Broward County, which includes Fort Lauderdale, ordered mandatory evacuations for all residents east of Federal Highway, where barrier islands are prone to flooding and destructive storm surge. More mandatory evacuations may be on the way in the coming days, which could mean millions of people trying to get out of populated counties like Miami-Dade and Palm Beach.
Governor Rick Scott urged all Floridians to heed evacuation orders as they come. "Storm surge and extreme winds are the biggest concern right now," Scott said at a press conference Wednesday. "The storm is bigger, faster and stronger than Hurricane Andrew."
Scott will activate 1,000 National Guard troops by the end of the day to help with storm preparations, and has another 6,000 at the ready.
Irma could be the second major hurricane to make landfall this year, just two weeks after Harvey began its tear through Texas and Louisiana. Harvey cleanup has just begun, but the natural disaster that could cost the U.S. as much as $180 billion.