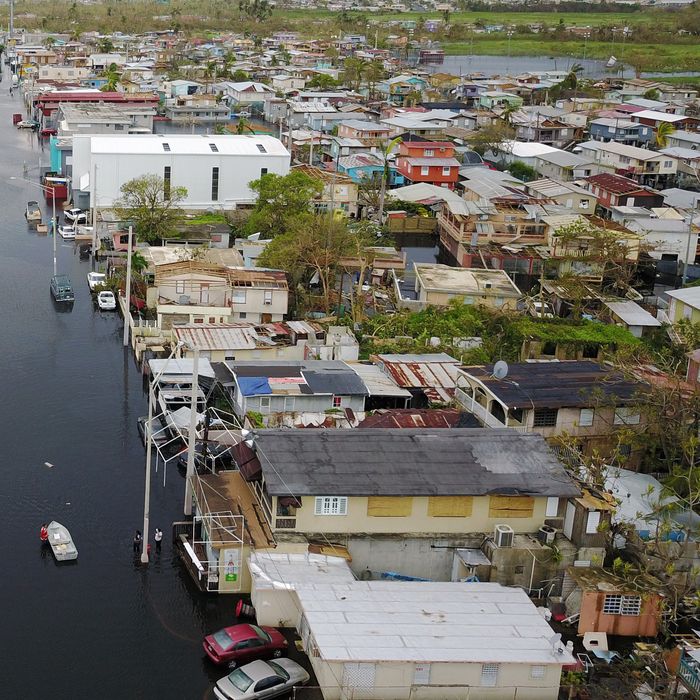 A flooded neighborhood in Catano, Puerto Rico, on Friday.
Photo: RICARDO ARDUENGO/AFP/Getty Images
Puerto Rico is still 100 percent without power, and residents are bracing for months of no electricity, food and water shortages, and more privation as the island reels from the destruction wrought by Hurricane Maria. Video from San Juan showed that the capital was still severely flooded on Saturday, three days after the Category 4 monster — the most powerful storm to hit the U.S. territory in nearly 100 years — ripped through Puerto Rico.
Likely worse off are areas that have still barely been heard from because of damage to communication systems. The AP reported that the humanitarian crisis around the island is growing worse and painted a grim picture of what's to come:
A group of anxious mayors arrived in the capital to meet with Gov. Ricardo Rossello to present a long list of items they urgently need. The north coastal town of Manati had run out of fuel and fresh water, Mayor Jose Sanchez Gonzalez said.




"Hysteria is starting to spread. The hospital is about to collapse. It's at capacity," he said, crying. "We need someone to help us immediately."
The death toll stands at ten, but with so many places still largely cut off communications-wise — cellphone networks were also knocked out by the storm — the number is expected to climb.
FEMA is shipping generators, food, and water from the U.S. mainland, and officials are distributing aid to 12 zones around the island. But all relief efforts are complicated by the fact that they need to be coordinated via sea or air.
To make matters worse, on Friday evening, about 70,000 people were evacuated from an area near Guajataca Dam in northwest Puerto Rico after warnings that it may be on the brink of collapse. It was still holding strong on Saturday afternoon, but Rossello said that "the structure has been significantly compromised."
Puerto Rico had already been dealing with a crippling debt crisis before Maria hit. The territory's power company is broke and had stopped making most repairs to the electrical system, leaving it particularly vulnerable to a storm.
Electrical engineers are being imported to begin the long process of repairing damage. But Rossello and others have warned that the power could be out for several months. Between the lack of electricity, dwindling supplies of gas (needed to power generators), and general chaos, resilient Puerto Ricans are wondering how they will cope.