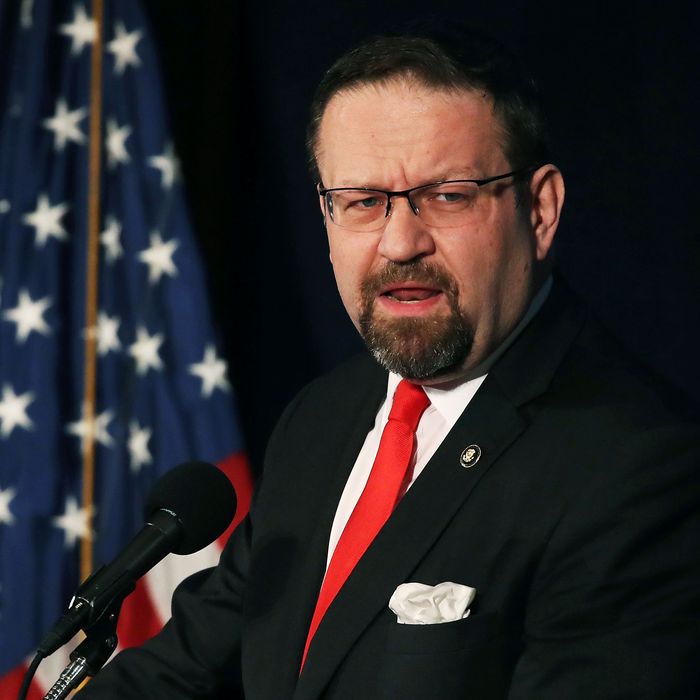 The expert's expert.
Photo: Mark Wilson/Getty Images
In August, White House chief of staff John Kelly reportedly said that he didn't know what then–deputy assistant to the president Sebastian Gorka actually did all day, other than to "go on TV sometimes." But a BuzzFeed report on Friday morning shows that the plummily accented ideologue occasionally did more than advance conspiracy theories on cable news programs.
Just before Kelly dismissed him from the White House, Gorka delivered a long, incendiary speech to elite students at the U.S. Army's special operations school on his favorite subject: Islamic terror.
Military officials invited him to speak at the Special Forces Warrant Officer Institute on August 9 to students studying unconventional warfare, and Gorka gave the lecture, titled "Transnational Terrorism/Insurgent Ideology," from the White House via video link to students in Fort Bragg.
The speech, which a U.S. Army special-operations officer called "classic Gorka" and another called a "tirade," covered "the war in Afghanistan, Sharia law, radical Islamic terrorism, and the Trump administration's aggressive policies to counter and 'defeat it all,'" according to the report.
Gorka was set to deliver the same address the next day in a grander setting — a large auditorium at the U.S. Army John F. Kennedy Special Warfare Center. But then John Kelly got involved:
Two special operations officers said they were told by their superiors that Marine General John Kelly, the White House chief of staff, prohibited Gorka from speaking in a public setting while he was still employed as the deputy assistant to the president. Not long after his classified talk, Gorka took some time off. While he was on vacation, Kelly revoked Gorka's security clearance.
Gorka, who has been linked to an anti-Semitic Hungarian nationalist group, was one of the most strident anti-Islam voices in the Trump administration during his brief term, reportedly winning over the president with his frequent, pugilistic TV appearances. But his job was so loosely defined that there was frequent speculation about what, if any, influence he held. And his credentials and approach to the problem of terrorism were widely questioned by many national security experts, not to mention his own PhD adviser. Once Kelly replaced Reince Priebus as White House chief of staff, Gorka's days were numbered.
Since getting the boot from the Trump team, though, Gorka has remained firmly loyal to the president. He has also retained his knack for staying in the headlines.
On Thursday, Gorka told Newsweek that he and Steve Bannon helped write President Trump's Tuesday speech to the U.N. General Assembly, in which Trump threatened to destroy North Korea and called Kim Jong-un "Rocket Man."
"The individual who wrote that speech — and it's not the person they normally say it is — came to Steve and myself and sat in Steve's office with me before we left the White House and we consulted with him on what that speech should be about," Gorka said.
The White House pushed back hard, maintaining that Trump's bellicose address was written by Gorka-style immigration hawk and West Wing survivor Stephen Miller.
"The speech was 100 percent written internally and all consultation and edits were sought and received by senior staff and cabinet secretaries," National Security Council spokesman Michael Anton told Newsweek. "Nobody outside the administration had any input."
Of course, given that the White House is known for its adherence to facts perhaps even less than the self-puffery-prone Gorka is, it's tough to say whom we should believe.