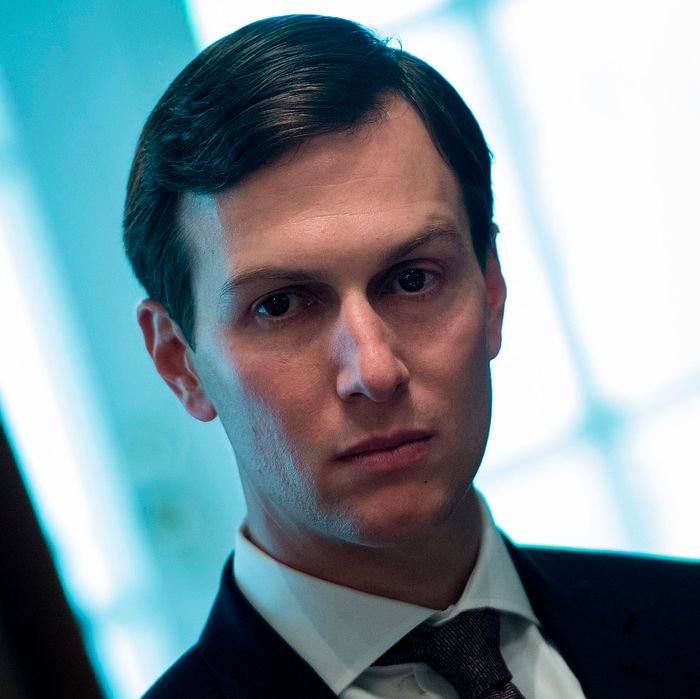 Above board.
Photo: Brendan Smialowski/AFP/Getty Images
Politico reported on Sunday that presidential son-in-law Jared Kushner has been using — gasp! — a private email server to conduct White House business since the 2016 election:
Kushner uses his private account alongside his official White House email account, sometimes trading emails with senior White House officials, outside advisers and others about media coverage, event planning and other subjects, according to four people familiar with the correspondence. POLITICO has seen and verified about two dozen emails.
A spokesperson said that "fewer than 100 emails from January through August were either sent to or returned by Mr. Kushner to colleagues in the White House from his personal email account," and that "most often," this happened when others initiated an exchange.
Kushner reportedly set up the account late last year, before he began work as a senior advisor in his father-in-law's White House. He has traded emails using the private address with current and former White House colleagues like Reince Priebus, Steve Bannon, and Gary Cohn. And he's apparently not alone: Politico reports that "other White House officials have also sometimes used personal accounts to correspond with Kushner and with each other."
The news is a jaw-dropper because — though it's all mostly been forgotten — Hillary Clinton's usage of a private email server played just a tiny role in the coverage of the 2016 election. Coming on the heels of his father-in-law's vicious attacks on Clinton over the issue, Kushner's private communications may strike some as a wee bit hypocritical.
But Trump partisans have shown again and again that the administration's hypocrisy matters little to them, and the people who bray "lock her up" at the president's rallies are unlikely to care that Kushner and his co-workers may have violated the Presidential Records Act.