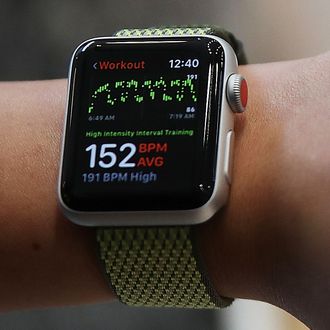 Photo: Justin Sullivan/Getty Images
The Apple Watch Series 3 hits stores on Friday, starting at $329. It's got an LTE connection, meaning you can make phone calls from your watch without having a phone on your hip. It's got fancy, new heart-monitoring technology. It'll work with your AirPods. The question is … are the new bells and whistles worth going out and dropping $400 on a watch? Here's what reviewers are saying.
Being able to place a call from your wrist is nice, but not necessary.
You've ostensibly already got a phone that does everything, and more, that the LTE-enabled watch model can do. "It's more for the times when you're on a run and need to make a call," writes David Pierce at Wired. Don't plan on taking all your calls from your wrist, even if the new microphone in the watch "works miracles."
That is … assuming you are even able to place your call in the first place.
Early reviews of the watch indicate that it has some connection troubles, with both Wi-Fi and LTE. "On more than one occasion, I detached myself from the phone, traveled blocks away from my home or office, and watched the Watch struggle to connect to LTE," The Verge's Lauren Goode notes. "It would appear to pick up a single bar of some random Wi-Fi signal, and hang on that, rather than switching to LTE." Reviewers noted problems with successfully connecting on several carriers, including AT&T and T-Mobile. (Apple is currently working on a fix to keep the watch from auto-connecting to unauthenticated Wi-Fi networks, but hasn't released it yet.)
Battery life isn't great …
Your Apple Watch is only good if it's, well, turned on. Which means having a battery that doesn't even last a full day — while using LTE — isn't ideal. You'd be "lucky if the battery allows you to roam on cellular for longer than half a day — especially if you're making calls," writes Joanna Stern at The Wall Street Journal. "Three hours of intermittent LTE usage" brought Goode's battery down to just 30 percent. It seems like Apple's promises of making phone calls while paddleboarding in the ocean are only good if you don't plan to be paddling very long.
… And neither is the fact that quickly killing your battery will cost you an extra $10 a month.
It'll cost you an additional $10 per month to add your new Apple Watch to your cellular plan. The cost varies, a little, by carrier and could also involve an activation fee. It seems like you could just save yourself the money and use the phone you already pay for as your phone.
Still, if you don't bother with the LTE model, the new watch seems like a sound device.
Running apps and switching between them is faster. It's good for tracking your workouts and comes with some fancy, new faces. "The Apple Watch Series 3 is the first sign that wearable computers are maturing and may eventually become a staple in consumer electronics," concludes Brian Chen at the New York Times, in perhaps this week's most positive review of the device. CNET called it the "best overall smartwatch you can buy." Just don't bother buying the one with LTE. The technology doesn't seem to be worth it yet.