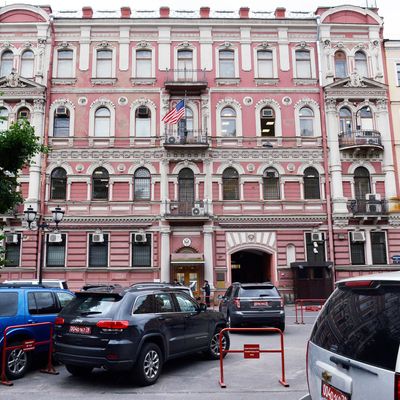 The U.S. consulate in Saint Petersburg.
Photo: Olga Maltseva/AFP/Getty Images
U.S. diplomats are going to have a much harder time parking in Russia now that their exclusive parking spots have been revoked, in the latest move of an ongoing sanctions battle between Moscow and Washington. According to state-owned television, parking spaces at the U.S. consulate general in Saint Petersburg were painted over with a pedestrian crossing and special parking signs at the consulate in Yekaterinburg were removed.
Now U.S. diplomats will be left to find their own parking in Europe's seventh worst city for drivers. The move to make life harder on U.S. diplomats comes after Russian foreign minister Sergey Lavrov said the Kremlin would move to establish "parity" in the diplomatic missions present in each country. Since Russians in the U.S. aren't given their own parking spots, this was a natural, if petty, step.
There's reason to believe that Russia isn't finished either. After the U.S. ordered last month's closing of the Russian consulate in San Francisco, Lavrov warned that the country will "respond harshly to things that damage us."
He also pointed out that it was the U.S. that started this back-and-forth. "I want to say that this whole story with exchanging tit-for-tat sanctions was not started by us. It was started by the Obama administration to undermine U.S.-Russia relations and to not allow Trump to advance constructive ideas or fulfill his preelection pledges." He conveniently left out the reason the Obama administration started this: Russia's interference in the 2016 presidential election.