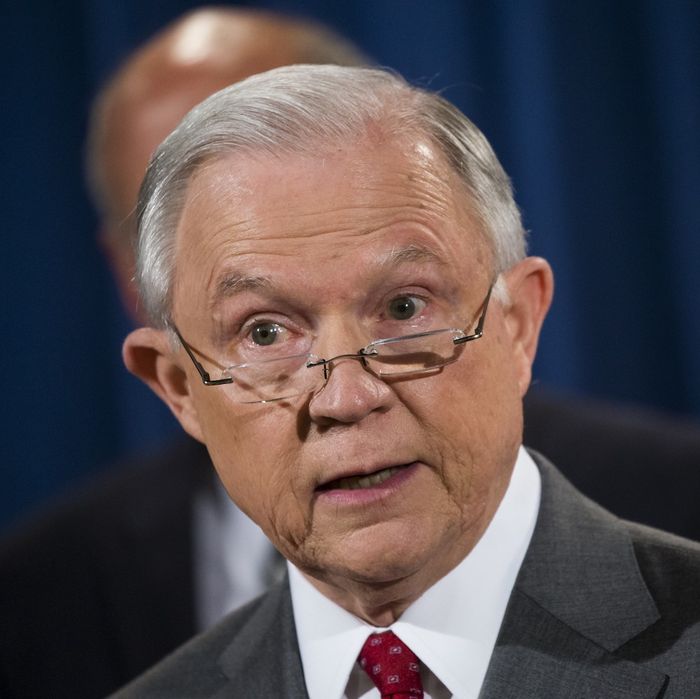 The head of the Justice Department is picking up ideas from TV and movies.
Photo: Anadolu Agency/Getty Images
After being repeatedly criticized by President Trump in July for recusing himself from the Russia investigation, Attorney General Jeff Sessions tried to get back in the president's good graces by holding a press conference on one of his favorite topics: cracking down on leakers. Sessions conflated leaks to foreign adversaries and leaks to the press, and declared, "Cases will be made, and leakers will be held accountable."
Now Axios reports that what Sessions had in mind went well beyond the usual process for prosecuting leakers. He's told several people that he wants to give the 100-plus National Security Council staffers polygraph tests to determine if they leaked the transcripts of President Trump's calls with foreign leaders. Sessions is said to be focused on the transcripts because a limited number of people had access to them.
Sessions wouldn't be the first Trump administration staffer to resort to desperate measures to crack down on leakers. In February then–White House press secretary Sean Spicer performed an unannounced phone check on his staff. They got back at him by informing the press of the incident.
It's unclear if that's what's happening here. It's possible Sessions put out the information himself to act as a deterrent. According to Axios, Sessions "thinks that a polygraph test — at the very least — would scare them out of leaking again." Lie-detector tests don't really work, so scaring people is about all they're good for.