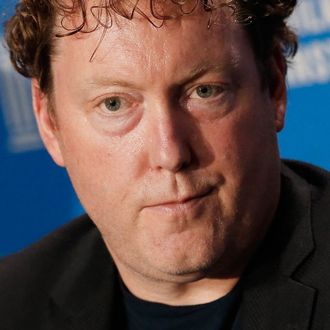 Mike Cagney is stepping down as SoFi's CEO.
Photo: Patrick T. Fallon/Bloomberg via Getty Images
It's time to reset Silicon Valley's "days without incident" calendar back to zero. Again. On Monday, Mike Cagney announced he'll be stepping down from his position as CEO at Social Finance, following a report from The Wall Street Journal detailing the allegedly toxic environment for employees, namely female employees, at SoFi. His resignation — Cagney will be out by the end of the year — comes amid a growing list of sexual-harassment allegations being levied against the company. On Tuesday, the New York Times published a lengthy piece further detailing the nature of some of those allegations, including harassing female employees via text messages, flirting with colleagues, and bragging about the size of his penis.
"It was a frat house," former SoFi underwriter Yulia Zamora told the Times, noting that she had been repeatedly propositioned for sex by a more senior colleague. "You would find people having sex in their cars and in the parking lot. It was a free-for-all." A different source told Dealbreaker, "People would leave with a manager, go to the parking lot, have sex in the car, come back in and get promoted." Another former SoFi employee, Laura Munoz, described the "sexually explicit" text messages she received from Cagney while working as an executive assistant. Munoz was later paid a reported $75,000 to leave the company, after the board investigated the text relationship between her and Cagney. Cagney also reportedly flirted with a female employee in front of other staff until she "grew enraged and left." The same woman later quit. In the Journal's report, former employees also described inappropriate workplace behavior — "he occasionally complimented both men and women's outfits and touched both men and women's shoulders to try to be friendly" — from SoFi's then-CFO, Nino Fanlo. (Fanlo left the company in May for a "new opportunity.") Other sources told the Times that they heard Fanlo openly discuss female employees' bodies and offered two women $5,000 if they could lose 30 pounds by the end of the year.
The growing list of allegations and Cagney's departure come about a month after a former employee, Brandon Charles, filed a lawsuit against the company. According to the suit, Charles was fired after he reported seeing his female colleagues getting harassed by male peers. Following the suit announcement, Cagney sent a companywide email to employees, explaining that SoFi would be looking into the matter and that such behavior "has no place at SoFi." A spokesperson told the Times that the situation had been "investigated in depth by the company and found to have no merit." Less than two weeks after sending that email, Cagney announced he was stepping down from his position. "We can't disclose what was said during the board discussions [regarding Cagney's resignation], which are confidential, but we can say that many of the descriptions of those discussions have been inaccurate," SoFi said in its latest blog post.