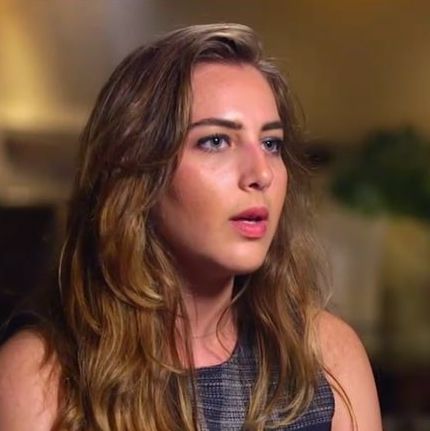 Photo: Screencap/ABC News
A young Syrian-American journalist and her mother, both well-known activists opposing the regime of Syrian president Bashar al-Assad, were found brutally murdered in their apartment in Istanbul on Thursday. Twenty-three-year-old Halla Barakat, who was born in America, worked as the English editor for the opposition site Orient News and also freelanced for ABC. Her mother, Dr. Orouba Barakat, was an active member of the Syrian National Coalition, a prominent expatriate opposition group, and had been exiled by the Syrian regime in the 1980s. Both women also did charity work for Syrian refugees living in Turkey and came from a large family that is well-known for its long history of challenging both Bashar al-Assad and his father before him, according to the New York Times. Indeed, family members are already accusing the Assad regime of having assassinated the women on foreign soil.
ABC News reports that the Barakats were strangled and stabbed to death sometime last week and that their bodies were covered in some kind of chemical meant to delay decomposition. An investigation is underway by Turkish police, but no arrests had been made or suspects identified as of Friday. The Committee to Protect Journalists reports that, according to one of Halla's colleagues, both women had received death threats via email and social media from supporters of the Assad regime, but didn't pay much attention to them as such threats were common for anti-regime activists.
The U.S. State Department condemned the murders in a statement and says it will "closely follow the investigation" into the crime. The FBI has the legal right to investigate the killing or kidnapping of any American abroad, but declined to comment on whether it would do so when reached by ABC News on Friday.
Both women were also friends and colleagues of American aid worker Kayla Mueller, the young Arizona woman who was abducted by ISIS while working in Aleppo, Syria, in 2013, then killed 18 months later. The Barakats were very active in trying to secure Mueller's release, lobbying the U.S. embassy in Turkey and working with Kayla's parents, Carl and Marsha Mueller. Ultimately, Mueller died while in ISIS custody after American officials were unable to secure her release, in part because official U.S. policy forbade the making of ransom payments to the group. ISIS blamed Mueller's death on a U.S. coalition air strike.
Kayla's parents released a statement mourning the Barakats on Friday:
We don't know what to say, we are numb and do not understand how anyone could do this to our gracious and beautiful friends. Orouba and Halla were like a mother and sister to Kayla. They never gave up on saving her. Kayla loved them, and stood with them in doing what they could to help their beloved people.
The Barakats had been working to establish a charity in Mueller's honor that would help Syrian women in Turkey's refugee camps earn a living.
A funeral for the Barakats was held on Saturday in Istanbul, and plenty of Syrian activists were on hand to mourn and celebrate the women:
Four other Syrian journalists have been killed in Turkey since 2015, according to the CPJ, and the group is once again calling on the Turkish government to do a better job protecting Syrian journalists who have taken refuge in the country.