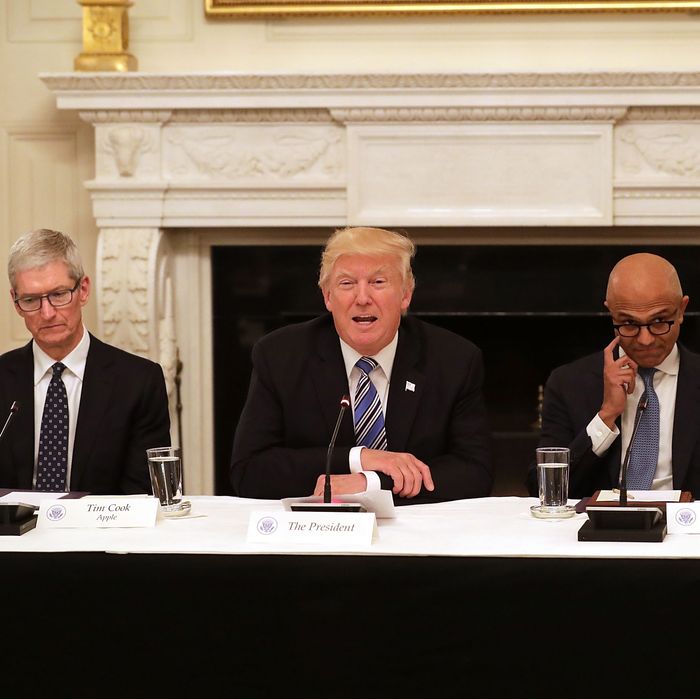 Photo: Chip Somodevilla/Getty Images
Alarmed by the actions of the Trump administration once again, tech companies have written a strongly worded letter hoping to sway the president's stance. Good luck!
Speculation that Trump will rescind DACA is picking up ahead of an arbitrary September 5 deadline stated in a letter from Texas attorney general Ken Paxton. There's that, plus Trump's general anti-immigrant stance, and his fixation on undoing pretty much any regulation that Obama put in place, regardless of the consequence. As speculation about what Trump will do mounts, tech leaders have once again made their stance clear.
DACA, or Deferred Action for Childhood Arrivals, is a program that allows undocumented immigrants brought to the U.S. as children to register and secure a temporary reprieve from the threat of deportation. It is widely supported in the technology industry, which is itself reliant on immigrant labor, and thus has a general pro-immigration stance. Many large tech firms rely on the H-1B visa program to bring in skilled workers.
Mark Zuckerberg teared up when speaking about undocumented immigrants back in May, telling a crowd about a kid he taught. "If a high school senior who doesn't know what the future holds can do his part to move the world forward, then we owe it to the world to do our part too."
Last night, on Facebook, Zuckerberg wrote, "Dreamers have a special love for this country because they can't take living here for granted. They understand all the opportunities they have and want nothing more than the chance to serve their country and their community. And Dreamers deserve that chance." He called on Congress to finally pass the Dream Act.
He also linked to an open letter from tech leaders. In addition to Zuck, among the signatories are Jeff Bezos, Satya Nadella, Tim Cook, and Sundar Pichai. Making the economic case for keeping DACA — the nearly 800,00 Dreamers pay taxes and go to school, or are in the workforce — the letter concludes, "Dreamers are vital to the future of our companies and our economy. With them, we grow and create jobs. They are part of why we will continue to have a global competitive advantage."