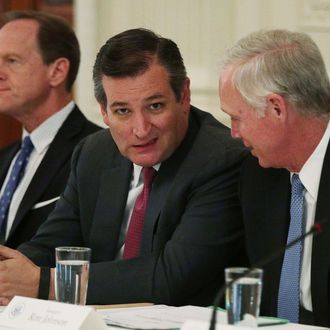 Ted Cruz is getting major attention on Twitter for faving a NSFW video.
Photo: Alex Wong/Getty Images
Texas senator and failed 2016 presidential candidate Ted Cruz — or his social-media manager — learned a valuable lesson tonight. That lesson: If you're using the official account of a politician with millions of followers, you might want to double-check which account you're liking tweets from before you go liking a porn video.
Early Tuesday morning, for reasons that will no doubt become clear sometime soon, Ted Cruz's Twitter account faved an extremely explicit porn video from the account @SexuallPosts. (It should be fairly clear at this point, but the tweet is NSFW. Click at your own risk.) The two-minute video features a woman who comes home to find a couple has broken into her house and is having sex on her couch. Rather than reacting in any number of ways a person who discovers naked home invaders might react, she proceeds to masturbate while watching the couple.
Soon after the gleeful crowd of night Twitter comedians discovered the hilariously vulgar fave, Ted Cruz's account, sadly, un-faved it. But screenshots live forever, and the replies to the @SexuallPosts tweet are almost as entertaining — or gross — as, well, this whole mess. Both @SexuallPosts and Cruz's college roommate, Craig Mazin, have weighed in on the situation. Catherine Frazier, senior communications advisor to Cruz, tweeted that "the offensive tweet posted on @tedcruz account earlier has been removed by staff and reported to Twitter." Frazier did not offer any explanation as to how the "offensive tweet" got there in the first place.
Cruz — for context — defended a ban on dildos as solicitor general of Texas, arguing, "There is no substantive-due-process right to stimulate one's genitals."
Subtweeting is another matter, of course, and the senator from Texas is certainly not the first person in Washington whose Twitter likes have turned into late-night news stories. Earlier this year, Melania Trump seemed to sub-fave her husband via a tweet about how much she hated him. And earlier this September, her husband faved a tweet about himself saying he "was not presidential." Both those tweets were subsequently un-faved.