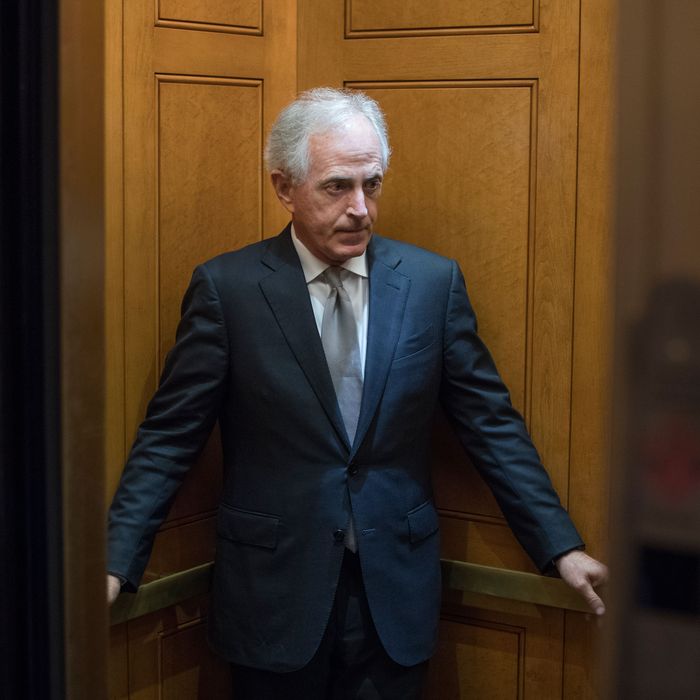 Put a cork in him.
Photo: Tom Williams/CQ-Roll Call,Inc.
Bob Corker will seek refuge in the private sector in 2019. On Wednesday, the Tennessee senator unexpectedly announced that he will not seek reelection next year, a decision that appears to be informed by some combination of frustration with the Senate's legislative gridlock, exasperation with the Trump presidency, and weariness about fending off whatever wild-eyed primary challenger Steve Bannon finds for him.
Corker's unexpected departure will open up his coveted spot as chairman of the Senate Foreign Relations committee, likely attract a wider field of candidates to Tennessee's Republican Senate primary, and maybe, just maybe, give an idiosyncratic Democratic candidate a chance to snatch a Senate vote from the heart of Red America.
In a statement on his decision, Corker wrote that he believed "the most important public service I have to offer our country could well occur over the next 15 months, and I want to be able to do that as thoughtfully and independently as I did the first 10 years and nine months of my Senate career."
Corker has, thus far, displayed little independence from the White House on matters of legislation or appointments. But after the president praised the "very fine" white nationalists who marched with torches in Charlottesville, the senator did deliver one of the harsher rhetorical rebukes of the Trump presidency that we've heard from any Republican officeholder.
"The president has not yet been able to demonstrate the stability nor some of the competence that he needs to demonstrate in order to be successful," Corker said. "He has not demonstrated that he understands what has made this nation great and what it is today, and he's got to demonstrate the characteristics of a president who understands that."
Corker is a very conservative senator, but he is also a (relatively) pragmatic one. His willingness to cut deals with the Obama administration — including on immigration — has long made him a target of the Breitbart right. And his harsh words for Trump only intensified conservative interest in a primary challenge against him. On Monday night, Bannon met with Tennessee state senator Mark Green, ostensibly to discuss Green's interest in mounting such a challenge.
Now that Corker doesn't have to worry about protecting his right flank, it's possible he will play a more adversarial role toward the administration, as his Tuesday statement seemed to predict.
Meanwhile, if a far-right wing nut manages to win the scrum for the GOP primary — and the Democrats find a compelling candidate who fits the state — the Donkey Party might have a chance at an otherwise unlikely pickup. Defeating Corker would have been impossible for Democrats; by contrast, winning a race for an open seat in Tennessee — in a favorable election year — is only nearly impossible for the party.