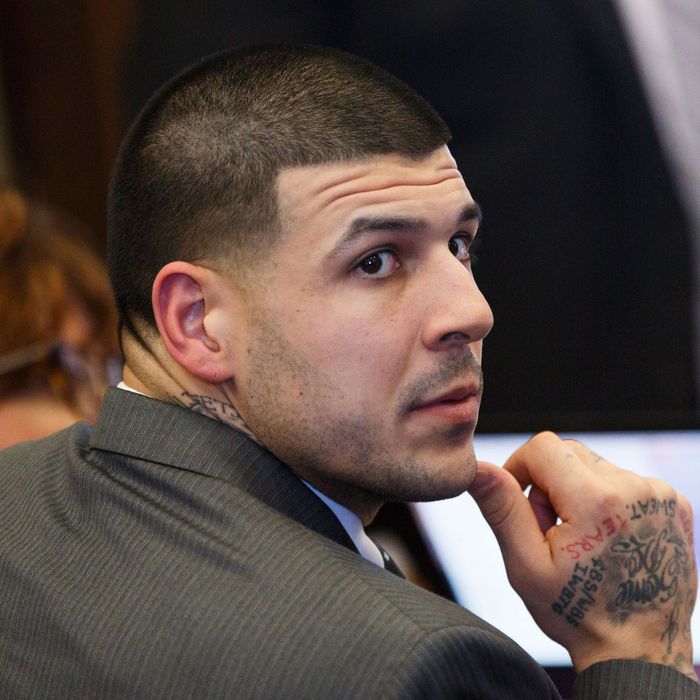 Aaron Hernandez.
Photo: Keith Bedford/Boston Globe via Getty Images
Aaron Hernandez, the former NFL tight end who was convicted of murder in 2015 and committed suicide in his jail cell last April, suffered from chronic traumatic encephalopathy, the brain disease known as CTE caused by repeated blows to the head, his lawyer said Thursday.
Hernandez, who was 27 at the time of his death, had "the most severe case [researchers] had ever seen in someone of Aaron's age," lawyer Jose Baez said in a press conference. Baez also said Hernandez's family has filed a lawsuit on behalf of his daughter against the NFL and Hernandez's former team, the New England Patriots.
Dr. Ann McKee of Boston University, one of the country's leading experts on head trauma, examined Hernandez's brain and found that he had Stage 3 CTE, with "early brain atrophy and large perforations in a central membrane," the AP reports. CTE can only be diagnosed posthumously and McKee has extensive experience doing it. In a July survey of her findings, published in The Journal of the American Medical Association, McKee revealed that she's examined the brains of 111 ex-NFL players and found CTE in 110 of them.
Hernandez's family donated his brain to McKee's CTE Center in April to have it checked for the disease, which comes with behavioral symptoms including aggression, depression, a lack of impulse control, and memory loss.
Some of those symptoms were on display in Hernandez's short life. The Connecticut native was a star at the University of Florida, but fell in the NFL draft because of off-the-field problems, including his alleged role in a Gainesville shooting. After three standout seasons with the Patriots, his legal troubles began anew, and in 2015 Hernandez was convicted of murder. In April of this year, he was acquitted of double murder in another case. Five days later, he hanged himself in a jail cell.
At 27, Hernandez is among the youngest NFL players to be diagnosed with CTE. Former New York Giants safety Tyler Sash, who died of an accidental overdose in 2015, was also 27 when CTE was found in his brain. Neither is close to the youngest person to ever be diagnosed with CTE. That distinction belongs to Nathan Stiles, a 17-year-old who died after collapsing on the sidelines of his high-school football game.