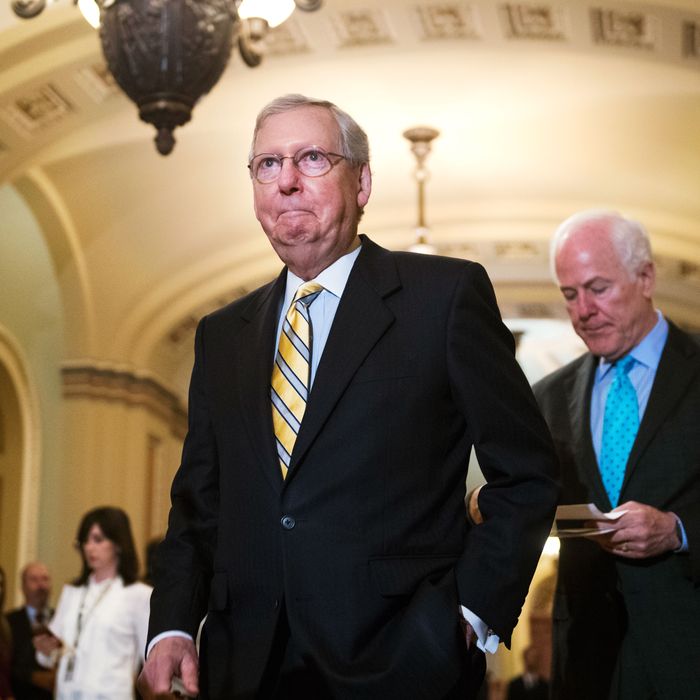 September is the cruelest month.
Photo: Tom Williams/CQ-Roll Call,Inc.
Donald Trump is very good at making Mitch McConnell's job harder.
This fall was always going to be a tough slog for the Republican leadership. In September alone, they have just 12 legislative days to raise the debt ceiling; keep the government funded; pass an aid package for victims of Hurricane Harvey; renew the National Flood Insurance Program; and reauthorize the Federal Aviation Administration. By the end of December, the party has long planned to pass a 2018 budget resolution, renew the Child Health Insurance Program, and make significant progress on reforming the tax code.
But that to-do list looks like a breeze next to the one that Trump has now created for his congressional allies. In recent days, the president has manufactured an urgent need to:
1) Pass some form of amnesty for nearly 800,000 undocumented people who were brought to the U.S. as children, speak English, and are gainfully employed — a policy that boasts overwhelming support from the general public, but inspires intense hostility from the GOP base.
2) Execute a second debt-ceiling hike in December — or else enact legislation that permanently abolishes it.
3) Pass reforms that strengthen the health-care law Republicans have spent eight years condemning as an act of socialist tyranny — or else accept a double-digit spike in health-insurance premiums ahead of next year's midterms.
That last task is the most urgent — and, perhaps, the most challenging.
Republicans can't blame Donald Trump for their failure to repeal Obamacare. The president didn't force the GOP to adopt heinously unpopular priorities for health-care policy, or spend years lying to their voters about what those priorities were; nor did the mogul force his party to attach draconian Medicaid cuts to their (sloppily drafted) Obamacare-replacement bills, or to reduce insurance subsidies in a manner that disproportionately harmed parts of the Republican base.
But Republicans can blame Trump for sabotaging the Affordable Care Act so shamelessly that their party must now pass legislation strengthening the law, by the end of this month, or else suffer political blowback from soaring premiums.
Under Obamacare, participating insurers are required to keep deductibles and co-payments affordable for low-income people. In practice, this means that insurers must underprice the risk of covering such individuals, and, thus, accept a financial loss. To make that proposition more appealing to these for-profit companies, Obamacare provides them with "cost-sharing reductions" — subsidies that defray the insurers' losses.
But for complicated reasons relating to a lawsuit that House Republicans brought against the Obama administration, Donald Trump can cancel those subsidies at will. And he has threatened to do just that, over and over again, for months.
This was disconcerting to insurance providers. In mid-April, several of them descended on Washington, in hopes of securing the White House's assurance that Trump's rhetoric about withholding the subsidies was just a bluff. Seema Verma, Trump's head of Medicare and Medicaid Services, informed the insurers that it could be a bluff — if they agreed to publicly support the president's health-care bill. The insurers refused to play ball. And the president has kept a gun pointed at his hostage ever since.
So long as that remains the case, insurers will need to proceed on the assumption that Trump is going to pull the trigger. Which is to say: They will need to either pull out of the Obamacare exchanges, or else raise premiums high enough to offset the costs of covering low-income enrollees without Uncle Sam's help.
This week, two insurers passed through door number No. 1, as Vox's Dylan Scott notes:
First, Optima Health announced it would stop selling Obamacare plans in some Virginia counties in 2018, citing in part uncertainty around the health care law's cost-sharing reduction payments…Optima's exit is expected to leave tens of thousands of Obamacare customers without insurance options, unless a new carrier steps in.




…Then on Thursday, it was reported that Anthem would leave Maine's marketplaces if the cost-sharing reduction payments were not guaranteed for 2018. According to Vox's tally, that would not leave any counties bare, but it would reduce the number of plans that customers in the state could choose from.
Meanwhile, the Trump administration has decided to slash advertising for Obamacare open enrollment by 90 percent, and funding for "navigators" who help people sign up by 40 percent — even as Health and Human Services has spent public funds on advertisements effectively discouraging participation in the law.
These actions exacerbate the risk of a premium hike. Sick people will seek out health insurance, whether or not they're exposed to advertising that encourages them to do so. But many healthy people will not — especially when the administration has publicly suggested that it will not enforce Obamacare's individual mandate. And without a critical mass of healthy individuals purchasing coverage on the exchanges, insurers will need to raise premiums to offset the costs of covering a disproportionately sick population.
All of which is to say: If Congress doesn't at least take the gun out of Trump's hand — and pass legislation guaranteeing that the cost-sharing reductions will be paid — health care is going to become considerably more expensive next year. And all available polling suggests that swing voters will blame the ruling party for that development.
The good news for the congressional GOP is that Republican senator Lamar Alexander and Democratic senator Patty Murray have been working on a bill that appropriates those cost-sharing reductions. The bad news is that, in order to avoid a spike in premiums, they're going to need to pass that bill by September 27 — the deadline for insurers to commit to selling plans through Obamacare in 2018.
Considering all the other business that Republicans need to take care of in September, it's hard to see Alexander-Murray making it across the finish line in time. Especially since passing such a bill would require Paul Ryan to betray his far-right flank for the third time in a single month, after already bucking their demands on the debt ceiling and government funding bills.
Then again, the Senate majority whip told Politico Thursday that his caucus had given up on repealing Obamacare — but remains committed to passing bipartisan health-care legislation in the near future.
"We've seen that we don't have 51 votes to do it, so we're going to have to do it bipartisan," John Cornyn told the outlet. "I'm sure we'll vote on some Obamacare-related language at some point … I just don't know exactly what it's going to be."