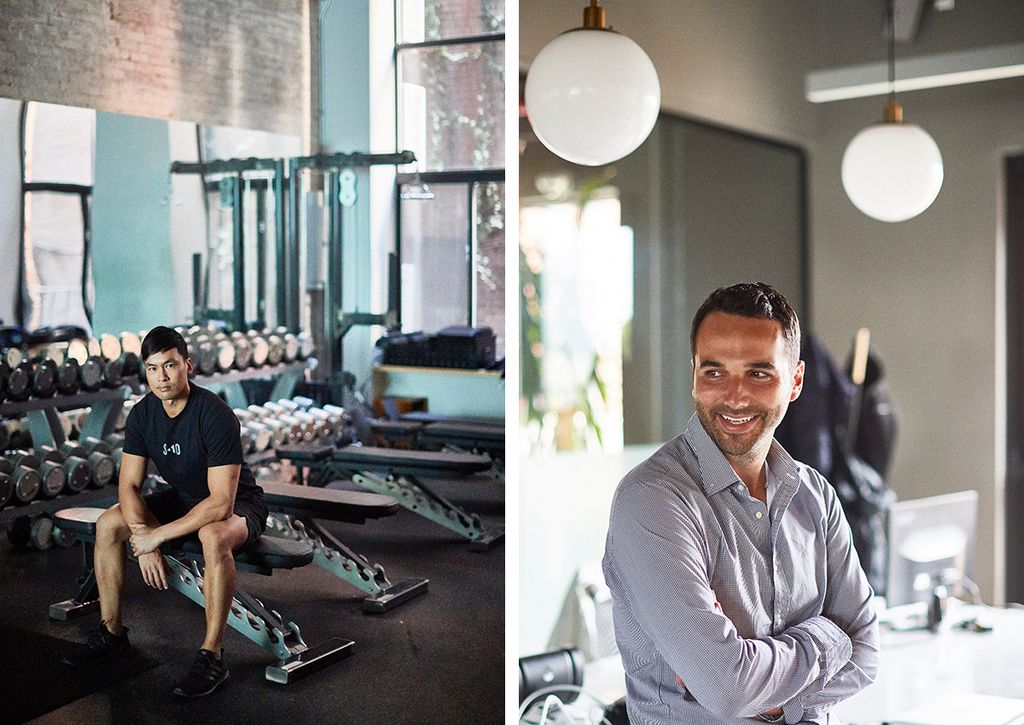 Starting a business is not an easy feat, particularly in a city as fast-paced and cutthroat as New York. First off, you need a truly unique idea to break through the noise. Then, it's a mix of dedication, creativity, integrity, and passion to get it off the ground, and that's a rare mix to come by.
In partnership with Hugo Boss Bottled Tonic and the new #MANOFTODAY campaign, we sought out inspiring individuals who encompass these values. We caught up with two very different, but very driven entrepreneurs and explored their workspaces, chatting about their road to success and the routines that help them stay grounded and (also highly effective) in their day-to-day.
Stephen Cheuk, Founder S10 Training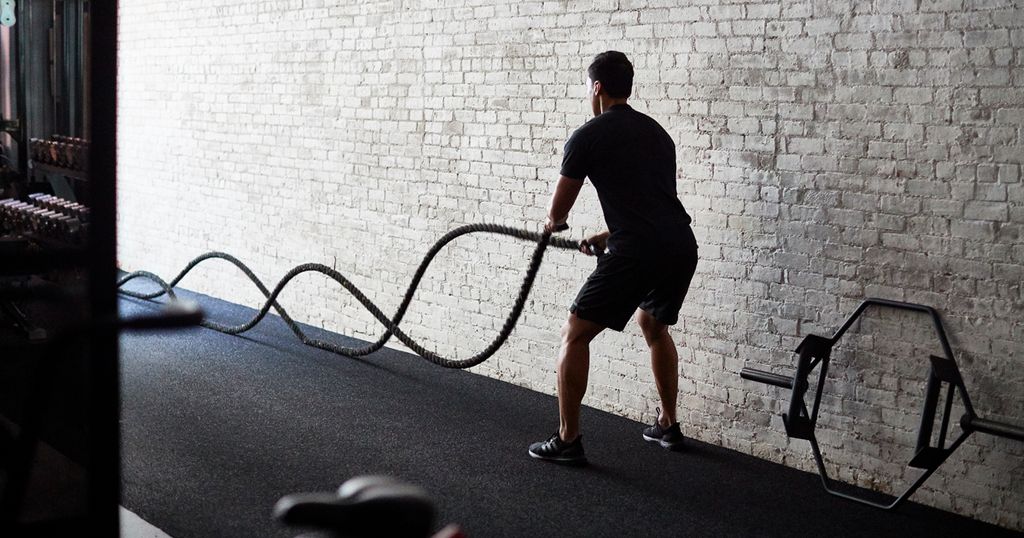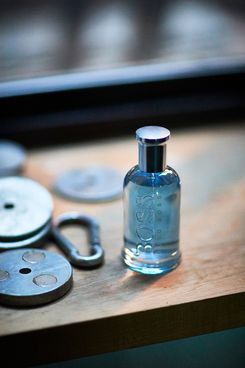 Stephen Cheuk is not your average trainer, and his gym is far from your average amalgamation of ellipticals whirring under fluorescent lighting. His 2014-founded Tribeca studio, S10 Training, is often mistaken for a gallery by passersby thanks to its minimalist aesthetic and intentional lack of signage. It caters to a remarkably creative clientele (like designers, famous actors, and fellow entrepreneurs), but Cheuk is very clear they're not just there for the scene: "A lot of personalities and downtown cool kids work out here because they want to see results … we're not just a gym that's cool to hang out in." The results specifically? The goal is to help clients achieve an optimal body fat percentage: sub-10% for men (hence, the studio's moniker) and sub-15% for women.
The entrepreneur's enthusiasm about wellness fueled his latest venture, House of Matcha, a collection of antioxidant-packed, small-batch matcha teas. "House of Matcha was a passion project that came into actual fruition a year ago, however, the idea was birthed 12 years ago, when I lived in Japan for a short period and discovered my love for matcha and its health benefits," he says.
Cheuk clearly embodies the Hugo Boss "Man of Today" – he's true to himself, consistently measuring each moment against his own set of codes, all while helping others achieve their goals. We caught up with Cheuk at S10 to hear more about his vision, how he stays motivated, and the challenges he's encountered during the journey so far.
What vision for S10 Training, and when did inspiration first strike?
My initial vision was to create a training space I would be happy to train in myself. I had previously trained in so many gyms across New York and never found anything that I was happy with. For example, you don't always have everything you want in the gym, the aesthetic as a whole is a bit dull, and the one problem that bothers me the most is how overcrowded a gym can get – New York and L.A. tend to have overcrowded gyms no matter what time you go. That for me is uninspiring. The idea for S10 struck when I was in Cartagena training a client for a wedding and I was stranded there for longer than I intended thanks to Hurricane Sandy. I remember having conversations with my client about fear and how it limits you so much in life. You miss out on so much. That's when I decided that day forward I was just going to go for it with anything and everything I do. No fear.
Tell us about S10's aesthetic. Why did you decide to go that route with your design choices?
The S10 aesthetic is very minimalist with a lot of attention to detail, which is an extension of our training ethos. I want S10 to feel very calming and zen when you walk in, which is a contrast to what goes on once you start training. So, we played with the lighting (James Turrell-inspired), tinted the front windows blue with no signage which also softened the light, and we played a lot with textures having one wall Venetian-plastered and lime-washing the bricks. I was lucky enough to have a really close friend who is a talented interior designer, Samuel Amoia, help me with some of the design.
What are some of the biggest obstacles you've overcome in your journey so far?
Time management, letting go, and making that transition from being a personal trainer to an entrepreneur have been the biggest obstacles to date. I still remember the day I signed the lease and walked into this raw, empty space thinking, what do I do now? I had no idea or experience on how to do a build-out or run and launch a business. It's been a huge learning process and I've definitely made some mistakes along the way, but gained so much knowledge and experience in the process.
What does your typical daily routine look like?
My days are always very hectic, but my one constant is my morning. I wake up 6 a.m. and start my morning with a cup of matcha, some meditation, 20 minutes of some type of movement, and then do an hour of work from home to prep myself for the day. I walk to S10 and have my first client at 8 a.m. and then split my day up between training clients, meetings, working on my other ventures, and squeezing in a workout or two.
What's your secret to staying productive?
Being active and healthy play a big part in staying productive, and surrounding myself with inspiring people that are doing big things also helps keep me on track. Another important secret is nutrition. I spend a lot of time and effort making sure I'm eating the right foods that will give me the energy I need to be productive. If you're eating the wrong things, you're likely to be sluggish and uninspired.
Jamie Hodari, Founder and CEO of Industrious
In 2013 when Jamie Hodari and Justin Stewart launched coworking startup Industrious, they were onto something. By the end of 2017, it's estimated that over a million people will have worked in a coworking space, and Industrious has seen three times year-over-year revenue growth.
A few key differentiators make Industrious unique in a landscape of both big-name competitors and new ventures quick to capitalize on the coworking model. Design is critical – antique pieces and reclaimed wood sit alongside sleek finishes, and quirky touches abound, like Industrious Brooklyn's "secret" speakeasy-themed meeting room. Overall, Industrious is a more premium offering, and it tends to cater to larger businesses than WeWork's core clientele, with private options for up to 150 employees apart from shared common spaces. "Everything we do has to be delivered at the highest level … people routinely say they feel taken care of in a way you would associate with a beautiful hotel, not an office," says Hodari.
Industrious is not only shaking up the traditional office concept, but may also be on the brink of disrupting the typical office-leasing model – they're hoping to share revenue with landlords in exchange for space rather than paying a typical rent based on square footage. That's not the only big plan in the works: "We'll be at nearly 30 locations in more than 20 cities by the end of the year and plan to open 60 more in 2018," says Hodari.
To celebrate creative thinking and the drive to innovate – key attributes of the "Man of Today" – we caught up with the busy founder and CEO at Industrious HQ in Brooklyn.
What was your initial vision for Industrious, and when did inspiration first strike?
I used to run an organization called Kepler and our U.S. offices were in a well-known shared office space. I went to work one morning when I was hosting a life-or-death meeting with a potential funder, and as I prepared, I realized the conference table was sticky and half the lightbulbs were out. People were walking by in cargo shorts and flip-flops. So, I moved the meeting to a coffee shop out of embarrassment. My co-founder had an almost identical experience at his shared office space. So, we resolved to create a workplace brand that was professional and elegant enough that everyone who worked there could be proud and excited to go to work.
Tell us about the Industrious aesthetic, and why it's so critical. How does it help you and your clients stay productive?
To stay productive, people need to feel inspired and proud to show off their office, but they also have to feel at home and comfortable. Imagine if you could combine the stunning restaurant you go to for your anniversary with the neighborhood one you eat at every week, the one where everyone knows your name. It's almost impossible, but if you can capture both, it's magic. Nobody does that better than Industrious. It's critical because you love your apartment, you love your favorite coffee shop, and you definitely love your favorite cocktail bar. How can you spend the majority of your day somewhere you don't feel that way about?
What are some of the biggest obstacles you've overcome in your journey so far?
It's been an incredible journey, but we've had our scrapes. The day before opening our first location, we realized someone had stolen our blueprints and copied us. Then, on opening day, someone stole a laptop and the police came … while the press was there for our opening party. But honestly, I think we're an extremely ethical company and have tried to always behave thoughtfully, which has spared us a lot of the trouble other rapidly growing companies find themselves in.
What does a typical workday look like for you?
This isn't a secret, but a lot of being a CEO involves making decisions. They're usually not particularly glamorous — a lot of times they're simply mundane decisions that no one else wants to make. That can be exhausting. Our Brooklyn location has a secret room that I often retreat to when I need to recharge and get some deep thinking done. It looks like a speakeasy, but for me it's just a mellow retreat.
How do you stay inspired?
I'm surrounded by the smartest, most passionate colleagues I've ever had the honor of working with. And most of them are pretty funny, too. As any athlete would say, nothing gets you going quite like great teammates.
Photography by Paul Barbera; Grooming by Sae-Ryun Song for Defacto
This is paid content produced for an advertiser by New York Brand Studio. The editorial staff of Daily Intelligencer did not play a role in its creation.