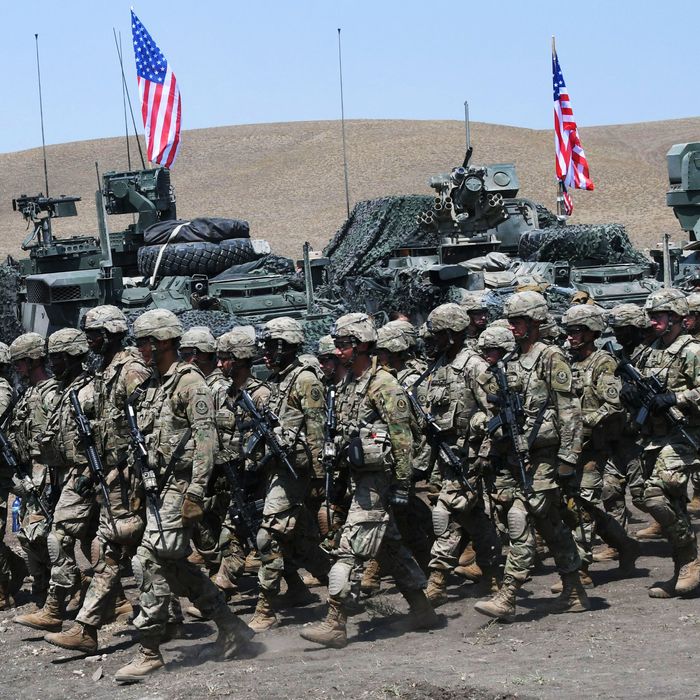 U.S. soldiers in Georgia.
Photo: Vano Shlamov/AFP/Getty Images
In recent weeks, hundreds of foreign-born Army recruits have been abruptly cut loose by the military, exposing some to possible deportation, the Washington Post reports.
The move has led to panic among immigrant recruits, who enlisted with the understanding that their service would lead to an expedited path to citizenship. Many of them possess rare and valuable skills, including knowledge of highly sought-after foreign languages and medical expertise. Now, after waiting years in some cases to join the program, they've been discarded.
The Pentagon did not explain why the contracts have been cancelled, but there are likely two reasons. First, there's a fear among some in the Pentagon that the program known as MAVNI, or Military Accessions to Vital National Interest, makes the country less safe. In June, NPR obtained a memo sent by Pentagon officials to Defense Secretary James Mattis arguing for the cancellation of the program. The memo said that security concerns related to the recruits create an "elevated" risk of a terrorist invading the military.
Retired Lieutenant Colonel Margaret Stock, who created the program for foreign-born recruits, brushed off that concern, in an interview with NPR, saying, "If you were a bad guy who wanted to infiltrate the Army, you wouldn't risk the many levels of vetting required in this program."
The other reason is the overwhelming work needed to satisfy the detailed background check required to complete the enlistment process for these recruits. These often drag out for months, or years in some cases, and divert "already constrained Army fiscal and manpower resources from their primary roles," the Pentagon memo said.
That long process can leave some recruits vulnerable to deportation, with some background checks taking so long that an immigrant's legal status will expire before they can begin basic training.
"It's a Dumpster fire ruining people's lives. The magnitude of incompetence is beyond belief," Stock told the Post. "We have a war going on. We need these people."