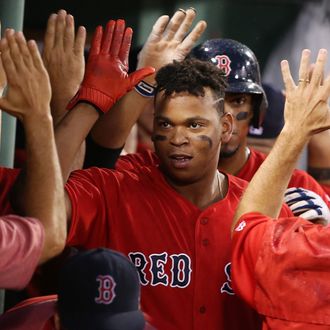 Photo: Adam Glanzman/Getty Images
It only took half a decade, but finally, someone has discovered a use for the Apple Watch, the watch made by Apple. The New York Times reports that the Boston Red Sox used the device to help steal hand signs from the New York Yankees. Personnel monitoring video would watch the catcher to see what signs he was giving to the pitcher and then send that on to the dugout, where an athletic trainer would relay information about upcoming pitches to players.
From the Times:
The video provided to the commissioner's office by the Yankees was captured during the first two games of the series and included at least three clips. In the clips, the team's assistant athletic trainer, Jon Jochim, is seen looking at his Apple Watch and then passing information to outfielder Brock Holt and second baseman Dustin Pedroia, who was injured at the time but in uniform. In one instance, Pedroia is then seen passing the information to [player Chris] Young.
In the first game of the series last month, the Sox went five for eight when they had a player on second base, which is generally key to spying on hand signals. A player on second has the best shot at communicating information to the player at bat.
Major League Baseball told the Times that it had corroborated the claims with its own tape, and the Red Sox have filed a counterclaim that one of the Yankees' television cameras is used to monitor hand signals. Apple, meanwhile, just got some juicy new material to turn into bad jokes at their keynote next week.