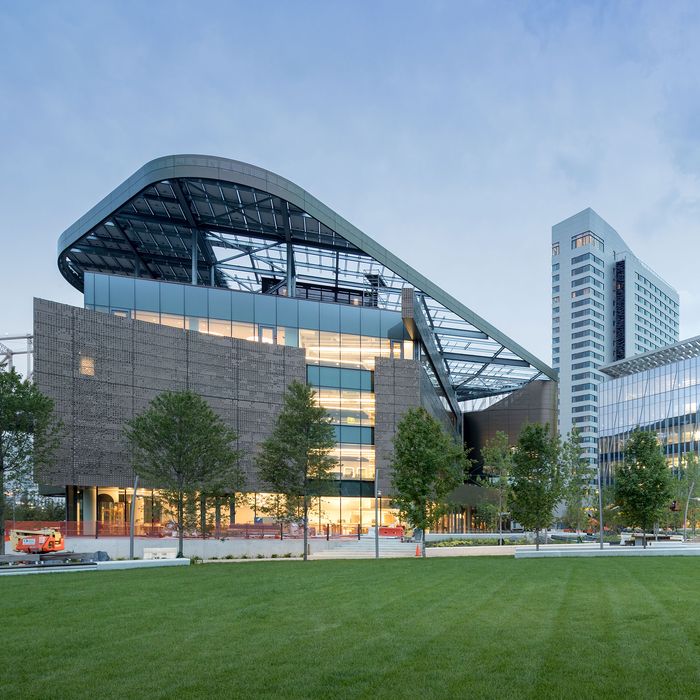 The Cornell Tech campus on Roosevelt Island.
Photo: Iwan Baan
There are no blank slates in a city like New York, but the site of Cornell Tech came close. When the Bloomberg administration wanted to lure a high-powered educational institution that would incubate a homegrown tech world, it dangled a coast-to-coast swath of Roosevelt Island, sandwiched between the Queensboro Bridge and the Four Freedoms Monument on the southern tip, with billion-dollar views. It was the sort of place where a new elite could build itself up from scratch, in the city yet apart from it. Now the Cornell Tech campus — shared with an academic partner, Technion — Israel Institute of Technology — is up and running, and, like the World Trade Center and Hudson Yards, it's a multi-building project that practically creates its own context. And like both those cities-within-a-city, it is so ambitious that its architecture offers a mixture of delight and disappointment.
A combination school, office park, and sustainability research station, the campus quivers with visionary eagerness. I visited on a gray, moody day, before the construction workers had all gone and all the tenants had arrived. The Manhattan skyline preened, the bridge loomed, and the Queens waterfront seemed determined to photobomb the vista. Even amid the squalls and the whine of lathes, I could sense the quiet techno buzz. Though the campus won't be fully built out until 2043, the first three buildings and the landscaping that joins them project confidence that life will one day be smoother, safer, more exciting, and more just, all thanks to the ideas that go hurtling around these dozen acres of greenery and glass. This is where apps are born, robots get their brains, and malicious hackers are warded off.
For a school so focused on the future, some of the architecture looks remarkably familiar. The design makes a gesture toward sci-fi phantasmagoria — a metal-clad ripple here, a levitating cantilever there — and the result boasts such stark, handsome glister that it will no doubt attract the attention of location scouts. (Cornell Tech: Watch for it in an auto commercial soon!) In the end, though, the buildings are shiny casings for the intellectual processes unfolding inside and the mechanics that help them run. Don't judge the software by the shape of the gizmo.
Miraculously, a crowd of designers took the master plan by Skidmore, Owings & Merrill, and cooked up a true urban campus, simultaneously open and cloistered. A public pathway veers off from Roosevelt Island's West Loop Road and cuts through the heart of the compound, inviting anyone to wander in. At the gateway, the institution's main academic building, one corner of the metal-clad Bloomberg Center, designed by Morphosis, floats above a patio, as if rising to meet the Queensboro Bridge. In the glass-walled studio overhead, brilliant minds labor mysteriously in plain view. Transparency is a mantra of today's architecture, but at the Bloomberg Center it's the exception. Morphosis's designers have doled out glass with care, shading it beneath overhangs and turning it away from the direct glare of the sun.
The long, low building (nearly two blocks by four stories) splits in the middle, with a narrow street-to-roof atrium that wastes no workspace on empty grandeur but lets light cut through the structure's heart. The splendor of the Manhattan view exerts such dazzling force that it causes the building to blow back toward Queens; an enclosed staircase bulges toward the campus plaza. That flourish lays down a marker for capital-A Architecture, an assertion that the physical world matters, even in a community of virtual thinkers. And yet, as if to broadcast the serious thinking going on inside, Morphosis has fashioned a deliberately clunky building, a work of bold moves rather than fine detail.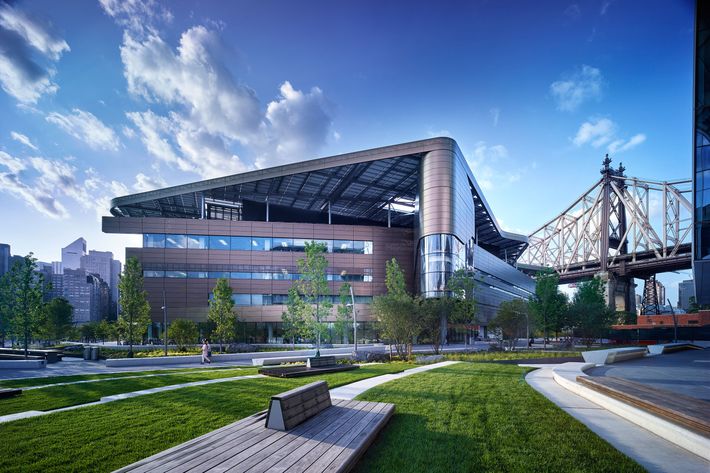 From above, the long, wedge-shaped structure resembles a scale model of Manhattan, gridded by solar panels instead of streets and blocks. That canopy of sun catchers, which supplies much of the building's energy, also functions as a giant rooftop pergola, shading the mechanical apparatus and, one day, perhaps, long tables for a festive lunch.
It's good to see architecture so overtly guided by the imperative to minimize energy consumption. Efficiency demands a façade that will let in plenty of sunlight but not too much heat, and Morphosis resolves that contradiction in its usual way, with a metal veil wrapping a glass skin. An infinitely patient robot has punched out thousands of tilted flanges in a distinctive pattern that, I'm told, abstracts photographs of the Manhattan skyline and the Ithaca gorge. (You'd have to be a programmer to read the image, though. To me, the scattergram of hanging chads provokes a flashback to the 2000 presidential election.) The theme of apparent randomness extends to the iridescent paint, which plays tricks on the eye, shading from gold to green to charcoal, depending on the light. Even in the flat light of a thunderstorm, it makes the building come alive.
Inside, a spare aesthetic encourages immovable focus and unending toil. The designers have avoided the candy-colored play spaces and schlumpy chic that the tech world fetishizes. Instead, a grimly frill-free décor—fluorescent lighting, gray carpeting, taupe workstations, and a ceiling thick with naked ducts — ensures that the building's inhabitants will keep their eyes on the screens or, during a moment of distraction, toggle to the imperial view. Students sit hip-to-hip along a U of tables on either side of the professor, facing out like participants in a Renaissance Last Supper. Silence reigns. When members of the group need to talk, they retreat to a huddle room, a small chamber with a table, a door, and a video monitor. The system is a ruthlessly efficient approach to space and to employees' time. Professors, instead of having offices where they can seclude themselves with their books and potted plants, can either mingle or go home.
I asked Andrew Winters, the university's senior director of capital projects, where professors keep their stuff. He looked at me as if I had asked where dogs go after they die. "In the cloud," he said. Winters did acknowledge that one faculty member with an eccentric fondness for "books" had had some shelving units rolled into his assigned huddle room (thereby squeezing the meetings into an even more intimate configuration). "We separate the notion of private space from personal space," the school's founding dean, Dan Huttenlocher, explained to me later. "Your personal space is your desk, out in the open. Private space is yours when you're in it. Someone who wants that big fancy office, to show how important they are, should go to another campus."
Cornell Tech has an assortment of spaces spread across the complex that are available for temporary use: soundproofed, glass-walled phone booths where everyone can watch your crisis unfold in pantomime; unwalled pods; balconies; outdoor seating; foyers awash with café tables and electric outlets; hallway railings with a sill to encourage leaning and schmoozing and a metal lip to prevent coffee cups from tumbling into the indoor void. That last detail may be a quiet homage to Bell Labs, Eero Saarinen's late-1950s temple to rational pursuits in Holmdel, New Jersey, where metal-doored research cells gave onto long hallways overlooking an immense atrium. Those railings all came equipped with the one piece of equipment no conversation could then do without: ashtrays. That facility, which after a long deserted twilight has been lovingly brought into the 21st century by Alexander Gorlin Architects as another tech-friendly office center, embodied the fusion of design and science, the cool, rational container for cool, rational minds. Saarinen's low suburban box, resting on an expanse of parking and velvet greenswards, is the grandfather of Apple's new ring-shaped headquarters in Cupertino, California, a fusion of Euclidean geometry and endless sprawl.
Cornell Tech is a different kind of beast: idiosyncratic, interlocking, and emphatically urban. It springs from the former mayor's desire to dilute the financial sector's hold on the city's economy by boosting both tech and education. The goal was to create an urban Silicon Valley in miniature. Stanford gave birth to turf-hungry office parks spreading outward from Palo Alto; Cornell Tech gives students, start-ups, and established companies a place to mingle onsite. Ideas incubated on Roosevelt Island will trickle out along either side of the East River, to Astoria, Long Island City, Williamsburg, and the East Side. Weightless numbers may whip around the planet in nanoseconds, but the people who enter, crunch, and work with that data still lumber around the physical world. In New York they will go where transit lines make it easy. A new ferry route may help.
The most satisfyingly inspired aspect of the campus is the way it keeps New York constantly in sight. Whether you're sitting at a terminal in the Bloomberg Center, poring over a smartphone in the ample café, climbing a staircase, hustling across the central plaza, or looking out your dorm-room window, the city is ever-enfolding and omnipresent. The Queensboro, vaulting overhead, reminds engineers of what their predecessors wrought. The skyline offers the self-renewing wonder of Fitzgerald's revelation: "The city seen for the first time, in its first wild promise of all the mystery and beauty in the world." Midtown hovers out of reach, but its presence laces up the campus itself, conditioning the layout and the space between facades. There are no acres of parking, no looping driveways or vast plazas. An on-campus student with quick reflexes can roll out of bed and be in class within 60 seconds.
Yet despite all that deliberate density and designed urbanity, Cornell Tech remains a literally insular campus, an enclave of brilliant minds in the middle of a fast-moving river. It forms its own community and makes its own rules. That independence manifests in the gridded layout, organized around a spine that runs due north to due south, instead of following Manhattan's jaunty tilt. And yet, in its intimacy and intensity, the campus recapitulates the city's virtues. Elsewhere in the city, start-ups, venture-capital firms, juggernauts like Google, and various hangers-on have evolved an elaborate ecosystem of urban tech. They converge on New York, not just because engineers like to bike to work and need their latte dispensaries but also because ideas, like atoms, yield energy when they clatter together. Most tech companies here make their homes in sturdy relics of the pre-digital era: tired office buildings, disused factories, and repurposed warehouses. Cornell Tech is instead its own environment, designed from scratch to be ideal.
The most graceful of the three buildings so far is the Bridge, designed by the New York architecture firm Weiss/Manfredi to lubricate the campus's frank closeness between academe and commerce. Companies and organizations compete to give students real-world challenges to address: an app to help house cleaners organize into co-ops, another to help freelancers manage their professional lives, and an assortment of less socially conscious missions. Corporations come snuffling for talented students. Citigroup plans to move a cybersecurity and artificial-intelligence unit into the Bridge, where it will have access to the freshest research. Students who graduate can start their own companies and not even leave the campus; they can just rent space above their former classrooms.
In Weiss/Manfredi's joined pair of structures (which in plan resemble stone-age arrowheads), airy labs and classrooms cascade toward a central staircase. Glass abounds, flooding the interiors with daylight that, even on a gloomy day, pierces to the heart of the building and connects the views on one side with those on the other. Total transparency is an illusion, especially in energy-efficient buildings, and here much of the glass skin stretches tightly over sections of opaque wall, giving the building a striated iridescence. In the Bloomberg Center, Morphosis stretched metal over glass; in the Bridge, Weiss/Manfredi turns the layers inside out.
I have a problem with the overuse of glass. It's the demoralizing default for cities all over the world, cheap, heat-trapping, and thoughtlessly "modern." But every material has its expressive virtues, and Weiss/Manfredi treats glass with virtuosic finesse. At the Krishna P. Singh Center for Nanotechnology at the University of Pennsylvania, the firm used it to line the belly of a shrimp-shaped structure that glows above a tiny artificial vale. On Roosevelt Island, a great glass X lifts above the floodplain. The architects, who are unusually responsive to landscape and often design their own, have refined the crystalline building that hovers above a park. From the Bridge's front door, the terrain, sculpted and planted by Field Operations, slopes gently down to the East River.
Weiss/Manfredi takes care with details that make the building subliminally seductive. The pattern of pavers that Field Operations laid down outside continues on the indoor terrazzo. Comfortable terraces flank the main staircase like a series of informal cafés. Window walls segue into skylights. Bright, broad spaces lead to rooms where faculty can stash their prototypes and autonomous vehicle simulators. And all around, the city spreads out beyond the building's slender membrane.
The most vertical, and therefore the most obtrusive, component of the campus is the House, a 26-story slablike residential building by Handel Architects. Even before completion, the tower was being celebrated as the world's tallest Passive House construction, a showcase for the most rigorously energy-efficient protocols that current technology has to offer. The fat sides face due north and south to minimize direct rays of morning and afternoon. The exterior wall is heavily insulated and sealed at the joints to keep warm or cool air from leaking out. Handel partner Blake Middleton claims that knocking off 60 percent to 80 percent of the electric and heating bills quickly offsets the 5 to 7 percent premium in construction costs, which could set a new standard for construction in New York.
And yet, while the House makes a powerful environmental argument for the benefits of scale, it makes a lousy aesthetic case for sustainable architecture. This is no minor quibble. Its frumpy and awkward presence pushes up into the views the rest of the campus celebrates, and it should earn that presence on the skyline. After all these years of green design, we should no longer need to signal environmental virtue by fitting out buildings in the architectural equivalent of work boots. As the architect Lance Hosey pointed out in his 2012 book The Shape of Green: Aesthetics, Ecology, and Design, "Long-term value is impossible without sensory appeal, because if design doesn't inspire, it's destined to be discarded."
For now, Cornell Tech feels airy, but it will get more crowded. Soon, a hotel and meeting center designed by Snøhetta will join the existing cluster. Students in search of a place to zen out can still climb the bucolic grass-covered berms, designed by Field Operations to hold the debris from demolished buildings. Eventually, though, those mounds will sprout more construction, raised so as to clear the storm surges of the future. By then the city will have started to adjust to the new Roosevelt Island, webbing it with connections and responding with a fresh round of growth. Cornell Tech has erected an intellectual urban farm on a river island in the middle of our city. Let's see what wonders it will raise.