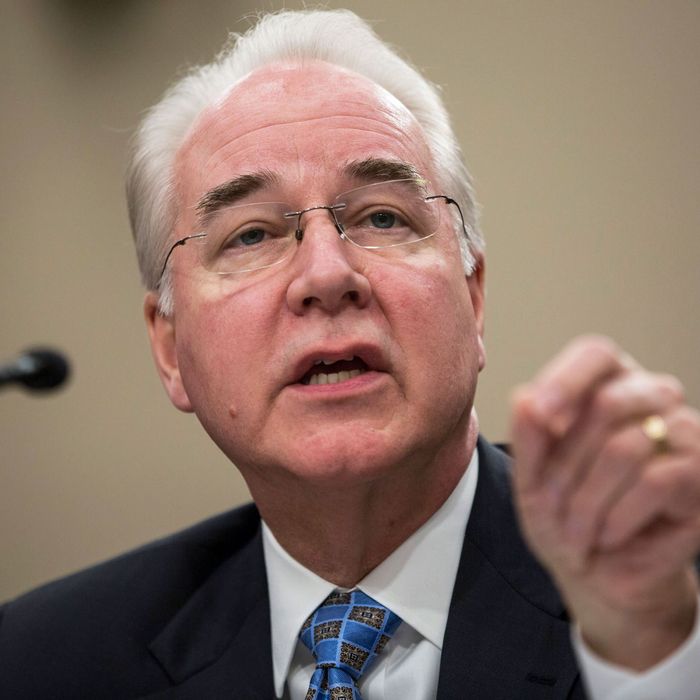 Tom "Let Them Fly Coach" Price.
Photo: Zach Gibson/Getty Images
When Politico revealed last week that Health and Human Services Secretary Tom Price has taken at least 24 flights on private charter planes since early May, which cost taxpayers more than $300,000, the department initially argued that the hassles of flying commercial shouldn't come between the secretary and the American people.
"Some believe the HHS Secretary should be Washington-focused," said an HHS spokeswoman. "Dr. Price is focused on hearing from Americans across the country."
But over the weekend, Politico reported that Price has actually spent more than $400,000 flying private, and the secretary finally conceded during a Fox News interview, "The optics in some of this don't look good."
Price said the HHS inspector general is conducting "a review and an audit" of the travel-approval process, and he also initiated an "internal departmental review of the procedures." In the meantime, he won't be taking any private charter flights.
"We've heard this criticism, and we're very, very serious about addressing it," Price said. Asked about the situation on Sunday, President Trump said, "We're looking into it."
Still, the secretary defended his actions, saying it's totally different from then–House Speaker Nancy Pelosi's actions back in 2010, when Price complained that she was "flying over our country in a luxury jet."
Price said he mainly flew private for events involving the opioid crisis or the hurricanes (Politico says ten flights were unrelated to either topic). He does, in fact, know how to rough it. "We've taken many, many trips in cars — sometimes four and five hours at a time," he said.