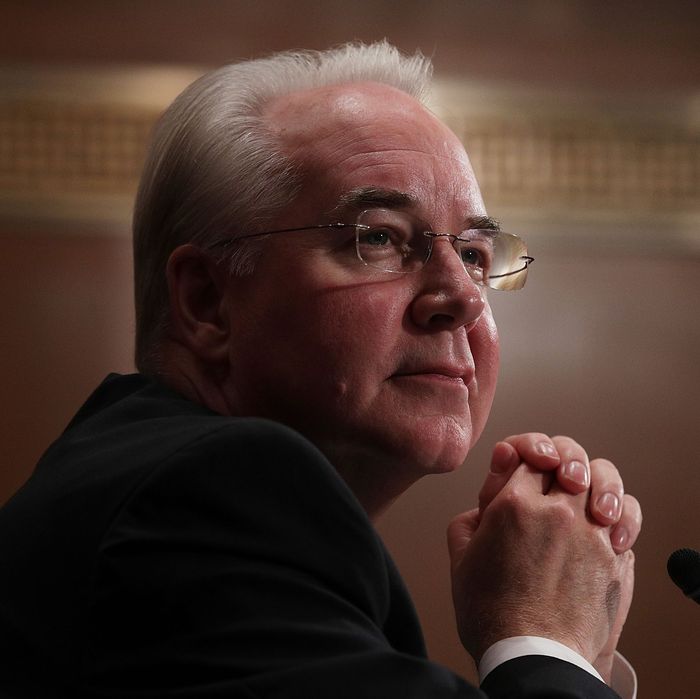 Photo: Alex Wong/Getty Images
When asked last week why Health and Human Services Secretary Tom Price spent large sums of taxpayer money — more than $400,000 at last count — on at least 24 flights on private charter planes since early May, a spokesperson for the department said that he only flew private when commercial flights weren't feasible.
"He has used charter aircraft for official business in order to accommodate his demanding schedule. The week of September 13 was one of those times, as the secretary was directing the recovery effort for Irma, which had just devastated Florida, while simultaneously directing the ongoing recovery for Hurricane Harvey."
Politico, which broke the story, subsequently revealed that at least 17 of the flights took place before the storm hit. And on Tuesday the outlet reported that during at least two of the trips Price's schedule wasn't so demanding that he couldn't squeeze in visits with colleagues and family members.
Under Federal Travel Regulations, officials are only supposed to charter a plane if "no scheduled commercial airline service is reasonably available (i.e., able to meet your departure and/or arrival requirements within a 24-hour period, unless you demonstrate that extraordinary circumstances require a shorter period) to fulfill your agency's travel requirement."
Price's June 6 trip to Nashville — where he happens to own a condominium and where his son lives — doesn't appear to fit that description. He took a private flight that landed around 9:40 a.m. local time, then toured a medicine dispensary for about an hour. He left around 11:30 a.m., then had lunch with his son. At 2:15 p.m. he appeared at the Healthy Tennessee Summit, which was organized by Manny Sethi, a prominent local Republican who describes Price as a mentor. Price's 20-minute speech was so hastily organized that it didn't appear on the event's schedule. Price then headed back to D.C., after only spending about five and a half hours in the city. The secretary's decision to take a Learjet cost taxpayers nearly $18,000, while comparable commercial flights cost under $340.
Another trip to St. Simons Island, an exclusive Georgia resort where Price and his wife own land, does not seem to fit the criteria for travel via private plane. After delivering a speech to a flu-vaccine manufacturer in Raleigh, North Carolina, on Friday, August 4, Price hopped on a chartered flight to the Brunswick Golden Isles Airport. He arrived on the island about 40 hours before the start of the Medical Association of Georgia retreat, which he and his wife have attended for many years. His duties involved speaking to a group of local physicians for about an hour on Sunday.
The secretary has stopped taking private charter planes for the time being as the HHS inspector general is conducting "a review and an audit" of the travel-approval process. On Sunday, President Trump said his administration is "looking into" the issue, but in context, it didn't seem he was very concerned about the potential misuse of taxpayer money.
Former HHS secretary Kathleen Sebelius found her successor's behavior far more alarming. She told Bloomberg that during her five-year tenure, she chartered one flight: She and her staff took a propeller plane to visit three Alaskan villages inaccessible by road or boat.
"I have no idea who came up with this notion and where it came from, and the notion you could spend $400,000 in what, 5 months, is stunning," Sebelius said.