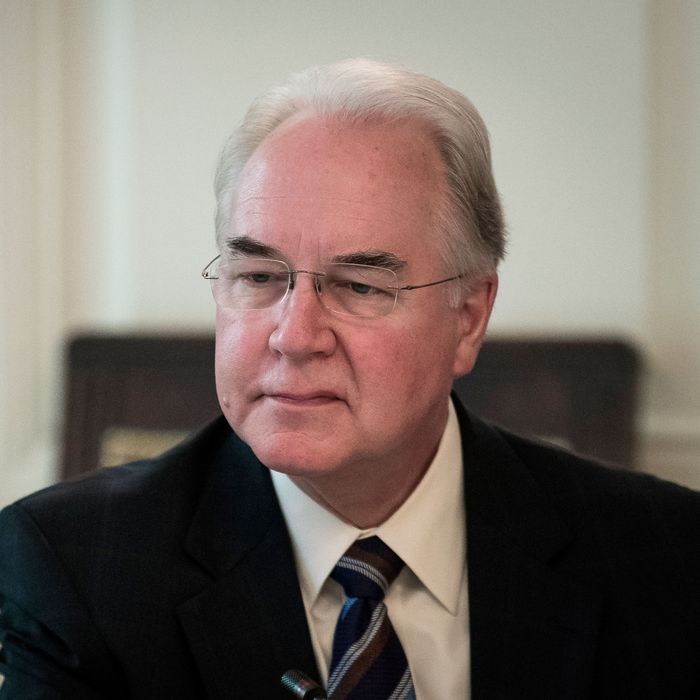 Priced out.
Photo: Drew Angerer/Getty Images
Health and Human Services Secretary Tom Price resigned from President Trump's cabinet amid controversy over his use of chartered jets that cost taxpayers hundreds of thousands of dollars.
Earlier in the day, President Trump had hinted that he might fire Price on Friday night, telling reporters that Price was a "good man" but that he didn't like the "optics" of his flights, and was "not happy" about them.
Price will be replaced, for now, by little-known Don J. Wright, currently the deputy assistant Health secretary. Axios reports that possible permanent replacements include Centers for Medicare and Medicaid Services administrator Seema Verma, Food and Drug Administration commissioner Scott Gottlieb, and former Louisiana governor Bobby Jindal.
In his resignation letter to the president, Price wrote that he would step down "in order for you to move forward without further disruption." And in a departing note to staff, Price wrote that "the honor of leading the incredible folks at HHS is one I shall never forget."
Price's expensive habit was first revealed by Politico. The outlet reported that he had flown at least 24 times on private chartered jets to cities around the country and abroad, even when commercial flights were available for a fraction of the price. The sum of the flights' costs exceeded $400,000. Price's predecessors at Health and Human Services, Sylvia Mathews Burwell and Kathleen Sebelius, flew commercial during their time in government.
The reports on Price opened the door to headlines about other Trump officials' pricey travels, including Interior Secretary Ryan Zinke, Veterans Affairs Secretary David Shulkin, and EPA Administrator Scott Pruitt. On Friday night, Office of Management and Budget Director Mick Mulvaney released a memo clarifying that agency heads should not use chartered aircraft except with specific justification.
Price offered on Thursday to reimburse taxpayers for about $52,000, which covered the cost of his seats on the flights, though not his staff's. But Trump had grown weary of the distraction Price was causing, and was already disappointed in him for his inability to help Obamacare repeal come to fruition.
Before he ran Health and Human Services, Price was a Georgia congressman who made his name as a fierce critic of the Affordable Care Act. (He also once advocated against congressional use of private jets.) As a cabinet member, he continued his crusade against the law, actively undermining it at every turn and propagating one mistruth after another about Republican efforts to repeal it.
During his years in Congress, Price also traded stocks of health-care companies that he helped regulate, leading to accusations of insider trading. Nonetheless, every Senate Republican voted to confirm him to President Trump's cabinet.