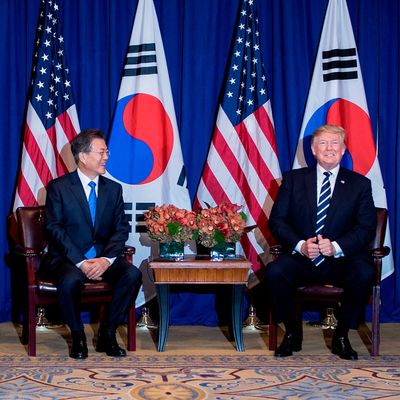 Trump and South Korea's president, Moon Jae-in.
Photo: Brendan Smialowski/AFP/Getty Images
President Trump announced a new round of sanctions against North Korea Thursday, the latest attempt by the U.S. to slow Kim Jong-un's progress toward a nuclear weapon. The executive order Trump signed Thursday will allow the Treasury Department to more aggressively target those doing business with what Trump called a "criminal rogue regime."
"For much too long, North Korea has been allowed to abuse the international financial system to facilitate funding for its nuclear weapons and missile programs," Trump said. "Tolerance for this disgraceful practice must end now."
Trump's announcement came shortly after North Korea's biggest booster and primary economic partner, China, unveiled its own surprise punishments on Pyongyang. China's banks have been ordered to restrict their business with North Koreans in accordance with new United Nations sanctions. A letter warned banks that their failure to cut back on North Korean business would result in "economic losses and reputational risks," Reuters reports.
Trump on Thursday praised China's president Xi Jinping for the "very bold move." He made his statements during a lunchtime meeting with the leaders of Japan and South Korea.
"Our new executive order will cut off sources of revenue that fund North Korea's efforts to develop the deadliest weapons known to humankind," Trump said. He added that the U.S. seeks the "complete denuclearization of North Korea."
North Korean officials are, no doubt, sorting through their insult thesaurus this very moment in search of a way to hit back at Trump. Earlier this week, after Trump threatened to "totally destroy" North Korea in a speech to the U.N., the country's foreign minister compared the president to a "barking dog."