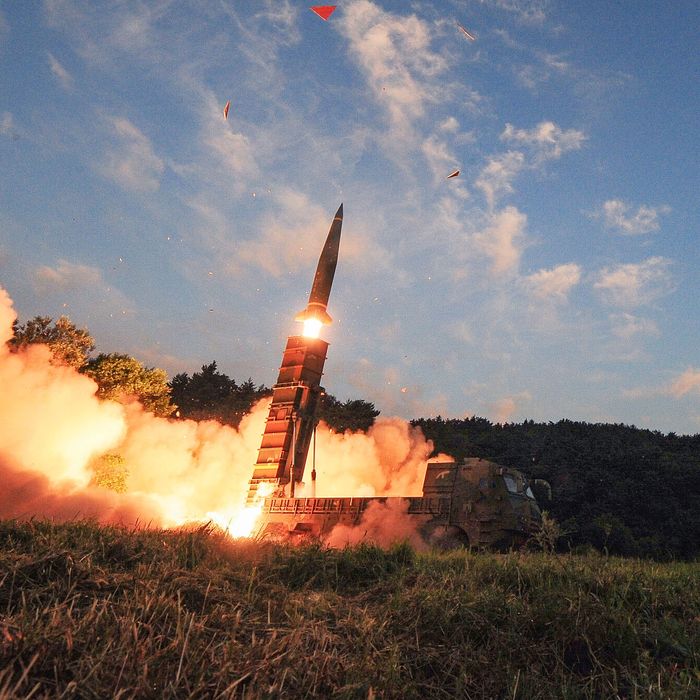 South Korea is on edge.
Photo: South Korean Defense Ministry
With North Korea showing no signs of slowing its nuclear missile program or ramping down its belligerent rhetoric, South Korea is ramping up its military readiness — with help from the U.S.
On Tuesday morning, President Trump announced on Twitter that the U.S. would sell "a substantially increased amount of highly sophisticated military equipment" to South Korea and Japan.
In a phone call, the White House said that it had agreed, in principle, to lift a cap on missile sales to the country, and supply it with "many billions of dollars' worth of military weapons and equipment."
The show of military cooperation comes after a series of Trump-fueled provocations that had raised doubts about America's commitment to its longtime ally. After North Korea conducted its sixth and most powerful nuclear test on Saturday, Trump went after South Korea for not being tough enough with its belligerent neighbor, accusing the country of "appeasement."
Days before the latest test, Trump had also floated the possibility of ending a free-trade pact with South Korea, bizarre timing given the rising tensions next door. That idea has drawn widespread opposition from Democrats and Republicans.
And, in a characteristic show of bureaucratic neglect, the Trump administration has left several key roles at the State Department unfilled amid the mounting crisis, most glaringly the position of ambassador to South Korea. The administration finally nominated a well-regarded North Korean expert last week.
Nevertheless, there are few signs that such carelessness and negligence of the relationship between the United States and Korea extend past the executive branch.
On Monday, South Korea held live fire drills and simulated a strike on North Korea's nuclear facilities as a show of force, while warning that more North Korean missile tests were likely imminent. The country planned to conduct joint exercises with the U.S. in the near future, and, the Guardian reports, the two countries were "considering the deployment of a U.S. nuclear-powered aircraft carrier, strategic bomber and other military hardware to the Korean peninsula."
Moon Jae-in, South Korea's prime minister, has also been newly receptive to THAAD (Terminal High Altitude Area Defense), a highly controversial U.S.-backed missile defense program that faced deep opposition when his more conservative predecessor approved it before leaving office. South Korea announced it would temporary deploy four more THAAD missile launchers as a deterrent. China, a key player in the North Korean drama, opposes THAAD in part because it gives the U.S. the ability to surveil its airspace and, possibly, ground operations. Many South Koreans oppose it because of the threat it poses to relations with China and Russia, which has also expressed disapproval of the program.
On Monday, U.S. ambassador to the United Nations Nikki Haley told the U.N. Security Council that North Korea was "begging for war," but that all diplomatic solutions should be explored first.
Her statement came on the heels of tough talk from Secretary of Defense James Mattis, who said on Sunday that North Korea faced a "massive military response" if the country threatened the U.S.