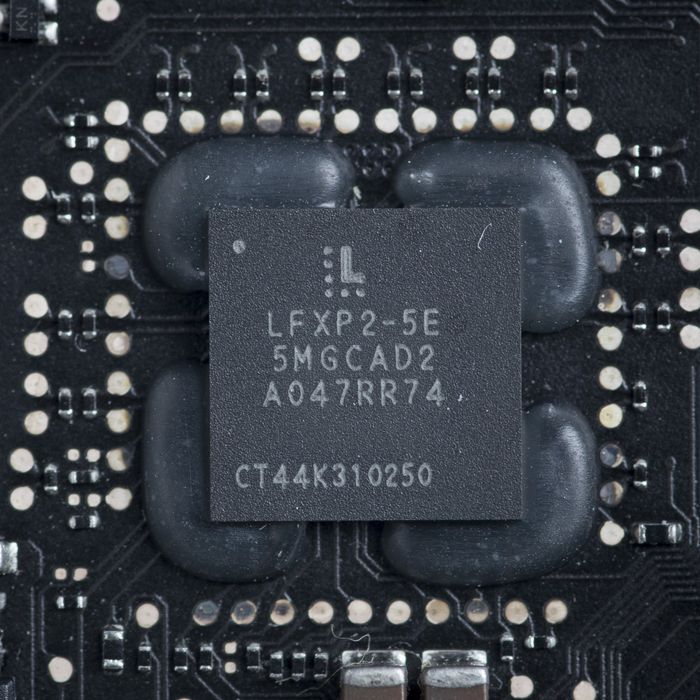 Lattice semiconductor.
Photo: Brent Lewin/Bloomberg via Getty Images
Donald Trump's nationalist instincts on economic matters typically put him at odds with the D.C. Establishment. But on Wednesday, the president executed two significant acts of protectionism, just by following the deep state's advice.
One of these measures allowed Trump to get "tough" on China. Canyon Bridge Capital Partners LLC, a private-equity firm with ties to the Chinese state, had been trying to purchase an Oregon-based computer-chip manufacturer called Lattice Semiconductor Corp for nearly a year. But the deal had been held up by the Committee on Foreign Investment in the U.S., a regulatory panel comprised of senior officials from the departments of Treasury, Homeland Security, and Defense.
The American security state isn't crazy about the idea of the Chinese government "stealing" our nation's computer technology by buying up U.S. firms. And major U.S. corporations don't love the idea of the world's largest chip market becoming less reliant on imports. Thus, the committee indicated to Lattice that the deal was a no-go.
Typically, when companies receive a thumbs-down from the committee, they abandon their plans. Technically, the president can overrule the secretive panel's recommendation, but that's never actually happened. Since 1990, only three companies have attempted to secure such a veto, and all failed.
This time, however, Lattice thought it might be able to win over Trump by promising that the deal would save American jobs, Bloomberg reports.
Trump sided with the Establishment, and now the deal is dead. Officially, the White House opposed the acquisition because "the Chinese government's role in supporting this transaction, the importance of semiconductor supply chain integrity to the United States government, and the use of Lattice products by the United States government" all represented risks to America's national security.
Meanwhile, the administration is subjecting several other proposed Chinese takeovers of American businesses to heightened scrutiny — including the agreement between Chinese conglomerate HNA Group Co. and SkyBridge Capital LLC, a financial company founded by short-lived White House communications director Anthony Scaramucci.
Also on Wednesday, the White House dealt a blow to a Russian security-software firm — and, possibly, Kremlin spies. Months ago, the General Services Administration, a federal agency that oversees government purchasing, removed the Russian company Kaspersky Lab from its list of approved vendors. The GSA did so out of concern that Kaspersky's software might be compromising federal cybersecurity, instead of enhancing it, by providing the Kremlin with backdoor access to the systems it's supposed to protect.
Earlier today, acting Homeland Security secretary Elaine Duke ordered the government's civilian agencies to identify any Kaspersky Lab software used on their networks — and, unless directed otherwise in 90 days, to remove that software.
The U.S. government "is concerned about the ties between certain Kaspersky officials and Russian intelligence and other government agencies, and requirements under Russian law that allow Russian intelligence agencies to request or compel assistance from Kaspersky and to intercept communications transiting Russian networks," according to a DHS statement. "The risk that the Russian government, whether acting on its own or in collaboration with Kaspersky, could capitalize on access provided by Kaspersky products to compromise federal information and information systems directly implicates U.S. national security."
Kaspersky strenuously denies that it has ever helped "any government in the world with its cyberespionage or offensive cyber efforts."
The company now has about three months to prove that, beyond the Trump administration's reasonable doubts.