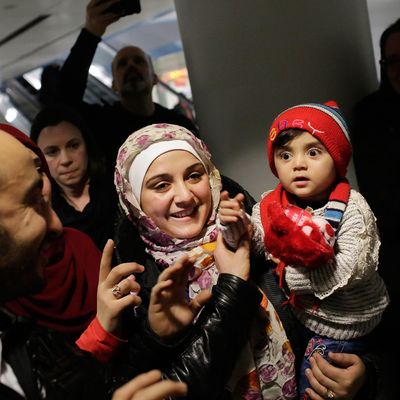 Syrian refugee Baraa Haj Khalaf at O'Hare International Airport.
Photo: Joshua Lott/AFP/Getty Images
In 2016, the last year of President Obama's administration, the U.S. accepted 85,000 refugees and set a goal of bumping that number up to 110,00 this year. Those plans changed with President Trump's so-called travel ban, which set the refugee limit at 50,000 for 2016. Now, the administration is considering setting that number even lower for 2018, despite the worst refugee crisis since World War II.
The President has until October 1 to set a refugee ceiling and, the Times reports, there's a debate raging in the White House about whether the number should be reduced to numbers not seen in decades. Leading the arguments against cutting the totals is Trump senior adviser Stephen Miller, an immigration hawk and ally of Steve Bannon and Attorney General Jeff Sessions. Miller has reportedly produced cutting the number all the way to 15,000. The Department of Homeland Security has proposed its own cut to 40,000.
The Times explains their purported thinking:
Two administration officials said those pushing for a lower number are citing the need to strengthen the process of vetting applicants for refugee status to prevent would-be terrorists from entering the country. Two others said another factor is a cold-eyed assessment of the money and resources that would be needed to resettle larger amounts of refugees at a time when federal immigration authorities already face a years long backlog of hundreds of thousands of asylum seekers.
This reasoning doesn't align with the facts. Refugees are far more likely to be victims of politically motivated attacks than perpetrators. Limiting refugees does not keep America safer because refugees are not dangerous. It's difficult not to see nativism as the motive behind pretending that they are: fear makes it easier to convince people that suffering people should be excluded from the United States. As for the cost concerns, the GOP's feigned fiscal prudence should never be taken seriously.
By setting the refugee cap at 50,000 this year, Trump has already pushed the number lower than it's been in decades. In the 37 years since the Refugee Act of 1980 gave the president a role in setting the cap, it hasn't slipped lower than the 67,000 President Reagan set in 1987.
Cutting the refugee ceiling would leave tens of thousands of vulnerable people out in the cold, the International Rescue Committee said in a report last month. The humanitarian organization advocates for a ceiling no lower than 75,000 people. "An admissions level of at least 75,000 is a critical signal to the world that the United States remains a safe haven for those fleeing persecution, terror and ideologies antithetical to American democratic values," the report says. "Anything less would be to turn our backs on the United States' humanitarian tradition and global leadership."