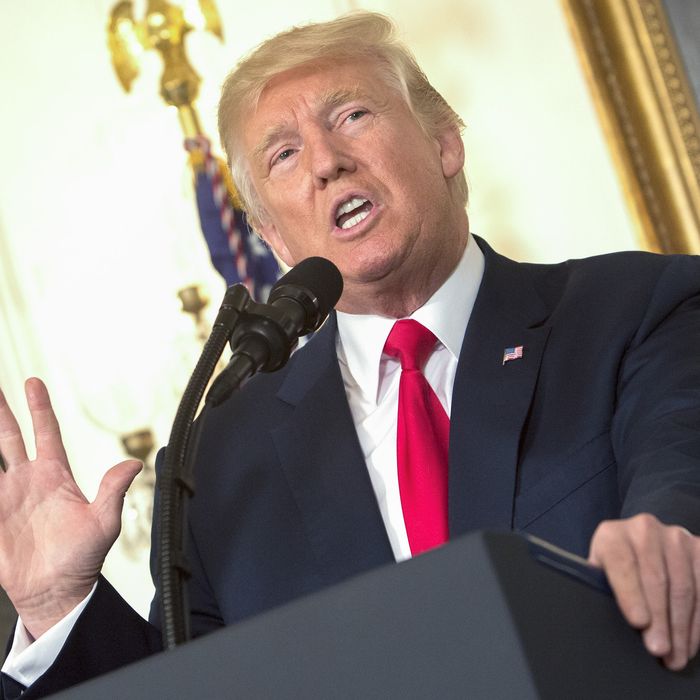 Photo: Chris Kleponis/Bloomberg via Getty Images
Anytime President Trump issued an unequivocal condemnation of the white supremacists who held a violent rally in Charlottesville, Virginia, last month, he quickly found some way to walk it back, defending the remark that kicked off the weeks-long controversy: "We condemn in the strongest possible terms this egregious display of hatred, bigotry, and violence on many sides — on many sides."
This week, Congress unanimously passed a joint resolution that was meant to put Trump on the record as rejecting "white nationalism, white supremacy, and neo-Nazism as hateful expressions of intolerance that are contradictory to the values that define the people of the United States." This was nearly the very least Congress could do to register its opposition to Trump's Charlottesville stance, and on Thursday the president managed to find a way to undercut the resolution's impact even further.
During a press conference on Air Force One, in which Trump made incendiary remarks on a number of topics, he was asked about his meeting with Senator Tim Scott, the chamber's only black Republican, a day earlier. Scott had told reporters his aim was to "inform and educate" the president on why his "both sides" rhetoric was problematic, even if some counterprotesters engaged in violence too. "I shared my thoughts of the last three centuries of challenges from white supremacists, white nationalists, KKK, neo-Nazis, so there is no way to find an equilibrium when you have three centuries of history," Scott said.
This is how Trump summed up the meeting on Air Force One:
[Senator Tim Scott and I] had a great talk yesterday. I think especially in light of the advent of Antifa, if you look at what's going on there. You have some pretty bad dudes on the other side also, and essentially that's what I said. Now because of what's happened since then with Antifa, when you look at really what's happened since Charlottesville, a lot of people are saying, and people have actually written, 'Gee, Trump may have a point.' I said there's some very bad people on the other side also. But we had a great conversation. And he has legislation, which I actually like very much, the concept of which I support, to get people into certain areas and building and constructing and putting people to work. I told him yesterday that's a concept I can support very easily.
Hours later, the White House announced that Trump had signed the congressional resolution calling on his administration to "speak out against hate groups that espouse racism, extremism, xenophobia, anti-Semitism and white supremacy." While Trump is known to love a good bill-signing photo-op, the White House just released this statement:
A day after Trump's initial statement on Charlottesville, a White House spokesperson tried to clean up the controversy by issuing this statement: "The President said very strongly in his statement yesterday that he condemns all forms of violence, bigotry and hatred and of course that includes white supremacists, KKK, neo-Nazi, and all extremist groups."
So after weeks of uproar and a history lesson from Senator Scott, the White House has reverted to its original line, minus the condemnation of white supremacists by name. And the president is still trying to explain that he was right to equate Antifa with movements that have killed and terrorized a large segment of the American public throughout the country's history.