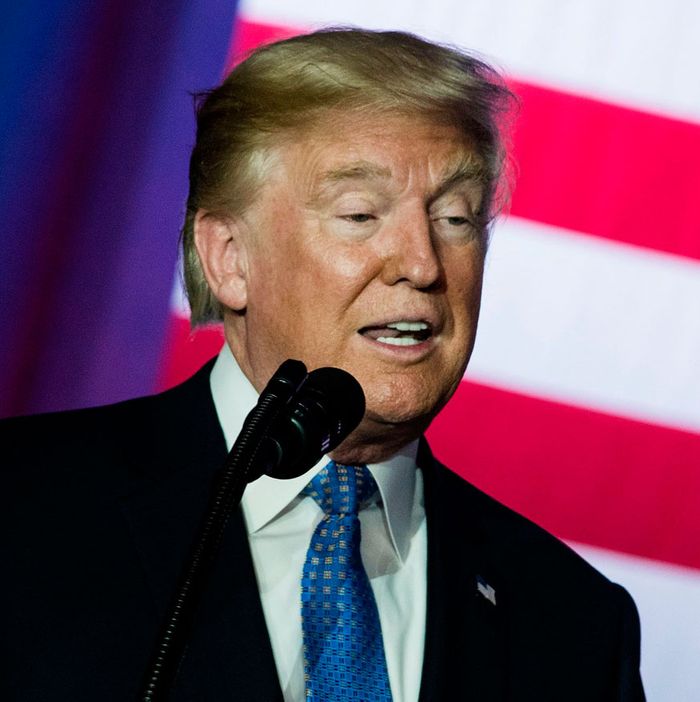 Trump speaks about tax reform in Indiana.
Photo: Brendan Smialowski/AFP/Getty Images
President Trump traveled to Indiana Wednesday to begin pitching his tax-reform plan, which he said will benefit the middle class at the expense of wealthy Americans like himself.
"They can call me all they want. It's not going to help," Trump said of his rich friends. "And it's not good for me, believe me."
That's not true. Trump's plan, which calls for reducing the number of tax brackets from seven to three, lowers the top rate from 39.6 percent to 35 percent, while repealing the estate tax and the alternative minimum tax, both of which are paid almost entirely by the wealthy.
"There's never been tax cuts like we're talking about," Trump said.
In his speech, Trump outlined the broad strokes of a plan that he expects Congress to complete. Along with the measures mentioned above, it also calls for doubling the standard deduction and reducing the corporate tax rate from 35 to 20 percent, which Trump attempted to sell as a move benefiting working people.
"This is a revolutionary change, and the biggest winners will be middle-class workers as jobs start pouring into our country, as companies start competing for American labor, and as wages continue to grow," he said.
The plan also calls for a reduction in the "pass-through" rate to 25 percent, a move that would affect income that "passes through" a business to its owners. This "would largely benefit high-income taxpayers," according to the Brookings Institute. Trump is among that group.
After another high-profile legislative failure with the latest attempt to repeal the Affordable Care Act, Trump is hoping to win bipartisan support for his tax plan. "There is no reason that Democrats and Republicans in Congress should not come together to deliver this giant win for the American people and begin the middle-class miracle once again," he said.
There was at least one Democrat in the room as Trump was speaking. Senator Joe Donnelly of Indiana flew with Trump from Washington, D.C. Up for reelection in 2018, Donnelly was the focus of Trump's attention for a moment during the speech when the president warned him against opposing the tax plan. "We will come here, we will campaign against him like you wouldn't believe," Trump.
If the early tweets provide much of a clue, Trump's hopes for bipartisanship will be dashed.