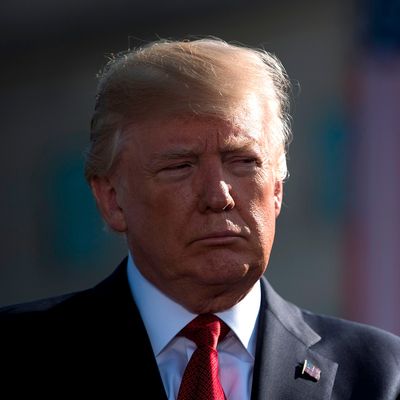 President Donald Trump and First Lady Melania Trump attend a ceremony at the Pentagon's 9/11 Memorial in Washington, D.C., on September 11, 2017.
Photo: BRENDAN SMIALOWSKI/AFP/Getty Images
Donald Trump spoke this morning at the Pentagon on the 16th anniversary of 9/11. As with all of his ceremonial appearances as president — visits to cemeteries, hugs bestowed on children afflicted by disaster, flags waved amid floods — his attempt at stillness and adherence to script were an odd sight: "This is an occasion that is" — here, he paused and flicked his hand for emphasis — "extraordinary, and it'll always be extraordinary."
Trump made it through the event without incident. He didn't veer from the topic, prop himself up, or revisit the campaign, as he's prone to do even at the most inappropriate times. As far as these things go, you could call the outing a success. But Trump's previous comments on the tragedy undercut his somber tone on Monday. Nearly two years, an Election Night victory, and a presidential inauguration later, Trump has never acknowledged — never mind apologized for — incorrectly and repeatedly claiming to have seen "thousands and thousands of people" cheering the 9/11 terrorist attacks in an area of New Jersey with a "large Arab" community.
In November of 2015, five months after he announced he was seeking the Republican nomination, Trump remarked at a rally in Birmingham, Alabama: "Hey, I watched when the World Trade Center came tumbling down, and I watched, in Jersey City, New Jersey, where thousands and thousands of people were cheering as that building was coming down! Thousands of people were cheering!"
Faced with criticism, he dug his heels in.
In an interview on ABC's This Week days later, he told George Stephanopoulos, "It did happen. I saw it. It was on television, I saw it. George, it did happen. There were people who were cheering on the other side of New Jersey where you have large Arab populations. They were cheering as the World Trade Center came down. I know it might be not politically correct for you to talk about it." He reiterated the point on NBC's Meet the Press: "I saw it. So many people saw it. And, so, why would I take it back? I'm not going to take it back."
The following month, during an appearance on Infowars, Trump explainedto the conspiracy theorist Alex Jones that after he "was very strong on it and I held my line," he heard from "four or five" supporters who said, "'Mr. Trump, I saw it myself! I was there!'" Jones told him he believed he had been "vindicated."
On Twitter, Trump shared what he said was proof of his claim: A Washington Post report from 2001 that mentioned law enforcement in Jersey City had questioned "a number of people who were allegedly seen celebrating the attacks."
Trump wrote, "I want an apology! Many people have tweeted that I am right!"
Early this afternoon, I asked the White House if the president still maintains what he said during the campaign.
The White House press secretary, Sarah Huckabee Sanders, directed my request to Steven Cheung, a special assistant to the president and assistant communications director. He would only engage off the record. Neither Sanders nor another press official were available at their offices following Monday's briefing, where no questions about this particular falsehood were asked.